Thank you! This giveaway is now closed. Congratulations to Kath, Jennifer, and Emily!
It's another Sew Mama Sew giveaway day! It's so much fun to see comments roll in all week. Plus, I love giving away free sewing patterns!
If you are new here, let me tell you a few things about myself and my site! I'm a homeschooling mother of 6. I love to sew, but I'm constantly trying new creative projects….everything from decorating and building furniture, to fabric design.
Since the last giveaway I have released a pattern for the Fairport Purse & Pouch. This pretty purse or pouch can hold anything from cosmetics to your daily shopping essentials. The smaller size is just right for organizing small items and also works well as a clutch. The larger size will hold your wallet and a few basics. It comes with 2 size options, 3 closure options, and 2 carrying options.
My most popular pattern is the Retro Rucksack!
If you have never visited before, take a look at my tutorials and things I've made pages to see what I like to sew. This year, I started a series of posts called "Tote Bag Upgrade" with monthly tutorials for turning a plain canvas bag into a modern accessory. I've also joined the Betz White Sewing Collective as a regular contributor!
I write a monthly newsletter which includes a short personal update and links to my favorite projects and articles. And I include updates on my most popular posts, new patterns, and occasional coupon codes. I'd love it if you would sign up!
So now for the fun!
I'm giving away sewing patterns to 3 winners. Each winner will be allowed to choose one pattern they would like from my shop.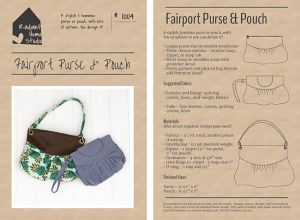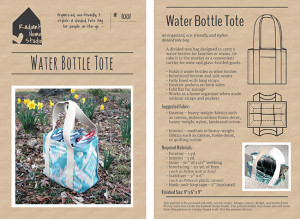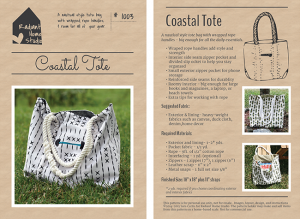 To Enter the Giveaway:
• leave a comment for 1 free entry (please include your e-mail address so that I can contact you if you win)
• each person may submit two total entries (one comment answering the question, and another comment telling me that you follow on instagram, facebook, twitter, or bloglovin)
Also:
• this giveaway is open to international entries (but please keep in mind that you are responsible for following contest laws in your country)
• giveaway starts May 6th at 9am EST and ends May 10th, 8pm EST
• winners will be chosen from comment numbers using a random.org
• PDF pattern will be e-mailed to the winners within 2 days
• chances of winning vary depending on the number of entries, but is estimated at 1/200
• if you buy a pattern this now and win, your payment will be refunded!
Please leave a comment answering the question:
What makes you decide to buy a sewing pattern? Pictures, recommendations, or price? Something else?
Thank you for all of you comments! The winners were chosen using random.org.