This year, I thought it would be fun to make my Christmas party outfit. I've had a few failures with more formal fabrics and pattern designs before, so I thought it would be best to stick with something simple. I found a couple of inspiration dresses at Anthropologie to use as a starting point for fabric and shape.
I like the look of a layered skirt, so I chose a black chiffon fabric for the top layer. I already had some cream-colored silk in my stash, so I used that as the under layer. To keep the skirt portion of the outfit simple, I cut 2 rectangles of fabric across the width of each fabric. I sewed the sides with French seams, gathered the skirts together, and added a wide elastic band. The fabric was a bit slippery, but overall the skirt was relatively easy to sew. (If you have a festive New Years' party to attend, this is something you still have time to make!)
The bottom hem is sewn with a rolled hem foot. I've had a rolled hem foot for several years, but I think this may be the first time I have used it. The chiffon gave me a little bit of trouble, but the silk hemmed edge looks really clean and professional. I think I'll be more likely to use a rolled hem to finish blouses and other lightweight fabrics now that I've seen how nice it looks.
For the top, I originally planned to make a cap-sleeved wrap top. I looked everywhere for a pattern, but could not find what I was looking for. I started to draft my own from a wrap top I have, but it looked way too boxy. Without time to make a muslin, I thought it would be best to use a finished pattern. I searched again and found a long-sleeved wrap top in the Burda Style archives. I decided it was worth downloading the drafted and (hopefully) tested pattern, even though the Burda instructions are usually difficult to figure out. The instructions were just as terrible as I remember from the last Burda pattern I used. There are no diagrams or illustrations, only words that are sometimes translated poorly. In the end, I mostly sewed it together without the instructions.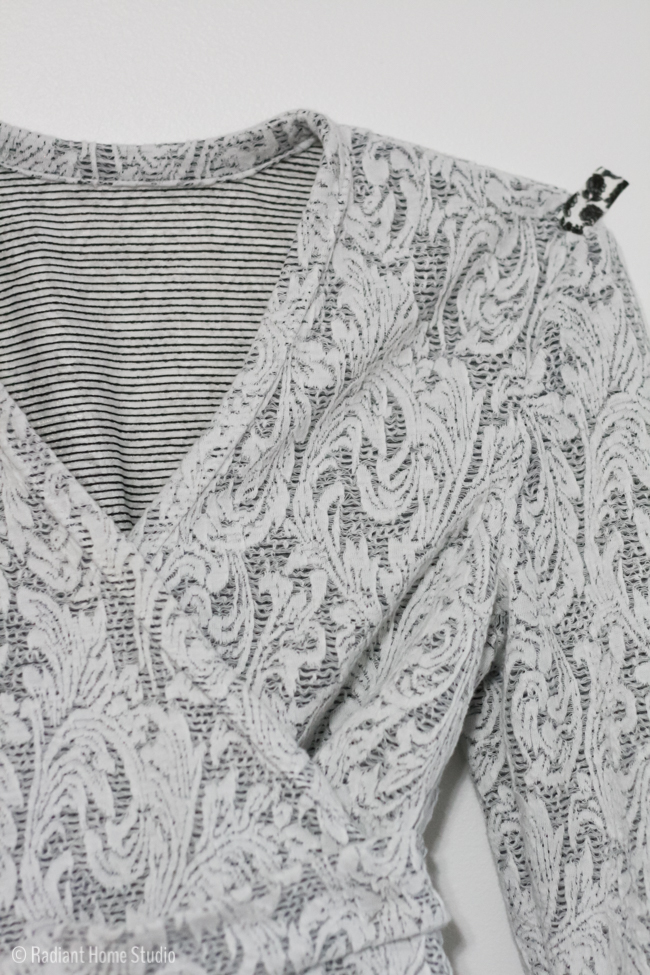 The fit of the wrap top was okay. The shoulders and bust fit fine, but the waist is loose. The pattern includes directions for a slot in the side seam so that the wrap tie can be pulled through. In order to get a tight enough wrap, I need to pull the tie through another 4-5 inches. If I make this again, I will take darts out of the lower back and front around the waist for a better fit. The length was also a bit shorter than I wanted. I had to wear my skirt higher on my waist than I was planning to make it work. I think it would be nice with an empire waist dress, but to wear it with jeans or a skirt it needs to be longer.
Overall, I think the skirt was successful. I've already worn it again with a different cardigan. But the top probably won't get worn again. Not only is the fit off, the fabric is itchy and uncomfortable. It's some type of polyester double-knit (from Jo-Ann Fabrics). I much prefer cotton or bamboo knits. This would be much more wearable in a solid color 4-way stretch jersey.
Even "unsuccessful" sewing projects are good learning experiences though.
Lessons learned:
1. Chiffon frays – A LOT!
2. Silk is easier to work with than I expected. I'll be using it again.
3. Cheap fabric isn't worth buying (even at the last minute…).
4. Burda Style patterns are not worth buying (even at the last minute…).
5. I like sewing rolled hems and will use that technique again.
6. I'd rather buy my special occasion clothes (especially at the last minute…).
7. Black is not my color, even for fancy holiday parties.
Have you tried sewing a Christmas party outfit? What patterns do you like for special occasion outfits?