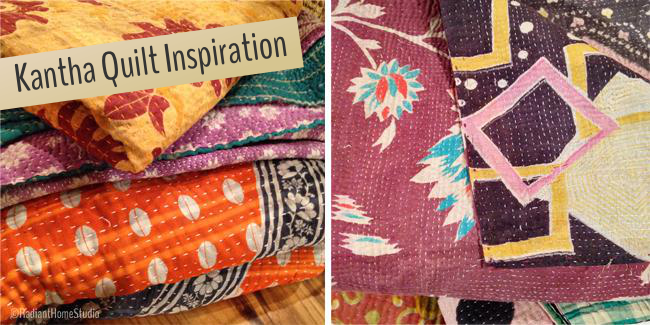 Last week I had the chance to walk around some local antique shops (which is a rare opportunity when you have 6 kids!). I snapped some photos of things I loved or found inspiring in some way. A lovely collection of vintage cameras, a beautiful metal typewriter, an aged paper chandelier, a really old mailbox ($400!), some interesting shapes and patterns, and some rustic wood furniture.
But my favorite finds were these beautiful vintage textiles and quilts. I shared a couple on my instagram feed, but there were even more that I didn't share. The bright colors and straight hand quilted stitching on the quilts kept me admiring them for quite a while. The purple and navy combo seems so modern, but it was clearly worn with age and use. (I'm certainly not an expert in this area though…) My discovery motivated me to research some of the history of these brightly colored, hand-stitched quilts—and I discovered a whole world of pattern and colors for creative inspiration.
I learned that these are called Kantha quilts. (The first and fourth are kantha quilts, and the others are traditional American pieced quilts.) A kantha stitch is a simple running stitch, traditionally used by women in SE Asia. They typically used old saris or cloth, layered together and stitched to form a lightweight blanket. The women skillfully pieced together worn out cloth to make something significant and usable. If you enjoy textile history, you can read a short history of kantha quilts and their traditional significance. Apartment therapy has a nice post with ideas for decorating with Kantha quilts. This textile shop in London stocks both new and vintage Kantha quilts, and is full of beautiful photos for your inspiration. Decor8 has also curated a lovely group of Kantha quilt photos and decorating ideas. Hope you find the bright colors and rich history of these textiles inspiring too! Have you found any vintage treasures lately?