This giveaway has ended. Congratulations to Kristen, Sarah, and Mindy!
It's time for Sew Mama Sew giveaway day! It feels like a party this week…all my patterns are on sale and I'm giving away a free copy of On the Go Bags too! (It's in a different post, just to clear up any confusion!) It's so much fun to give gifts to people that will love them. Thanks for stopping by!
If this is the first time you've visited, let me tell you a few things about myself and my patterns! I'm a homeschooling mother of 6. I love to sew, but I'm constantly trying new creative projects.
Since the last giveaway I have released a pattern for the Highland Avenue House.
My two most popular patterns, the Retro Rucksack and the Water Bottle Tote have been completely updated and reformatted. I've added more technical illustrations, updated zipper installation for a more professional finish, and updated the pattern tiling so that it is more user-friendly. The Retro Rucksack also has new tips on how to created a roll-top bag in addition to the original recessed zipper option.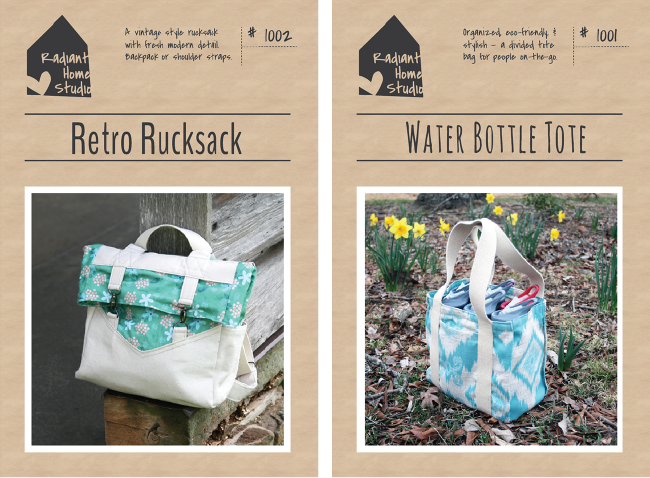 If you have never visited before, take a look at my tutorials and things I've made pages to see what I like to sew. This year, I've written a series of posts called "Tote Bag Upgrade" with monthly tutorials for turning plain canvas bags into modern accessories. I'm part of the Betz White Sewing Collective as a regular contributor. And this week, one of my patterns was released in a new book called On the Go Bags!
I write a monthly newsletter to share more personal updates and sneak peeks of upcoming projects and patterns with my subscriber friends. I also include a recap of my posts for the month and a list of the my favorite sewing, craft, and mothering articles I have collected to share with you! It's the kind of letter that makes you want to curl up on the couch with a cup of tea while you browse through the inspiring projects and encouraging articles. New subscribers will receive a FREE Mini Highland House pattern. I'd love it if you would sign up!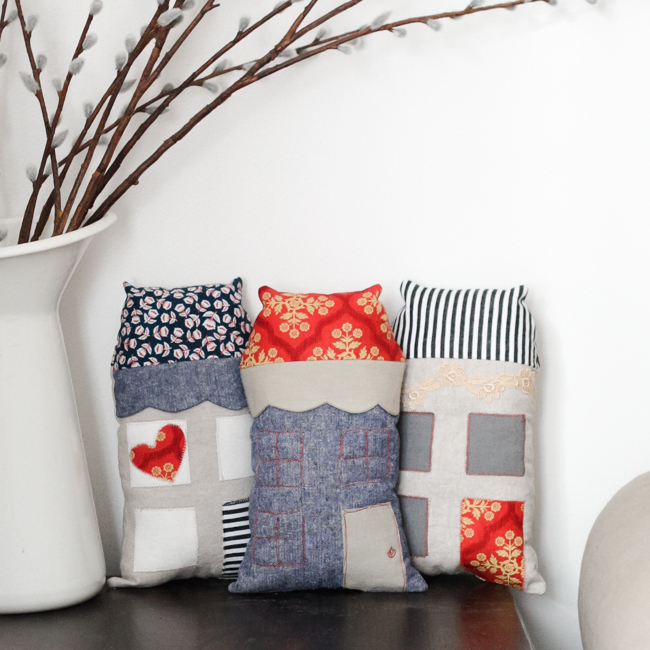 So now for the fun!
Would you like to win a sewing pattern? I'm giving away sewing patterns to 3 winners. Each winner will be allowed to choose one pattern they would like from my shop.
To Enter the Giveaway:
• leave a comment for 1 free entry (please include your e-mail address so that I can contact you if you win)
• each person may submit two total entries (one comment answering the question, and another comment telling me that you are a newsletter subscriber or follow on instagram, facebook, or bloglovin)
Also:
• this giveaway is open to international entries (but please keep in mind that you are responsible for following contest laws in your country)
• giveaway starts Dec. 9th at 9am EST and ends Dec. 13th, 8pm EST
• winners will be chosen from comment numbers using a random.org
• PDF pattern will be e-mailed to the winners within 2 days
• chances of winning vary depending on the number of entries, but is estimated at 1/200
• if you buy a pattern now and win, your payment will be refunded!
Please leave a comment answering the question:
Do you buy patterns for home decor items—pillows, quilts, organizers, gift items? Anything in particular you would love to find, but haven't seen? Are you a beginner or experienced?