Tiny houses make everyone happy. Maybe because it's a visual reminder to love our neighbors and intentionally build up our communities. At least, that's why I love them! Last year, my love for mid-century architecture led me to design this joyful collection of modern houses to stitch.
Yes, there are lots of little house patterns to stitch, but everything I could find was very traditional and quaint. I wanted to create a more diverse set of houses that represented the types of homes we actually live in. Maybe you can find one that reminds you of your home or the home you grew up in. Or maybe you just love the mid-century modern vibe.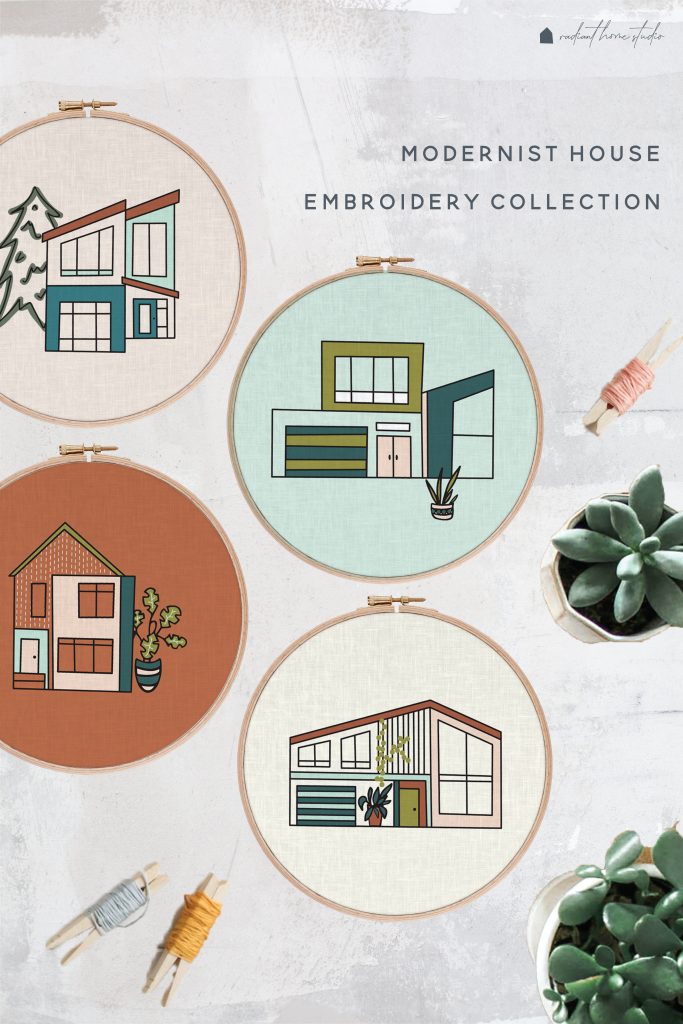 Either way, you can choose patterns individually or grab the whole collection (on sale through tomorrow). You can embroider this little set of homes in embroidery hoops to display or give as a gift. Or stitch one onto a bag, clothing, pillow, or quilt. You can also choose your own color palette to make it your own!
The collection comes with all four modern house patterns on separate pages and all on one page for efficient printing on transfer paper. Formatted for both 6″ and 8″ embroidery hoops and the collection includes pattern pages with less white space for printing on embroidery pattern transfer paper. Feel free to print as many times as you like for personal use.
The collection of modern house embroidery patterns includes the Sunny Southwest Postmodern, the Mid-Century Modernist, the Modern Boho Townhouse, and the Modern Mountain House.
Each pattern contains illustrated stitching instructions as pictured below, as well as color suggestions for DMC embroidery floss and Kona Cotton fabric. The patterns are suitable for beginners and can be stitched using simple stitches such as a backstitch, chain stitch, french knot, and satin stitch.