It's Day 3 of my 2nd Birthday Celebration & Blog Tour. Don't forget that all of my patterns are on sale this week. I'm excited to share these projects with you today!

Veronica blogs at SewVery. We met online while participating in the Perfect Pattern Parcel blog tours and are both part of the Betz White Sewing Collective this year. Veronica sews lots of bags (including my Water Bottle Tote and Retro Rucksack…), as well as clothes for her children and home projects. She has a fun modern style and has just released her first pattern—the Sunny Dress & Top—for little girls.
I am especially thankful that Veronica recommended me as a contributor to On The Go Bags last year. The book is now available and we'll both be posting more about it (plus giving away a copy!) this week!
Here's a detail from Veronica's Fairport Pouch. I love this knotted handle. Head over to her blog to see the whole bag and read more about the pattern!
Stephanie blogs at Swoodson Says. Stephanie invited me to join her Facebook group for creative bloggers last year. I can't tell you how helpful it is to be part of a supportive group that happily shares information and resources. I'm thankful that Stephanie keeps the group positive and encouraging.
Swoodson Says is filled with creative sewing & craft ideas, with a focus on making things with and for the kids. Stephanie also has several creative play patterns that would make great gifts! Head over to her blog to see the playful modifications she made to the Highland Avenue House. It has a door that opens and closes, with cute little surprises for the kids to find!
Vicky used one of my free tutorials to make a quilted sketch book cover. She upcycled some old shirts to make this manly version. Such a great way to give the shirts new life! Vicky blogs at Vicky Myers Creations, where she shares her love of repurposing and recycling fabrics to make beautiful things. She also has an Etsy shop with cute bags and organizers made from repurposed fabrics. Visit Vicky's blog to find out more about her sketchbook cover project.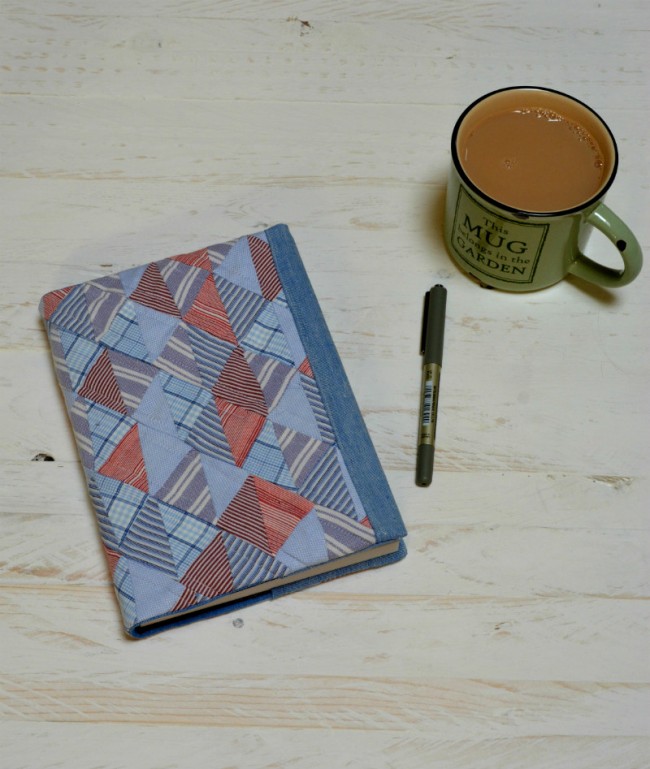 Ajaire shares her projects and patterns at Call Ajaire. I think I first met Ajaire through our participation in the Perfect Pattern Parcel blog tours. You may have seen her popular monthly mash-up posts where sewing bloggers share ideas for mixing & combining patterns. She also has a pattern shop with some cute kids clothes, including her new Paneled Sunsuit pattern.
Ajaire made 2 Coastal Totes as gifts for her friends! If you've been intimidated by the rope handles on this pattern, you'll definitely want to see how Ajaire made it work with regular strap webbing.
Radiant Home Studio 2nd Birthday Celebration:
Monday, Nov. 30th
Radiant Home Studio || Skirt Fixation || Felt With Love Designs
Tuesday, Dec. 1st
A Happy Stitch || Sew Happily Ever After
Wednesday, Dec. 2nd
Sew Very || Swoodson Says || Vicky Myers Creations || Call Ajaire
Thursday, Dec. 3rd
Happy Okapi || House of Estrela || Molly and Mama
Friday, Dec. 4th
Hugs Are Fun || Sew DIY || Made By Sara
Saturday, Dec. 5th
Rebel and Malice || The Wholesome Mama