Are you wondering how to move beyond your beginner sewing skills? There are so many resources available to help you build your sewing skills to move on to more advanced projects! You don't need to spend a lot of money on classes if you are a self-motivated learner with basic sewing knowledge.
When I was young, my mom taught me the basics of sewing. I learned to sew things like doll clothes and pajama pants. I learned how to use a sewing pattern, and how to find the right materials at the fabric shop. I think this is where many people get stuck—fundamental skills, but lacking in knowledge for how to move on to more advanced techniques and how to build better sewing skills.
When I first got married, my husband worked long hours and I had to find ways to entertain myself. We lived on a tight budget, as most newlyweds do. I did a lot of exploring around town and window shopping. I got a library card and read a lot of the classics that I didn't get to read in high school. And I also bought an inexpensive sewing machine so that I could make curtains and pillows for our first apartment.
My sewing skills were still just the essentials at that point, but I loved making things and had a desire to learn. It's been nearly 15 years now, since I began to intentionally build my sewing skills. And I do think it's important to note that, building sewing skills has to be intentional. It doesn't happen by accident or natural talent. Everyone starts out as a beginner and spends time learning new skills and techniques as they go.
Looking back, it's hard to remember where I learned everything, but I know that these 5 things gave me confidence and techniques to try sewing harder things. These are my 5 tips to build your sewing skills…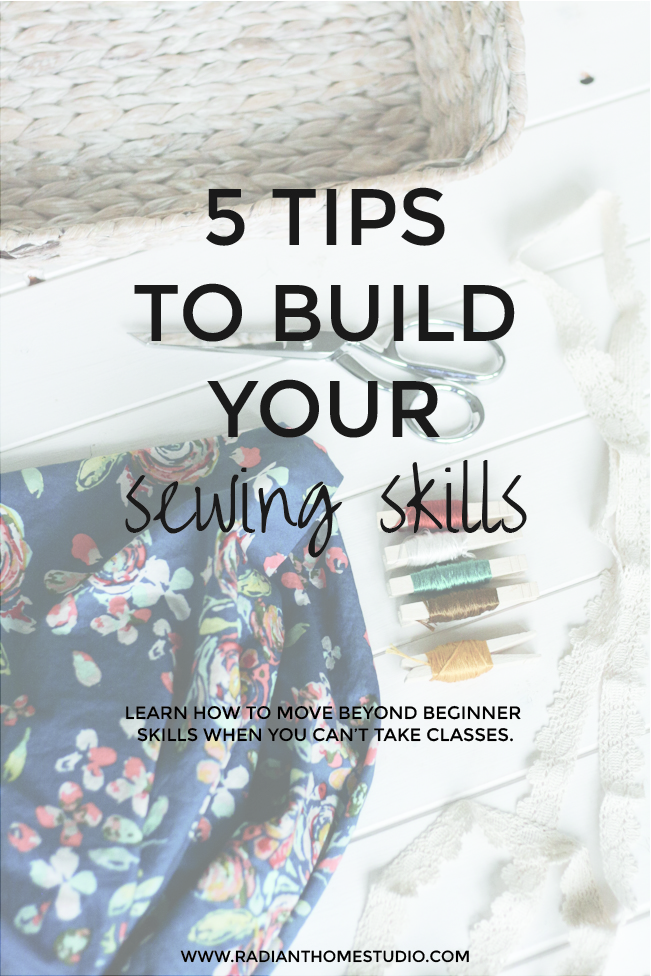 1. Read Sewing Books
As I mentioned, like most newlywed couples, we had a tight budget. I found that the library had a whole shelf of sewing and crafting books, which I devoured over our 2 years there. I remember one dress, in particular, that I made for myself. It was a huge failure. Somehow it ended up like 4 sizes too big. It was beyond fixing. After that I checked out every book on garment fitting and alterations that I could find. I scoured the books for any tips that would help. I checked them out several times to keep adding to my knoeledge. For a while, I stuck to projects that were easier to fit (skirts and loose tops) until I became more confident fitting complicated dresses.
Another tip…check the author bios in your favorite sewing books and magazines for websites. I've found some excellent websites this way!
2. Try One New Thing Each Time
The best way to learn new skills is to add one at a time. Make a simple pillow cover. Then try a 2-piece tote bag and learn to attach the handles.  Make a simple 2-piece tank top (I love the Wiksten tank!), and learn to finish seams with bias facing. Try a simple lined zipper pouch. When you have mastered the zipper, try a side-zip skirt for yourself. With each project, push yourself outside your comfort zone and try something new.
Number 3 may seem contradictory, but…
3. Sew the Same Thing More Than Once
You may figure out the zipper the first time you make a zipper pouch, but if you make the same pouch again you can pay attention to the other details. You will build detailed sewing skills and become more confident making alterations. Several years ago I made a dress for my daughter that I loved, but the way the bodice lining was finished left raw edges showing. I made it a second time and I was able to figure out a way to attach the lining so that the inside was as clean as the outside. That was one of the first successful improvements I made to a commercial pattern early on. It gave me the confidence to make bigger alterations later.
If I plan to make alteration to a complicated pattern, I almost always make it once using the directions and make changes on the second try. It helps to understand the basic construction method before you start inserting steps of your own. As you gain skills, you may be able to alter patterns the first time through when it is similar to something you have done before.
If the dress you made didn't fit, figure out what went wrong and try it again! Learn from your mistakes and become confident by fixing them.
4. Try Sewing Patterns from Indie Designers
If you haven't been sewing long, commercial sewing patterns can be a bit of mystery. Sometimes the illustrations and wording are confusing. I've had the chance to try out patterns from many different independent designers and I think that many of them are more detailed and intuitive than commercial patterns. They cost a bit more than the patterns you can get on sale for $1, but if you need extra tips, guidance, and photos—you'll be thankful you spent the $10!
For children's clothes you can't beat Oliver & S. And in their shop they sell patterns by several other designers that have been carefully collected and tested for quality. Another one of the popular independent patterns makers is Colette Patterns. Their tagline is "sewing patterns that teach," so as you might guess there are lots of extra tips. I also love True Bias and Liesl & Co patterns. Search Etsy and Craftsy for sewing patterns. Look for established designers with professional photos and designs. Read reviews to see what other people have made with the patterns.
If all else fails…
5. Google It!
I've learned so much from little tips and tutorials that sewing bloggers share! You can find step-by-step photos for almost any sewing technique you need. If your illustrated pattern directions for making a welt pocket don't make sense, just look up a tutorial for welt pockets online. Another person's photos or explanation might clarify the process for you. Many times, pattern designers post sew-alongs with extra pictures and tips for making their designs.
I've also found that there are a variety of processes for each technique. There are 3 different ways to make an inset zipper pocket (that I know of…). You may find that someone else's process is much easier for you, so it's always worth reading through a few different tutorials for each technique. Before you know it, you'll be swapping pockets and mixing pattern pieces.
Learning to sew takes time and practice, so don't be discouraged! Build your sewing skills with some sewing books, try something new, practice it again, and search for patterns and tutorials that make sense to you!