Pattern Parcel #5 is on sale now! It will be available through Friday, Oct. 3rd, 2014.
I loved the Sunki Dress by Figgy's, but this time I decided to sew up some of the more practical clothes my girls would wear every day. There is quite a size range—preschool thru tween—included in this bundle.
First, I sewed a Mimi Shirt by Filles a Maman.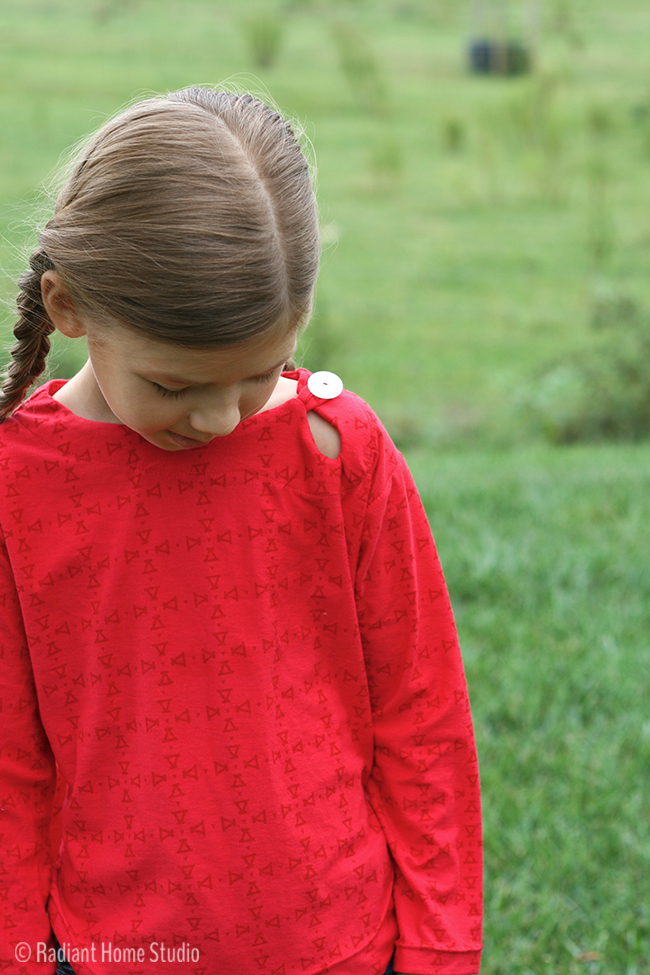 Quite honestly, I was very frustrated sewing this top. Just to be clear…it was not the pattern, but my own bad decisions regarding the fabric and interfacing.  I ended up fighting puckering around the neck and waist facings. I used non-stretch interfacing, but the fabric I needed to sew it stretched out a little and I couldn't match up the seams properly. I ended up re-doing the waist facing without interfacing.
But it still looks cute, and I doubt any of my non-sewing friends will notice the puckering…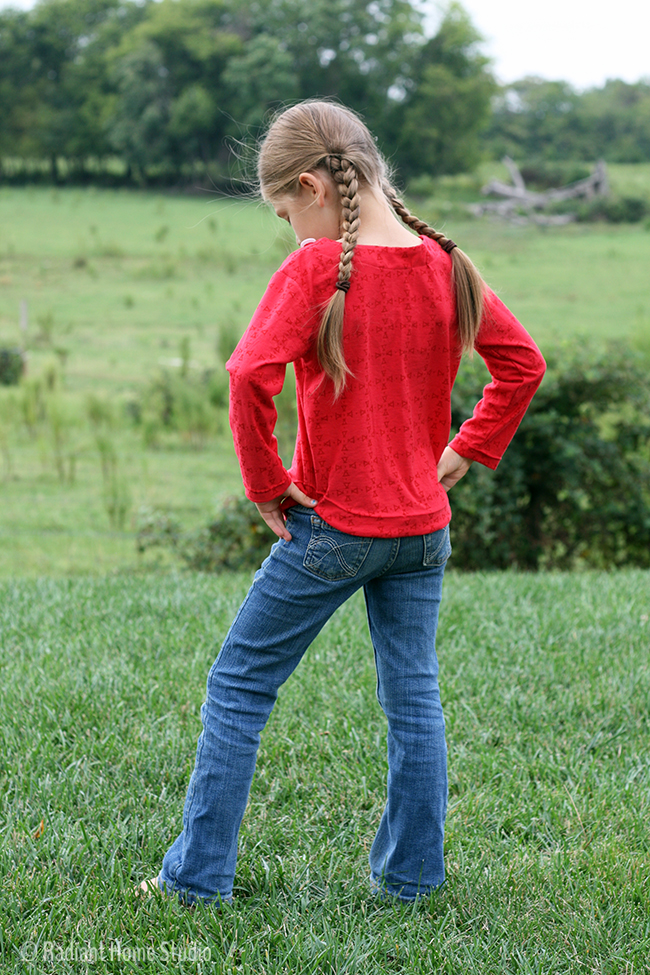 I also chose the wrong size, which added to the frustration. I had to shorten the sleeves and the total length. The shoulders also seem a bit wide, but that may be due to the European styling of the clothing. So if I had it to do over again, I'd use a knit interfacing and make it a size smaller. (And I should make it again – See #3 in my list of tips for building your sewing skills.)
On the bright side, I was impressed with the pattern directions and illustrations. Everything is clearly laid out, and you can even choose which sizes to print so that you don't waste ink! I printed a range of 4 sizes that would fit both of my girls, but I can always go back and print the bigger sizes later. If you happen to speak French, the directions are available in both French and English.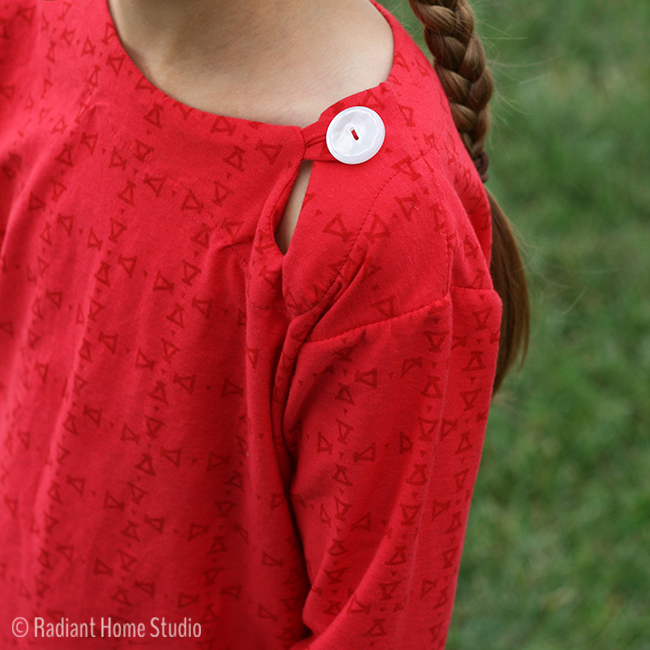 Second, I made the Greenstyle Yoga Pants. These came together very quickly and easily. I made a size medium and ended up taking the waistband into a size small after a quick fitting. I wonder if I should have made a small and lengthened them. She said they felt like pajamas and would only wear them around the house. (Update: She completely wore these out once they fit and we have made several more pairs!) Kids this size are so hard to fit! One day their clothes are too big, and the next day they've grown out of them!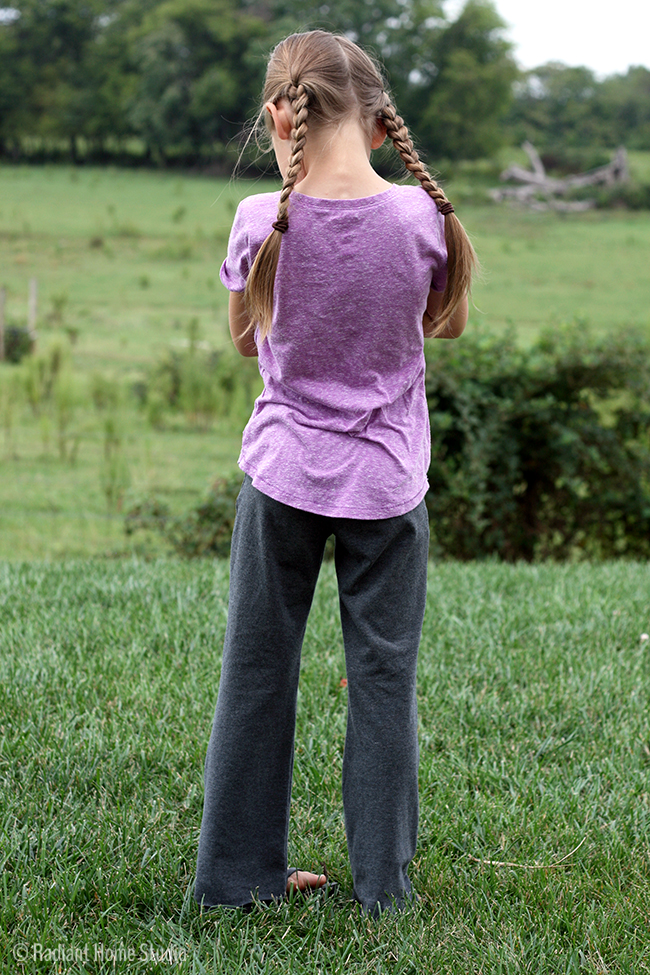 I used a twin needle for all the seams, a then serged the raw edges. I think a lot of people just use the serger, but I find that the stitching is not as secure. I almost always stitch with the machine first and use the serger to clean up the edges. So these could definitely be made on a regular machine with a twin needle. ( I have some tips for working with twin needles )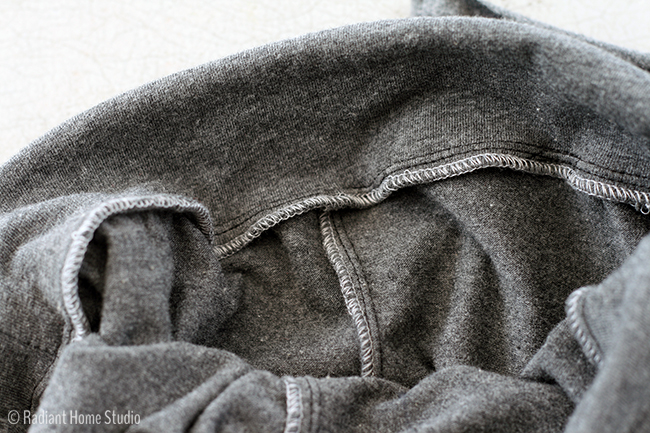 I also have to recommend the fabric I ordered for these yoga pants. I've been searching for a sturdy knit that would make great leggings. This knit (it's called Largo Knit, but it's no longer available) has great stretch and recovery and is also thick enough to cover panty lines. It feels like quality knit that won't pill over time. I plan to order more to make leggings for myself. Update: We have used art gallery knit and Kaufman knit successfully as well!
If you'd like to see what others are making with these patterns…
Parcel #5 Inspiration Tour Schedule:
Friday, September 19
Pienkel || Cookin' and Craftin'
Saturday, September 20
Sew Busy Lizzy || The Life Of A Compulsive Crafter
Sunday, September 21
Keep Calm and Carrion || Felt With Love Designs
Monday, September 22
Radiant Home Studio || Sewing Sober
Tuesday, September 23
Sew Fishsticks || La Pantigana || Amanda Rose
Wednesday, September 24
Shawnta Sews || Sprouting JubeJube || Knot Sew Normal
Thursday, September 25
Make It Perfect || Mimi's Mom || Climbing the Willow
Friday, September 26
Needle and Ted || Our Family Four
Saturday, September 27
Froo & Boo
Sunday, September 28
Stitches by Laura || Vicky Myers creations
Monday, September 29
Cookin' and Craftin' || The Crazy Tailor
Tuesday, September 30
mama says sew || FABulous Home Sewn || The Inspired Wren
Wednesday, October 1
lady and the gents || That's-Sew-Kari || Sewing Sober
Thursday, October 2
Gracious Threads || Blogs Like A Mother || SewsNBows
Friday, October 3
sew chibi || Lulu & Celeste || Made by Sara