Learn how to sew a pennant banner for parties! They are easy to sew, reusable, and prettier than paper buntings from party stores. Pennant flags are fun home decor for any occasion, including birthdays, baby showers, and weddings!
There are lots of sewing tutorials for sewing pennant banners (or buntings, as some people call them) out there, but I haven't seen any tutorials with an illustrated cutting guide to help you make the most of your fabric. Since I just made a new one to use for a baby shower, I thought I would take some photos and explain my simple process. I have a simple cutting method that will help you to use most of your fabric with less waste!
I really like to have a couple of all-purpose pennant banners around for parties. I don't like tacky paper decorations from the dollar store and I hate to buy them only to throw them in the trash after using them. Fabric banners are reusable and don't take much storage space. If you make a 2 or 3 with different color schemes, you should be able to use them for many occasions.
I've had one with girl colors for a few years that we hang up on the girls' birthdays or for other summer parties. I've been planning to make one in another color scheme to use for the boys' birthdays and other events, like the baby shower we just hosted.
We planned a "winter woodland" baby shower, so I tried to choose fabrics that would work with the baby shower theme that would also be neutral and not too "babyish". I ended up with some great geometric fabric designs in gray, cream, black, green, and teal. When choosing fabrics, sticking to a small color palette will help the finished banner to have a cohesive style. The fabrics don't have to match perfectly (for example, some of the grays have different undertones), but keeping to similar colors works best.
Many of the tutorials I saw recommended stitching the flags right sides together, then turning them inside out, and then pressing the seams. You can do this if you really want the seams hidden, but I think it's unnecessary and takes too much time for a project like this.
(This post contains affiliate links, which means I receive a small commission at no cost to you. Thanks!)
How to Sew a Pennant Banner:
Materials:
3 to 5 coordinating cotton fabrics – 1 yd. of each (or just use up your scraps!)
coordinating thread
bias tape maker (or pre-made binding)
rotary cutter and mat
printable template
Cutting Instructions:
There are two ways to cut the pennant flags. The template works best if you are using up fabric scraps, but if you are cutting from yardage it's much faster to use the rotary cutting method. I've included an illustrated cutting diagram below.
First, even out your edges. I bought my fabric from a big box store and the cuts were 2-3 inches off grain.
Fold the fabric folded in half lengthwise, selvages together, cut three 9″ strips across the fabric.
Line up the folded edge with the edge of the cutting mat. Use the ruler to cut a diagonal line from the bottom folded corner to the top of the strip, 3″ in from the folded edge.
Use the ruler to make another diagonal line from the 3″ cut at the top edge to a spot 6″ in from the bottom edge.
Keep cutting diagonal lines in opposite directions every 6″ until you run out of fabric.
If you are using directional fabric, like the mountains I used, you'll end up with some flags with the print upside-down. I just paired the right-side-up flags with upside-down flags and made sure I paid attention to which was the back and the front of each flag.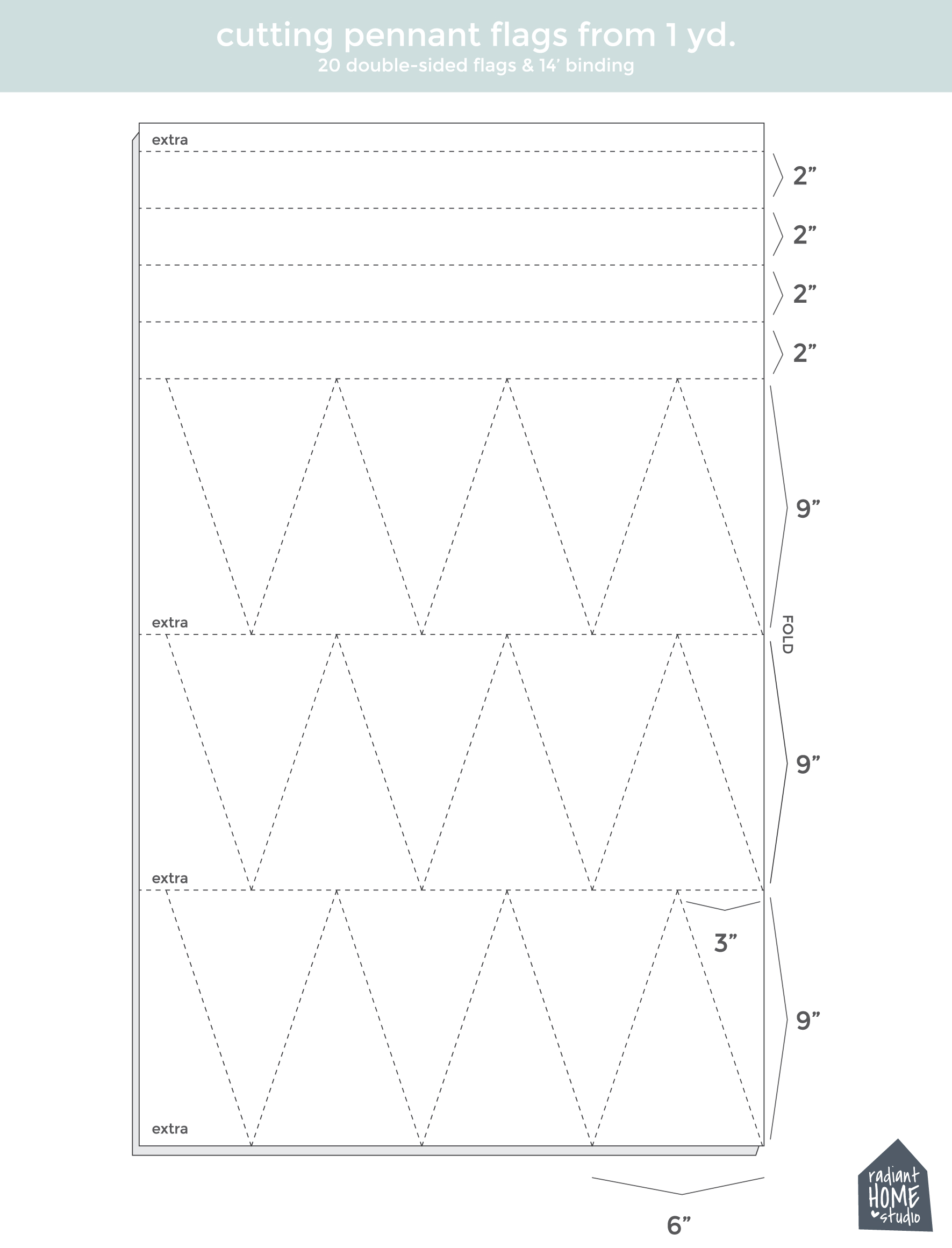 Sewing Instructions:
I've used 2 different methods for finishing the edges of the flags. If you have a serger, you can serge the 2 long edges with a rolled hem or narrow 3-thread stitch. (I started out doing this and it was super fast until my serger seized up…)
If you don't have a serger, just use a tight zig-zag stitch. Make sure the needle goes off the edge of the fabric just slightly on the right side of the zig-zag stitch. You might end up with a little bit of a ruffled edge. Just press each flag and trim the threads when you finish.
To make the binding, cut 2″ strips of fabric. (Five strips make the banner about 18′ long and will hold about 24 flags. Mine has 8 strips with 35 flags, and I still have some fabric left.) Since this binding doesn't need to be sewn around curves, it does not have to be cut on the bias. Just cut straight across like you did for the 9″ flag strips. Trim the ends of the strips at a 45° angle. Sew them together in one long strip by matching the ends as shown.
Trim the little corners off the strips and use the bias tape maker and your iron to create the binding.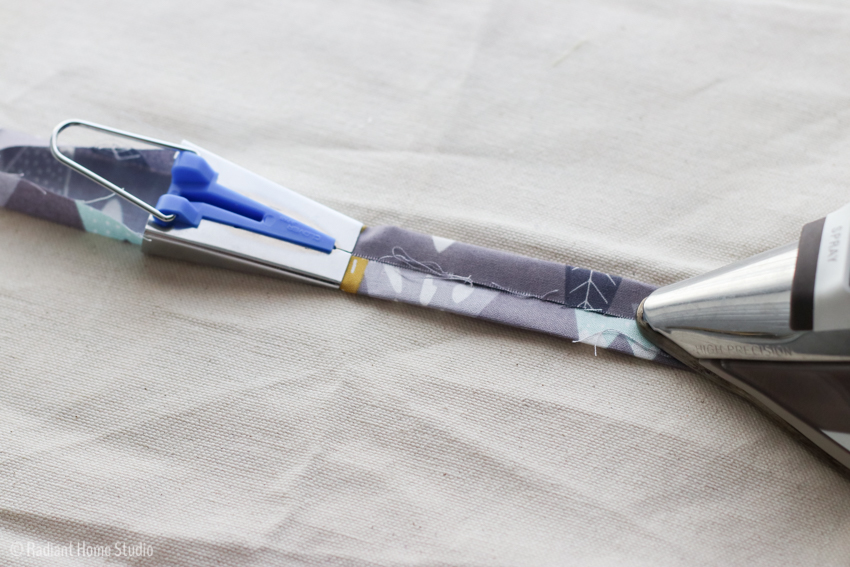 Organize your flags into a pile in the order you want them to hang on the banner.
Place the binding on your sewing machine with the folded edge to the right. Stitch 8-10″ on the open edge and then sandwich the first flag into the binding all the way into the folded edge. Continue stitching over the first flag. Sandwich the next flag in the binding leaving a 3-4″ gap between the flags. Continue stitching until you have added all your flags or until you run out of binding.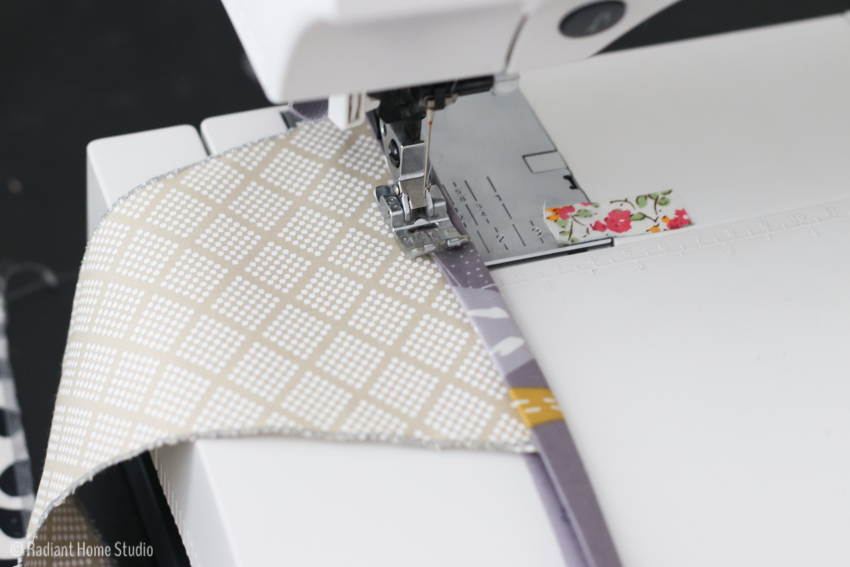 You can hang the finished pennant banner with a few thumbtacks.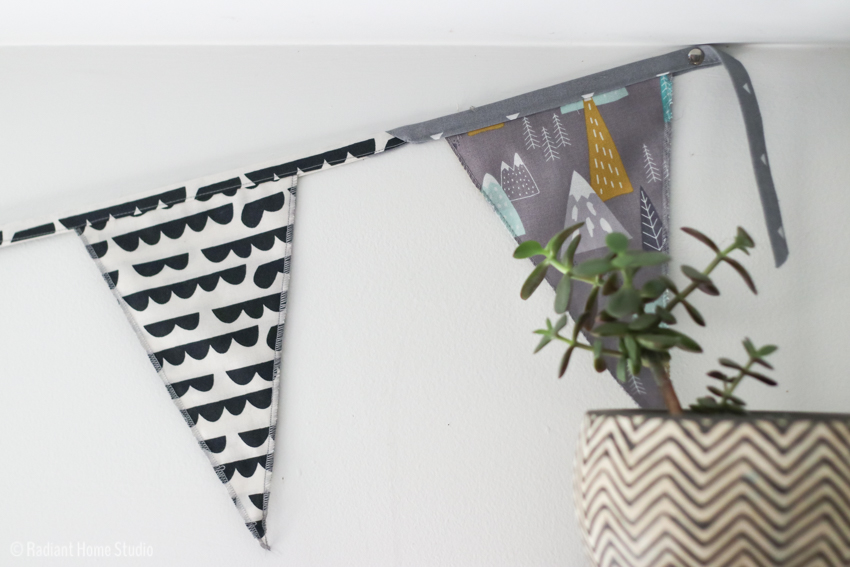 SaveSave
SaveSave
SaveSave
SaveSave
SaveSave
SaveSave
SaveSave