Last year I made a waxed canvas zipper bag for my 12-year-old son's birthday. My husband mentioned (more than a couple of times) how nice it was. I got the hint, and he got one for Christmas.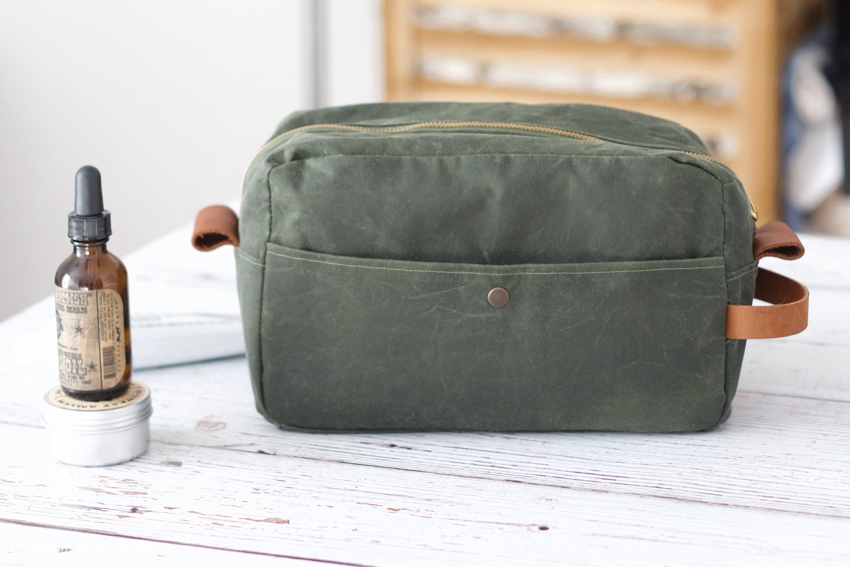 (This post contains affiliate links, which means I make a small commission at no cost to you. Thanks!)
For my son's zipper bag, I used canvas and waxed it myself using Otter Wax. For this bag, I ordered some pre-waxed canvas and a leather strap from The Confident Stitch. (This is a new-to-me fabric store. They have some great stuff and the owner is super helpful, so definitely check it out!) They have several colors and weights of waxed canvas. I chose the 6.25oz in olive green and it was exactly what I needed for this project!
I also ordered a 3/4″ leather strap. It was very nice quality and I will definitely purchase this item again for other bags in the future.
The pattern is the Gentlemen's Travel Case from Betz White's book Present Perfect, which is the same pattern I used for the pouch I made last year. There are lots of similar zipper pouch patterns that would work, but I really like the interior pleated pocket and the exterior pockets on this pattern. It's a nice size, deep enough for some bigger items, but not too big. I sewed it as instructed, but substituted a metal snap in place of the hook-and-loop tape on the side pocket. I also left off the decorative trim next to the zipper.
I actually made 2 of these at the same time, one for my husband and one for his brother. I think it was faster to sew them that way. I already had the fabric, interfacing, and patterns out, so it went almost as quickly as making one. I had a yard of both the waxed canvas and the lining fabric, which was plenty for two zipper bags.
I used the waxed canvas on the entire exterior and on the lining pieces that are next to the zipper (for stability). I can't remember if the pattern recommends interfacing the exterior pieces, but there's no need to interface waxed canvas. It's pretty stable and perfect for casual bags. Though I love Otter Wax for small projects, I really appreciated using the ready-made waxed canvas. It saved a lot of time and I didn't have to worry about waiting for it to dry and cure. I can't say I'll never wax my own fabric again, but it's good to have options! For bigger projects and things that are time sensitive, I will definitely be ordering again.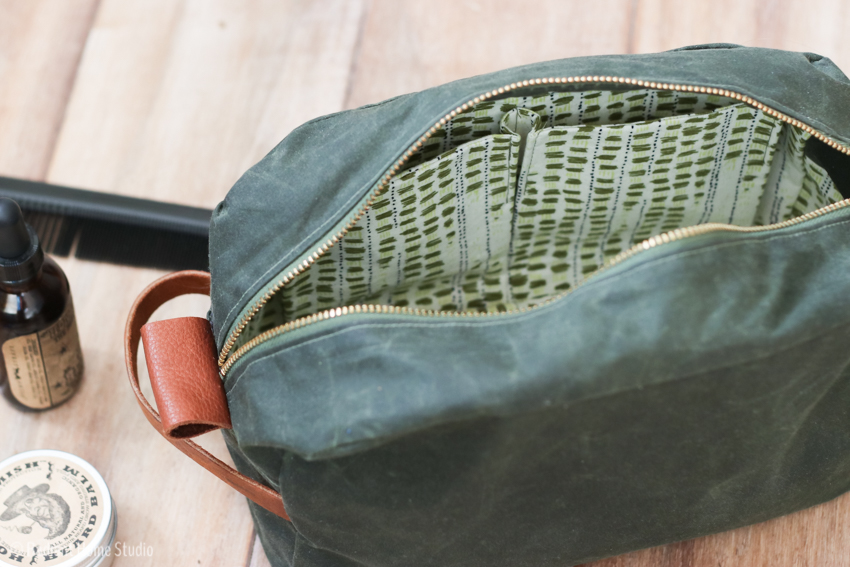 The Confident Stitch also has some heavier waxed canvas that would be great for bigger tote bags. I'll be looking for a project to experiment with the heavier weight waxed canvas when I get a chance. You can click the image below to see what other fabrics and notions they carry!
SaveSave
SaveSave
SaveSave
SaveSave
SaveSave
SaveSave
SaveSave