Sometimes I like a quick project that encourages "outside the box" thinking and inspires my creativity. This little Kantha inspired needle book did just that. Working without a pattern can be liberating and a project like this is hard to mess up. Straight lines aren't necessary and the Kantha style stitching looks best if it is slightly uneven.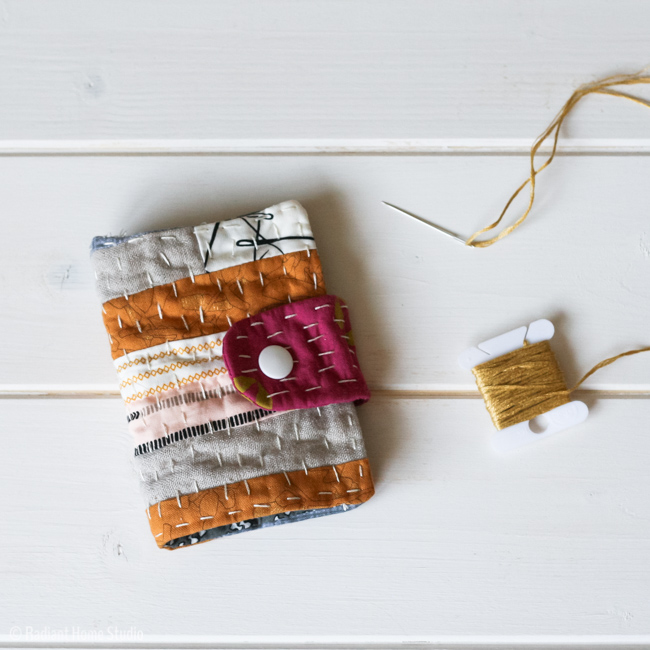 I'm sharing a tutorial, but this still requires some improvisation on your part to make it work! It isn't quite as detailed as some of my other tutorials, but the details you add to yours are what will make it your own. It's the perfect way to use up scraps, practice improv quilting, and experiment with hand stitching!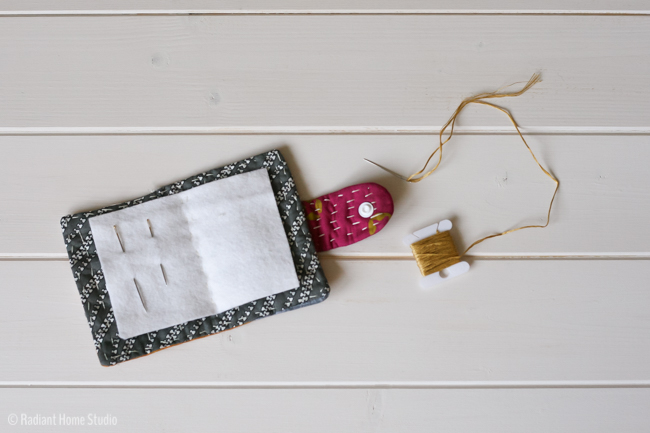 To Make a Kantha Needle Book You'll Need:
• a few scraps of fabric, felt, and quilt batting
• embroidery needle and floss
• a snap or button
Instructions:
Note: I used 1/4″ seam allowances.
1. Cut fabric into several strips. My strips were about 1 1/2″ x 8″ and a little bit uneven (which is good for this project!). I also made some of my strips with 2 fabrics as you can see from the following photos.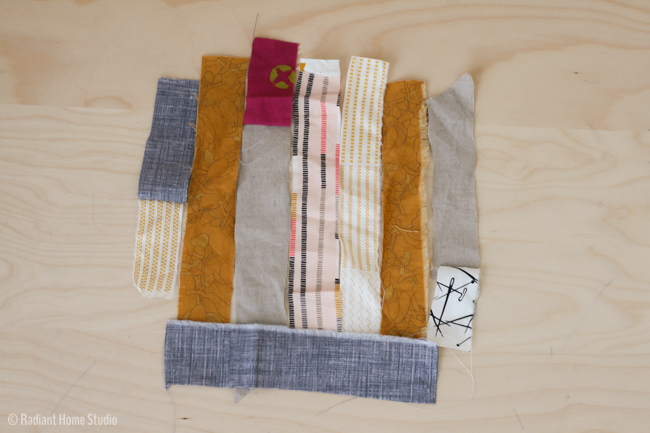 2. Stitch the strips together until you have a piece of fabric large enough to cut out a 5″ x 7″ rectangle.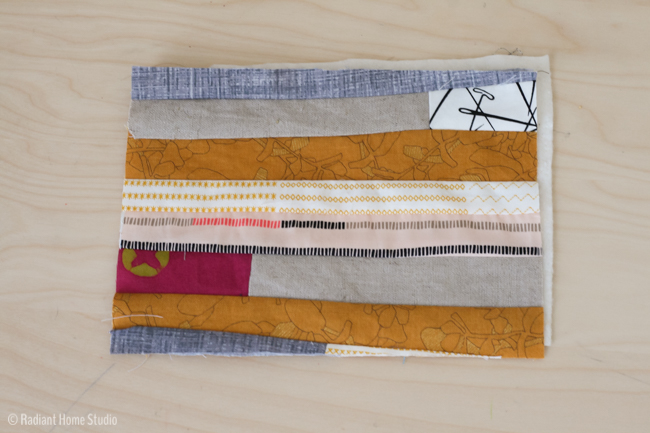 3. Cut out 5″ x 7″ rectangles from the patchwork fabric, a piece of quilt batting, and a piece of fabric for your lining.
4. Cut out two tab pieces. Mine are 3 1/2″ x 2″ with a rounded end. Cut out one more tab piece from batting.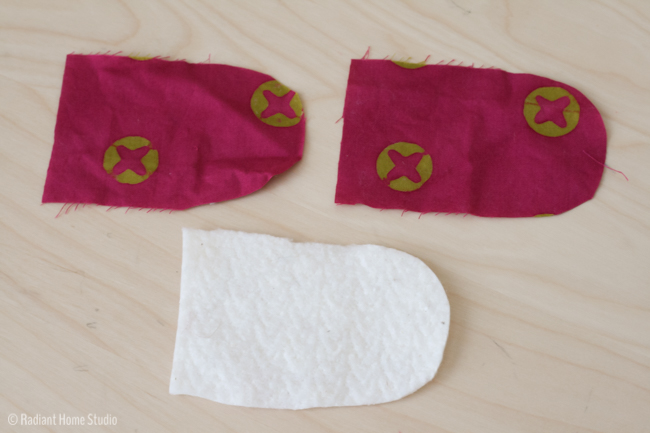 5. Layer the tab pieces as follows: batting, tab right side up, tab right side down. Stitch around the long curved edge and leave the short end open. Trim around the curve, turn right side out and press.
6. Place the tab piece on the patchwork rectangle and stitch it down as shown. Be sure to leave room for the seam allowance. Keep it folded toward the center and out of the way for the next step.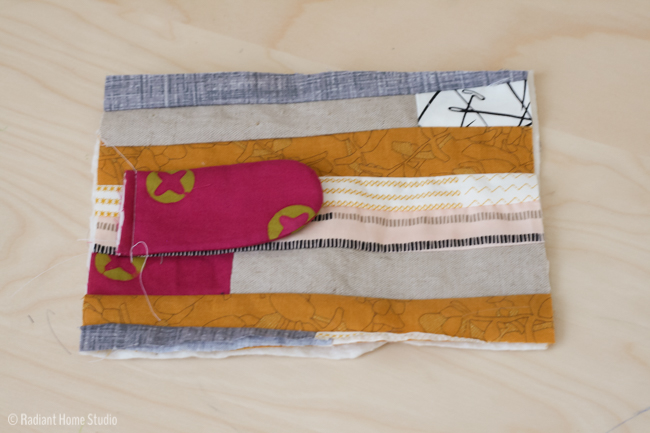 7. Layer the rectangles as follows: batting, patchwork rectangle right side up, lining rectangle right side down. Stitch around the rectangle leaving a 1-2″ opening on one side. Trim the seam allowances and corners. Turn right side out. Hand stitch the opening closed.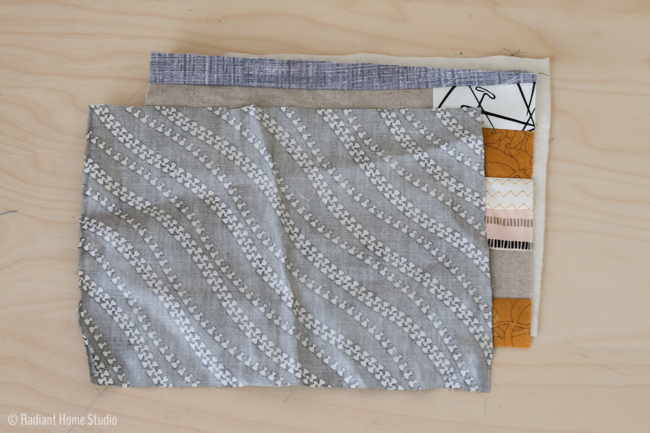 8. Use a running stitch to stitch around the edges, tacking down the snap tab as you go. Fill in the rest of the space with running stitches. I used 2 strands of floss for mine. When you get to the middle, stitch a rectangle (or 2) of felt into the center crease. Add a button or snap.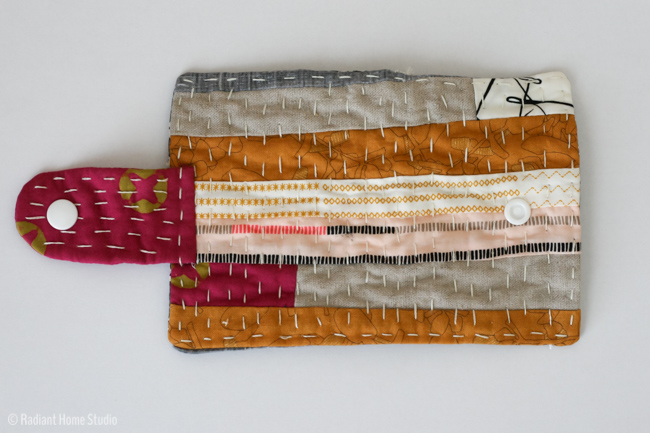 Just a quick tip for the running stitches…when you switch to a new row, Make the crossover stitch between the layers. That way you won't have horizontal stitches on the back and vertical stitches on the front, and your lines will look neat and clean!
SaveSave