A couple of months ago, I made the Hot Mitt House potholder from Betz White's new book called Present Perfect. I love the welcoming shape of the little house. It would make a lovely housewarming gift for a friend or a fun addition to your own kitchen. Plus, it is a creative way to use scraps of your favorite prints!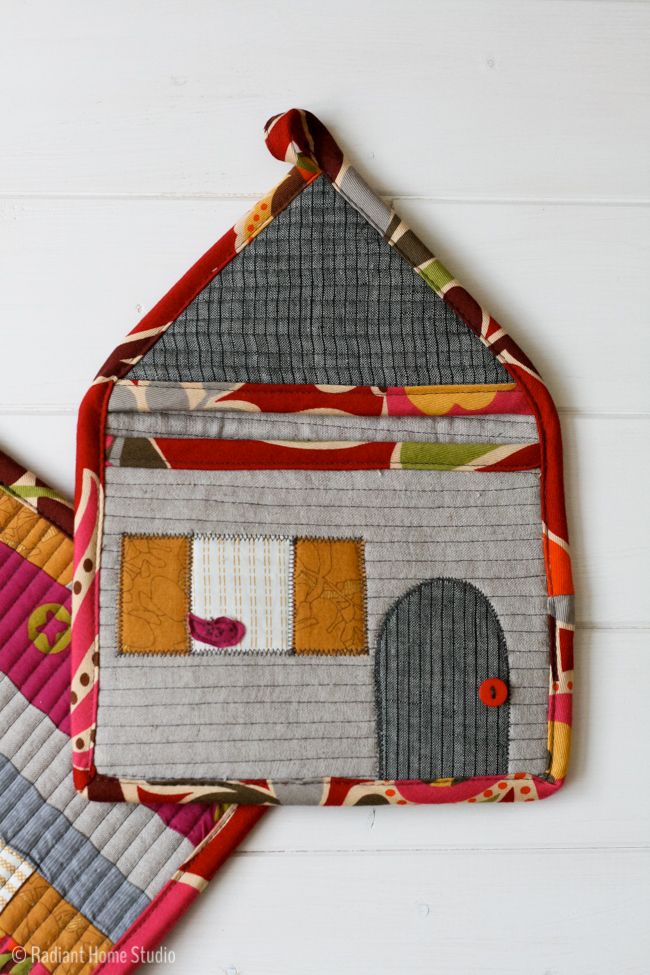 In the book, Betz pairs the house potholder with a coordinating tea towel. With 6 messy kiddos, white tea towels don't stay white very long in my house! My current potholders are faded and worn, so I took the opportunity to make a matching patchwork potholder in pretty colors to brighten up my kitchen.
I have a couple of handmade potholders from a few years ago. One of the things I noticed after using them is that the binding is somewhat melted in places. That is because the premade binding I used is part cotton and part polyester. The polyester doesn't withstand high heat very well and can melt (just like when you use an overly hot iron). If you can find 100% cotton binding, you'll want to use that. If not, you can make your own bias binding like I did. Though it's a few minutes of extra work, making your own bias binding for your potholders will add more binding options and allow you to create a potholder that matches your unique style.
The Hot Mitt House potholder was really fun to make and the directions are easy to follow. I used linen for the base, and some bright colored scraps to add some color to my very white kitchen. Now I'm not sure I want to use it and get it all dirty!
To make the extra potholder, I just cut some slightly off rectangle strips of fabric and stitched them together improvisationally (spell-check says that's not a word…). I'm the kind of person that cooks without recipes and never really makes the same thing twice. I think that's why I love improvisational piecing. No recipe. You can't really mess it up.
After I had a large enough patchwork piece, I cut out a 9″ square and rounded the corners. I cut out a matching back piece and layered 2 sheets of insulated interfacing. The potholders I made a few years ago only had one layer, but seemed like they could be a little bit more substantial. I did some straight line quilting across the square and then attached the binding. In the Hot Mitt House directions, Betz has a nice method for creating the loop which I used for the extra potholder as well.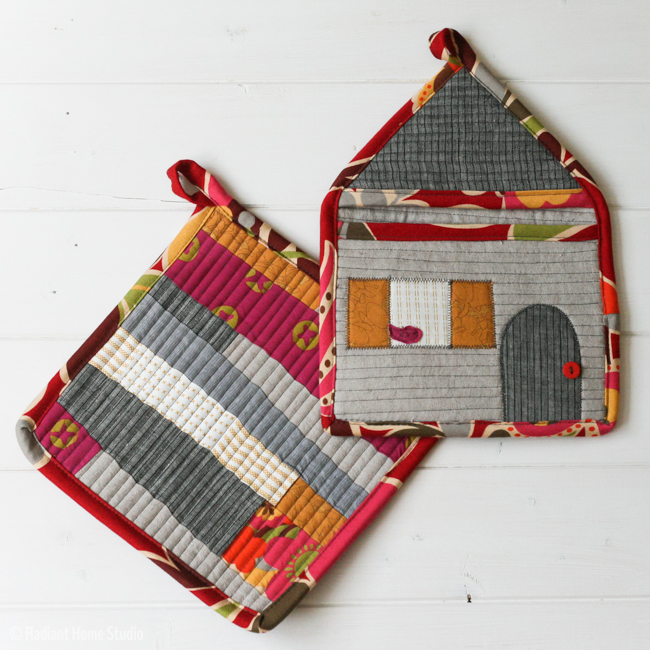 Have you made any projects from Present Perfect yet?