I've been following Anna at Noodlehead for years. When I discovered she was working on a book, I knew it was something I would want to have in my sewing book library. Anna has a great style that mixes modern fabrics with handmade coziness. She uses clean simple lines, but always adds extra details that make her projects unique. After debating which project to make first, I decided on some practical gifts for friends that are getting married soon.
I'd love to make every single project in the book, but I started with this basket. It's such a versatile design that I'm sure there are dozens of uses for this around the house. Plus, I love the leather handle detail!
This basket is a gift for a friend that is getting married in a few weeks. I always find it fun to choose fabric for my friends. This friend made it easy by registering for lots of clean, natural looking items with blue accents. I used a navy geometric home dec fabric, with linen and leather accents.
The basket construction is fairly simple, but be sure to check Noodlehead for the pattern errata. There's a typo in the cutting measurements, so it's important to find that before you get started. The trickiest part is trying to press and fuse interfacing to the bottom of the basket after it is formed. I used a rolled piece of fabric on the inside as a makeshift tailor's ham so that I could press the bottom of the basket.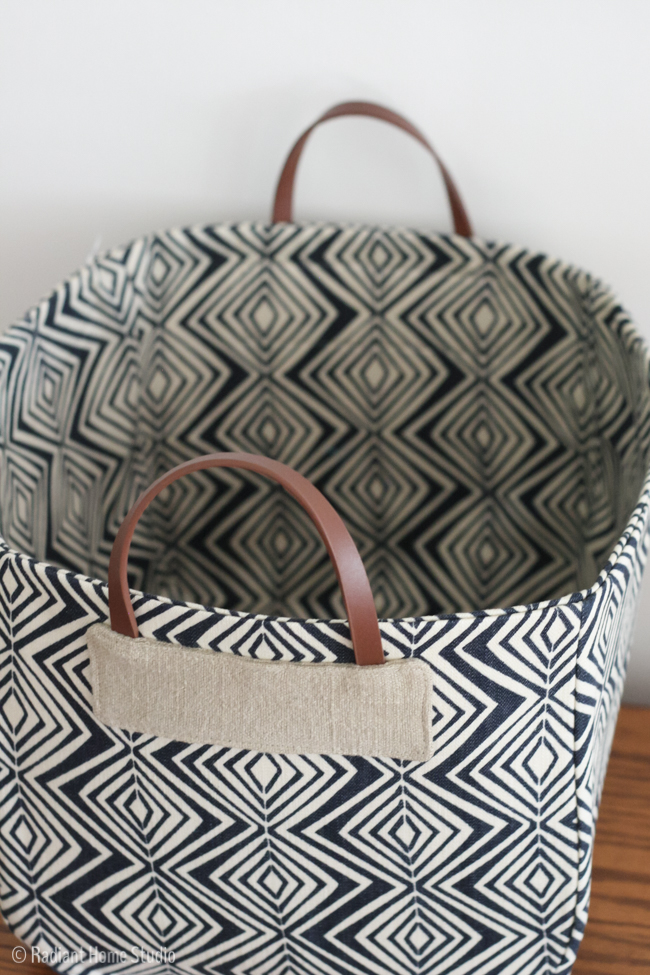 I managed to finish one more this week. This one is made from a thick upholstery linen. I think the lighter weight home decor fabric worked a little bit better for this project, but I still love the simplicity of the linen and leather for this one.
I'd love to make some more to store my own sewing supplies! I'm excited about some of the smaller book projects as well, which I hope to try with my daughter and some of her friends that are learning to sew. Add them to my never-ending list of things I want to make…