I made some Geranium Dresses! I've had this pattern for years. My big girls grew out of it before I had a chance to make it, so I've been waiting to make one for our newest baby girl.
It took me months to get the photos, because of the rainy weather. However, it was worth the wait to get her with the kittens!
I love the classic, yet modern, silhouette of the dress. The details and options make it fun to sew a few times. There are three neckline options, a couple of lengths, and three sleeve options.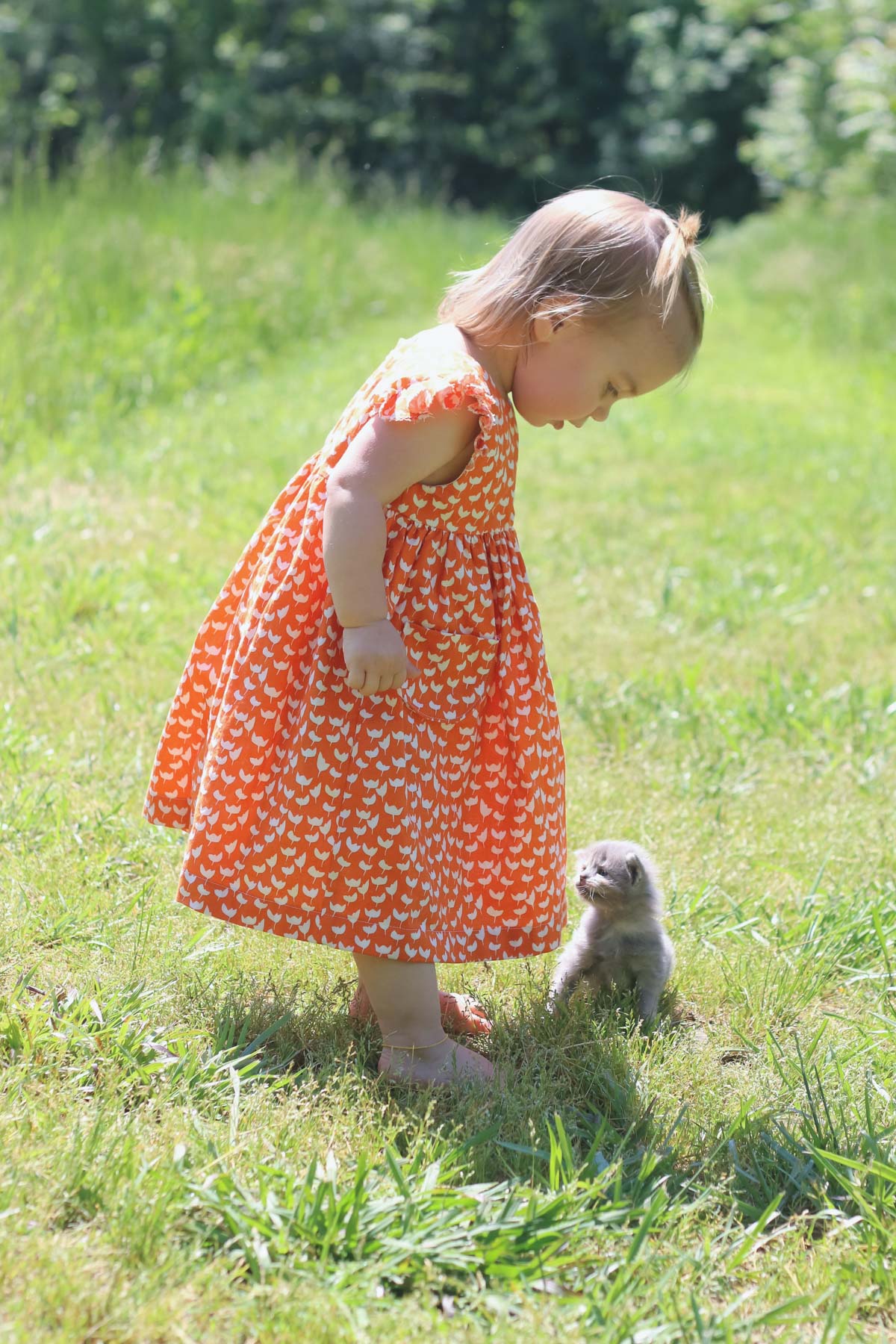 Babies grow so quickly! I wanted to make her dress sooner, but I was literally taking clothes out of her drawer every 3-6 weeks because she was growing out of them. But I decided it would be best to save my sewing energy for dresses she could wear for more than a month.
I made two Geranium dresses in different styles: one with this beautiful indigo floral poplin by Elizabeth Olwen for Cloud9 Fabrics (in a size 18-24m) and the other with the rusty orange abstract floral by Lotta Jansdotter (in a size 2T). They aren't traditional "baby colors" but still have a feminine quality because of the florals.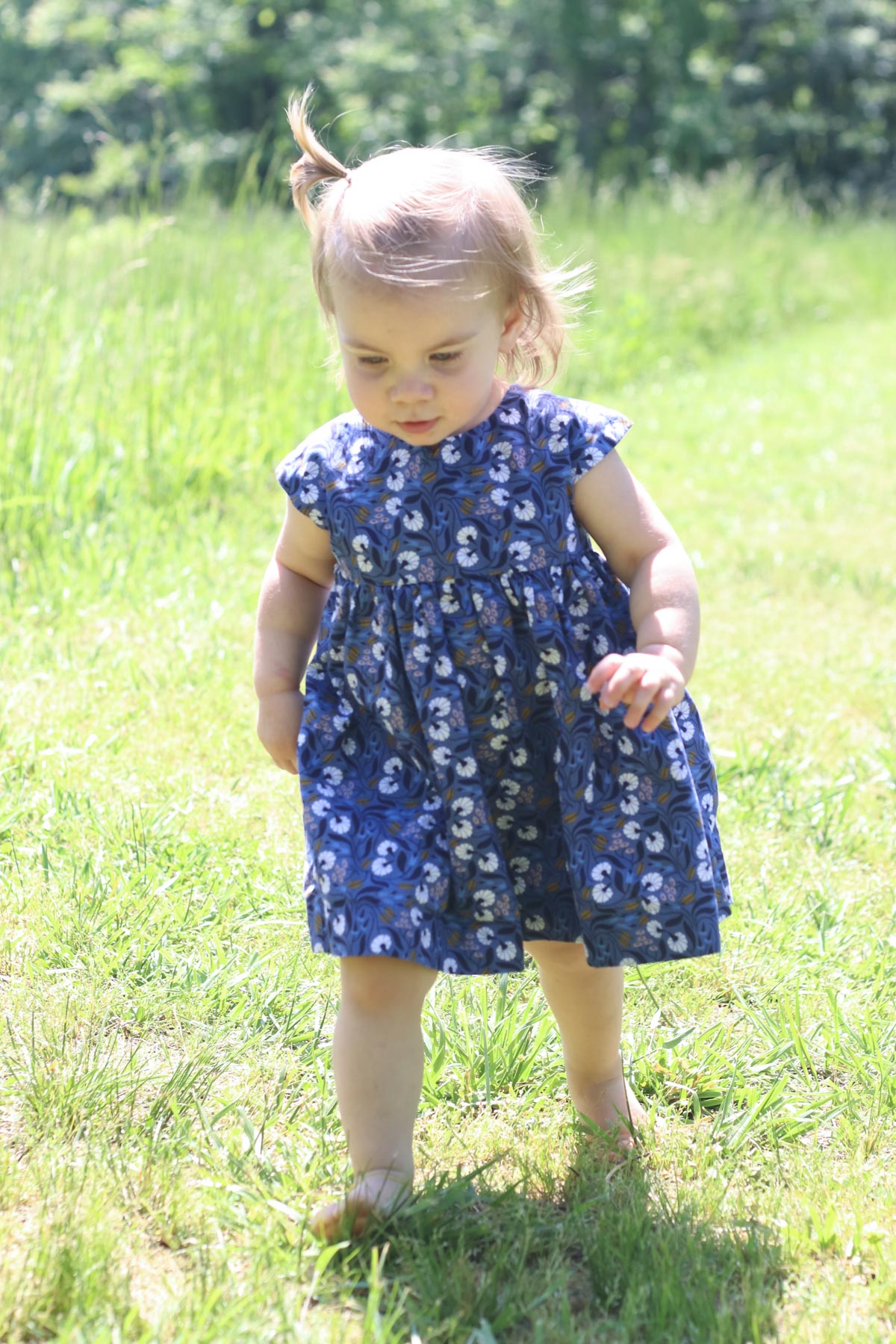 The blue dress was made in the fall in a size 18-24 months. It still fits, but it's getting short. I just finished making the orange dress a few weeks ago, and I went ahead and sized up to a 2T.
So, let me tell you a little story about how I ended up making three bodices for the first dress…
With a chest measurement of 19″, my girl fell into the size 12-18m range. Since that's what she wears in store-bought clothes it seemed like the right size choice. I thought it looked a little small, but it's been a while since I sewed for a baby so I didn't worry about it. I finished the bodice in about an hour and tried it on her. It was not. even. close.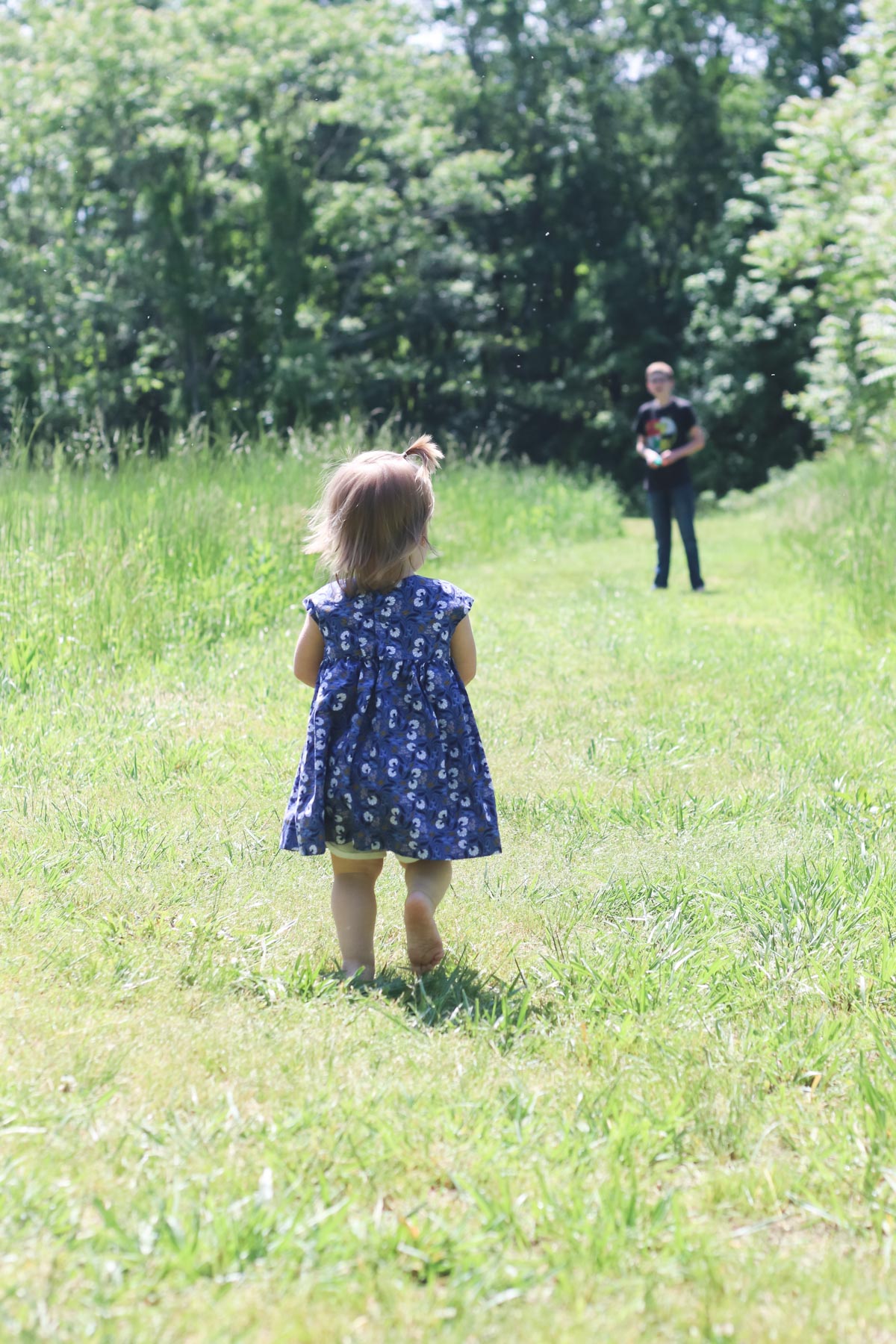 I thought maybe the ease was less than I was used to, so I doubled-checked measurements and seam allowances and decided to skip up two sizes to a 2T. An hour later…still too small. As in, the button flap didn't overlap. at. all. What in the world? I knew it had to be me. This pattern has such great reviews.
I messaged a friend (Rachel – Stitched Together) that has made several and asked what she thought about the sizing. While I was waiting for her answer I started thinking about how I might answer an email from a customer asking me the about size problems. It occurred to me that I may have printed it wrong.
Sure enough. The scaling was off by 1/16″. My default print settings were not at 100%. Facepalm. (Really. I should know better…)
After a couple of hours of time away from the sewing, I reprinted, chatted with Rachel, and compared the correct and incorrect pieces to see what size I needed to make. Based on the comparisons, I decided to go with the 18-24m size and it ended up being the right call. (Fluffy baby bellies need a little bit of extra ease!)
So, there you have it. Even experienced sewists make mistakes. (As Mie from Sewing Like Mad also proved a couple of months ago! This story will make you feel better about your sewing mistakes.)
Dress number two went significantly faster and with no (major) mistakes!
I love the pattern and I'll definitely be making more. Rae recently released a Geranium Dress version for bigger girls too. It's on my list…we shall see if I can make time with a toddler climbing on the table and getting her snacks from high cupboards every time I turn my back!
What's the worst sewing mistake you've ever made? Let's share to make ourselves feel better!