A couple of weeks ago, Sara started a 6 week sew-along using the Tessellation quilt pattern by Alison Glass. Though I don't normally sew quilts, I just could not stop looking at Alison's beautiful quilt from the pattern cover. I thought about it all week and finally decided to go for it. I ordered my fabric and pattern which were promptly sent to…my old address.
Three phone calls to the post office this week and I finally got all of my supplies! I'm about 3 weeks behind now, but I'm determined to catch up in time to share my completed quilt top with the rest of the people sewing along.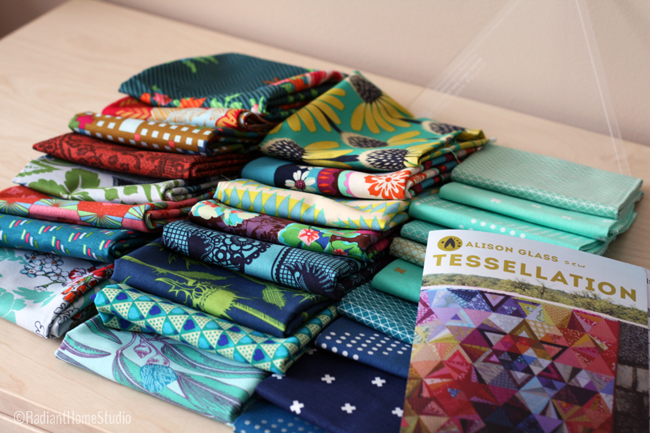 The Tessellation quilt pattern is designed to work with solids or fabrics that read as solids from a distance. I took a risk and chose busier Anna Maria Horner fabrics with a color palette in mind, and then added a fat quarter bundle of Cotton & Steel Splash basics. Somehow solids just didn't feel cozy enough for my living room. So far I love the palette and we'll see how the prints work as I get further along in the process.
For now, I have cut out all of the "A" triangles, which are just the plain triangles that make up the largest portion of the quilt. The rest of the quilt is pieced using foundation paper piecing, which you can see in Sara's post.
Anyone else sewing along?