Early in 2020 we moved to a new home. It's a mid-century modernist ranch, but it had been decorated to hide some of it's most beautiful features. Heavy drapes covered all of the big open windows, dark granite counters gave the kitchen a 90's vibe, and the wood floors were in desperate need of refinishing.
We still have lots of work to do, but our goal was to work on the community spaces first. Our family focus on hospitality and welcoming guests made the powder room a big priority. (Unfortunately, COVID has kept us from having people in our home much this year, but we'll be ready when it's safe again!)
Without further ado, our welcoming wallpapered boho modern powder room:
As I walked through the empty house, my designer mind couldn't stop imagining the beautiful wallpaper designs I wanted to create for each space. (You can see more of my designs on my portfolio page… I'd love to collaborate with wallpaper, home, and textile companies!) This neutral boho wallpaper I designed was the basis for the rest of the design decision in this room.
The wood floors had quite a bit of water damage, so we chose to replace them with a neutral patterned tile. The hexagon shape and geometric pattern is a nod to midcentury style while the neutral color and larger size give it a more modern boho vibe.
I love how these tiles look but I would not recommend DIY'ing these without experience or great spatial reasoning abilities! It was a challenge, even for a pattern designer, to get these cut correctly. I chose a light gray grout, but it dried almost white. With muddy kids in and out, I'm considering grout dye to make it darker and hide the inevitable kid stains.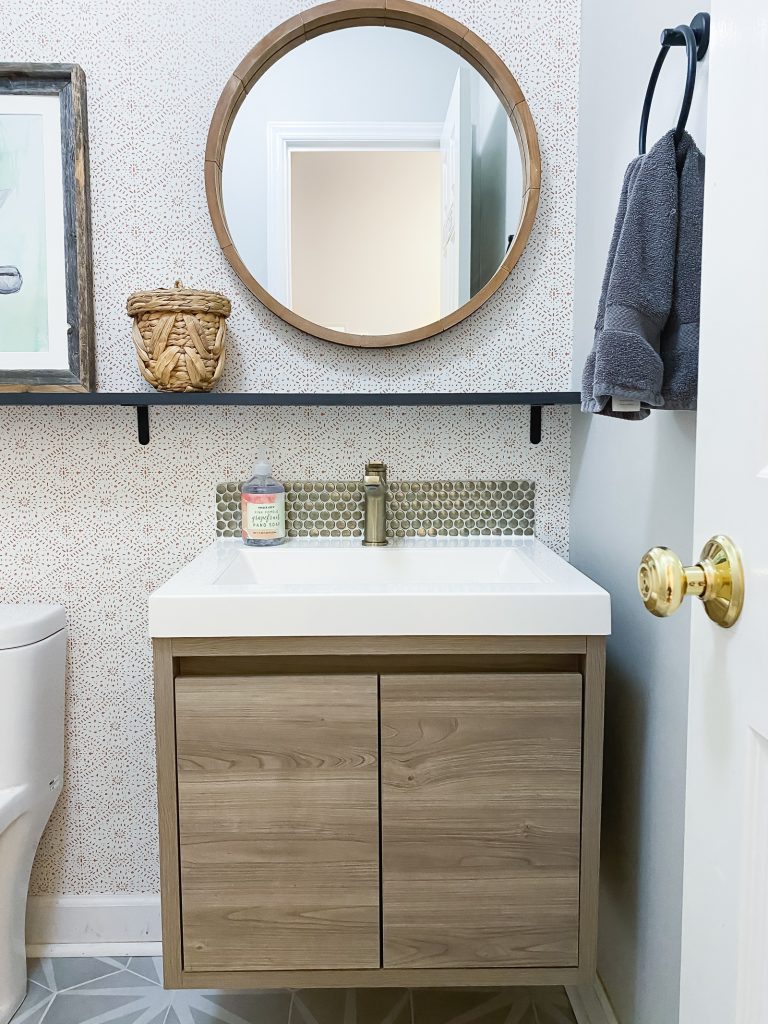 For the vanity, we needed something small, but with a little storage. I found this great inexpensive option on All Modern. It's well-constructed, heavy, and easy to install. We added this brushed gold faucet (which did not come with the drain plug).
Behind the faucet, I added some metallic penny tile as a small backsplash. The round mirror and basket are from Target. I've also seen some great similar options in HomeGoods and TJ Maxx.
My favorite feature (besides the wallpaper) is the gray full-width shelf. I saw the idea in a magazine somewhere and knew it would be the perfect addition to this small bathroom. I bought these small black shelf brackets and a 1″ x 6″ pine board. The wood just needed a quick coat of chalk paint and wax and then I cut to size.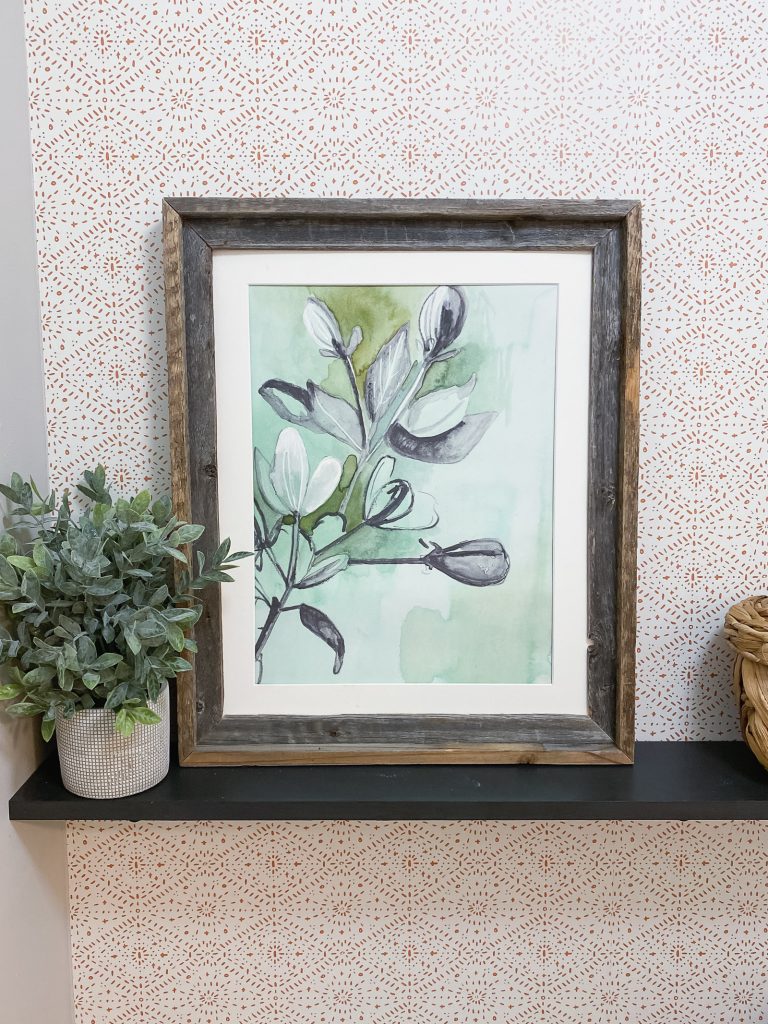 Minted is my go-to source of inexpensive art from independent artists. This abstract floral print is by Meg Wells.
The finishing touch is a metal restroom sign from Schoolhouse. How many times do you go to a friend's house, get confused, and open half the doors in the hallway to find the bathroom? Now our friends don't need to ask!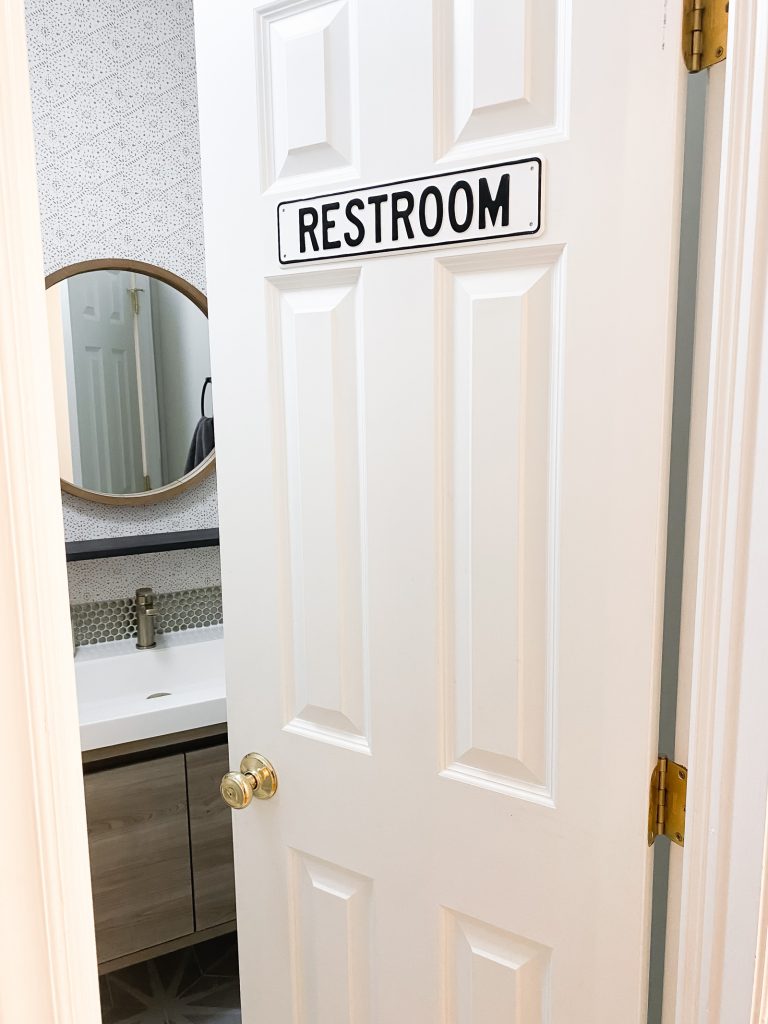 I almost forgot the light fixture! It's not the first thing you notice anymore, but that's a good thing! The old light seemed to be an outdoor porch light with prism glass that reflected weird shadows all over the room. It was not very soft and welcoming. We added a classic midcentury inspired globe light that softens the space and adds the right amount of light.
We can't wait to welcome some friends soon and we hope they feel happy and peaceful in our redesigned guest powder room!