Two years ago, I released my first sewing pattern. Today, I'm kicking off a week-long blog tour with some of my blogging friends to celebrate! I'll be posting each day this week with links to the projects they've made from my patterns and tutorials. We hope to share a week full of sewing inspiration for you. As part of the celebration, all of my patterns are on sale! And stick around later in the week for an extra post with a fun announcement and a giveaway!
When I sold my first pattern a couple of years ago, it felt like a big risk. There's not a huge financial risk in starting an online business, but there is risk in sharing your ideas on the internet for all to see and comment on. It turned out to be one of the best risks I've ever taken. I can't tell you how supportive the online sewing community has been. I've have loved getting to know the sewing bloggers and pattern designers and blog readers these 2 years. To the bloggers and designers, and those of you that read my blog regularly and buy my patterns—I appreciate each one of you!
My first two patterns, the Water Bottle Tote and the Retro Rucksack, have continued to be my bestselling patterns. With all that I've learned this year, it was time to update those 2 patterns. I'm happy to tell you that both have been completely updated (and now again in 2020), including reformatted pattern pages that are easier to assemble, new illustrations, clarification for tricky spots, and better zipper instructions (for the rucksack).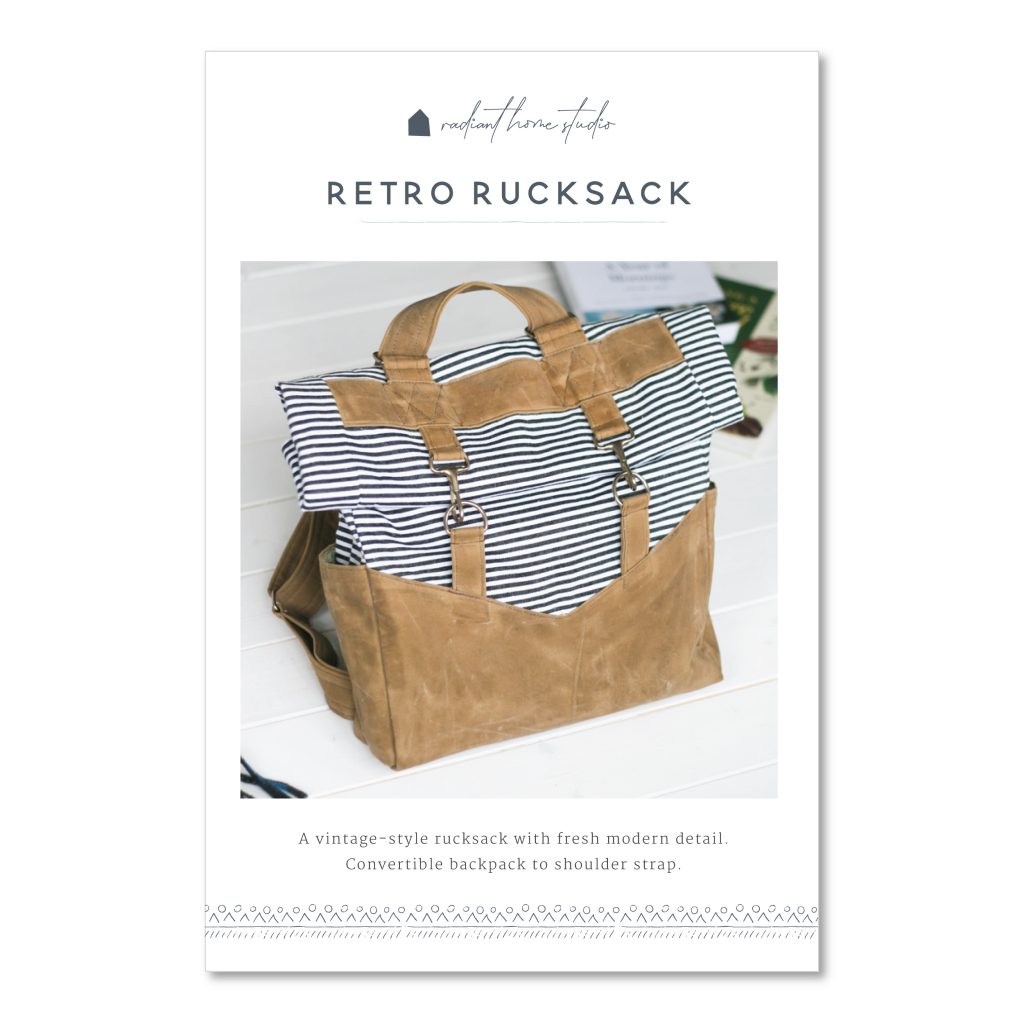 On to the blog tour…
Today Audrey from Skirt Fixation is sharing a Fairport Purse and Alicia from Felt with Love Designs is sharing a Retro Rucksack.
Audrey and her daughters at Skirt Fixation are very active in the online sewing community. She mostly sews for (and with) her daughters and loves Oliver + S patterns. Though we've never met, Audrey's love of sewing and her big family make me sure that we could be fast friends! Be sure to check out her free skirt pattern and her e-book filled with refashioned skirts. Audrey made a Fairport Pouch with fun orange suede and a snap flap. She has a thorough review of the pattern and some bonus cyber Monday sale alerts you don't want to miss!
Alicia writes at Felt With Love Designs, a blog filled with creative and fun crafts for kids. She has a tons of free tutorials for felt projects, ideas for educational games and busy bags, as well as a pattern shop. Alicia made the lining of her Retro Rucksack with some favorite "fun" fabric that she's been saving for the right project. Check out her post for more details and helpful pictures demonstrating the strap options!
Radiant Home Studio 2nd Birthday Celebration:
Monday, Nov. 30th
Radiant Home Studio || Skirt Fixation || Felt With Love Designs
Tuesday, Dec. 1st
A Happy Stitch || Sew Happily Ever After || Call Ajaire
Wednesday, Dec. 2nd
Sew Very || Swoodson Says || Vicky Myers Creations
Thursday, Dec. 3rd
Happy Okapi || House of Estrela || Molly and Mama
Friday, Dec. 4th
Hugs Are Fun || Sew DIY || Made By Sara
Saturday, Dec. 5th
Rebel and Malice || The Wholesome Mama