After looking through some of my recent projects, I discovered that I'm drawn to pretty scalloped details. I've used a scalloped design on several projects recently. I love how scallops add a soft and feminine touch to craft projects and sewing patterns. The shape is easy to create on your own and can be used in a variety of projects, from paper crafts, to crochet and sewing.
Here are 18 beautiful scalloped craft projects I've gathered to share with you, including a few from my own project archives. Some of the projects are free tutorials and others are paid patterns. I've tried to include a variety of crafts and projects for different skill levels. I hope these inspire you to create something beautiful!

(This post contains affiliate links, which means I earn a small commission at no cost to you. Thanks!)
1. Have you seen the Memory Lane Tote? The colors and scalloped effect of the fabric on the bag make it look like it came from a high-end boutique. And it looks like the perfect way to use up quilting scraps! If you like the style, you can also find a coordinating pillow pattern in Karen's craftsy shop.
2. My Mini Highland House, with the scalloped roof detail, is available for free! It's a small stuffed house that makes a cute decoration or a fun kids toy.
3. I love this handmade Clamshell Zipper Pouch. Look at the hand-stitched detail and lovely fabric mixing! There's no pattern on the blog, but you can find several other clamshell projects there and the instructions for this pouch in Issue 57 of Mollie Makes. And if you are an experienced quilter, you might be able to design your own pouch inspired by this one.
4. Here's a tutorial for a Reversible Ladies Skirt with a scalloped edge. Megan also has some styling tips for wearing this skirt during the day vs. going out at night. Her blog has a great step-by-step photo tutorial!
5. This Crocheted Infinity Scarf with scalloped edges looks so cozy! I barely crochet, but I might teach myself just so I can try this pattern…
6. Here's a cute party idea…make a Scalloped Bunting! I love the idea of reusable party decorations. This is a great tutorial for a quick and easy project.
7. Here's a full tutorial for a Reversible Girls Skirt with a scalloped edge. Great photos with easy to follow instructions!
8. Here's a Crochet Coaster Tutorial that looks like it would make fun gifts! These gorgeous blue ones were made by Shannon of Very Shannon, who has lots of beautiful projects on her blog as well! It also looks like it would be a good starter project for kids that have learned the basics of crocheting.
9. Carving your own stamps is pretty easy! You can make Stamped Tote Bag with a scalloped design by carving a simple half circle stamp using my tutorial.
10. These simple Stamped Treat Bags are easy and versatile. You could make them in holiday colors for stocking stuffers or team colors for school party favors. There are lots of possibilities with this project!
11. This Scalloped Leather Envelope Clutch was designed to hold a couple of diapers and wipes, but it's so elegant that you could totally get away with carrying it as a clutch.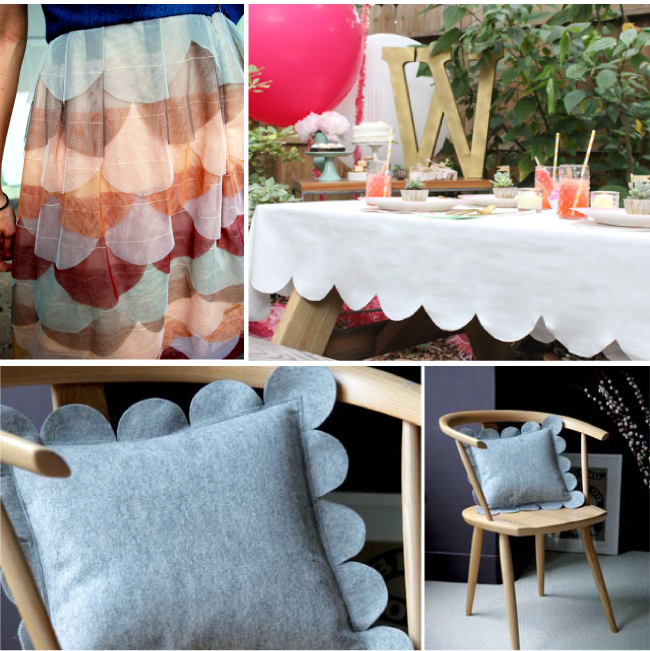 12. Throwing a dinner party? How about a Scalloped Paper Tablecloth to add some style to the table! You could make it with kraft paper for a more rustic look.
13. This Scalloped Layered Tulle Skirt was too gorgeous to leave out. It looks as though the original photo is no longer online, so there are no directions. But I think it would be fairly easy to add layers of scalloped tulle over a simple skirt pattern. Or use the idea as inspiration for a fun tutu or curtain embellishment!
14. Here's a  Modern Felt Pillow tutorial that is an excerpt from Felt Sew Good by Christine Leech. I reviewed this beautiful book last year after I bought it for my daughter (secretly hoping she would share!). If you love modern felt crafts, I can't recommend the book enough.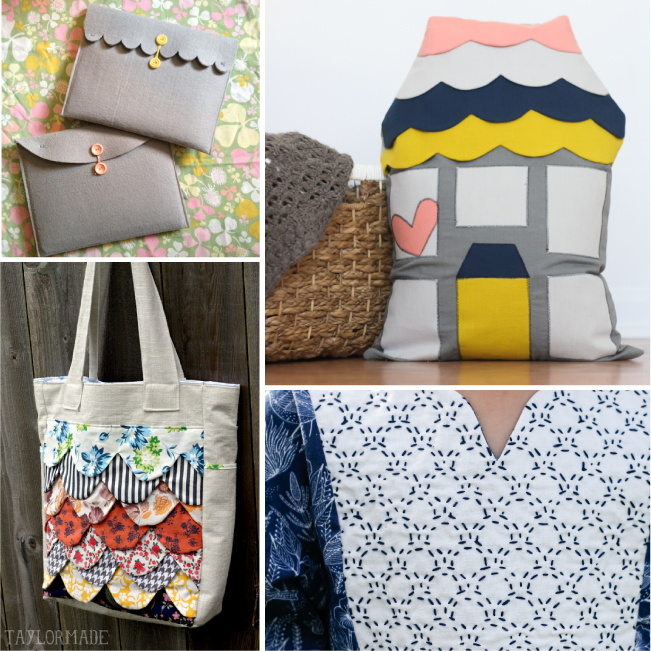 15. I love this Scalloped Felt iPad Case. Wool felt is easy to work with and you don't have to finish the edges. You could make several of these as gifts in an afternoon.
16. My Highland Avenue House pattern has a lovely scalloped roof design. It's fun enough for a kids room, yet sophisticated enough to use in a cozy corner of the living room!
17. If you love making bags, try the Sweet Scallop Tote. Taylor links to the free pattern in her post, but I linked to her bag as inspiration because she has some great tips and extra details in her post. Plus, the linen fabric she chose is beautiful and classic.
18. How about some scalloped sashiko embroidery? The scalloped detail on this Hide and Seek Dress really makes the dress stand out! If you want more sashiko inspiration, check out this post with 20 more ideas!
P.S. If you use the "pin it" button in your browser, you'll find a hidden image with all of the lovely scallop inspiration together!
SaveSave
SaveSave