This is part 1 of a two part tutorial. In part 1, I'll show you how to make the Kantha stitched pocket. In part 2, I'll show you how to add Kantha stitched tote bag handles and how to apply grommets.
With our move last month, I totally skipped the regular Tote Bag Upgrade post. I hope this one is worth the wait! It's an Indian inspired tote bag with a patchwork Kantha stitched pocket. I also added matching straps and attached them with grommets.
I've always enjoyed embroidery, but I've been on a Kantha stitching kick recently. I started small with the kantha needle book project. I've had lots of positive feedback about that tutorial, so I decided to upgrade a plain tote bag with some Indian inspired patchwork and Kantha stitching.
If you aren't familiar with Kantha stitching, it's basically a running stitch. In Japan it's called sashiko, in India, it is called Kantha, and in English, we call it a running stitch. There are small nuances, meanings, and histories that make each stitching technique unique, but for our purposes, you'll just need to make a simple running stitch. Kantha quilts are historically made with scraps, so patchwork style pockets and straps with bright colors really add to the exotic feel of the project.

Materials (includes materials needed for pocket and straps):
• canvas tote bag
• 4 fat quarters of quilting cotton or batiks in bright colors
• 3 skeins of embroidery floss & embroidery needle
• 8″ x 8″ square of mid-weight fusible interfacing (I used Pellon 931F.)
• 4 grommets size 3/8″
• 1/4 yd. of fusible fleece (I used Pellon 987F.)
• 1 yd. fusible hem tape
Preparation (for pocket pieces only):
• cut 4 rectangles (9″ x 3″) from various colors of quilting cotton for pocket
• cut 1 square (8″ x 8″) from quilting cotton for pocket lining
Kantha Stitch Pocket Tutorial:
1. Lay out the four pocket rectangles in the order you want them. Starting at the top, place the upper rectangle right sides together with the one below it and stitch together using a 1/2″ seam allowance. Continue until you have sewn the 4 strips together and then press the seams open. This is the pocket front.
2. Fuse the square of mid-weight interfacing to the wrong side of the pocket front.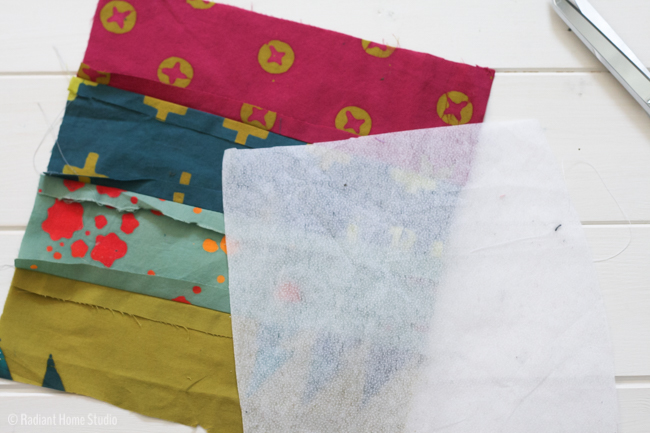 3. Place the pocket front right sides together with the pocket lining. Starting in the center of one of the straight sides (not on a corner), stitch around all 4 sides. Pivot at each corner and leave a 2″ opening on one of the straight sides. Trim the corners.
4. Turn the pocket right side out. Push out the corners with a knitting needle or similar object. Press it flat.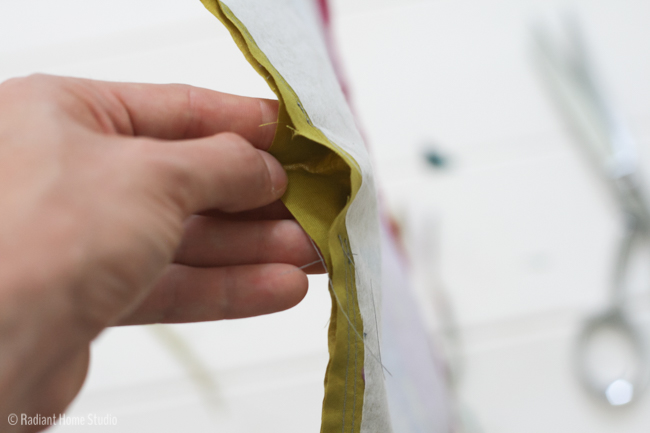 5. Thread your needle with 3 strands of embroidery floss. Begin stitching the pocket using a running stitch. I like to bury my knot in the seam. Switch rows between the layers. You can also stitch quickly by using a long needle and loading it with several stitches before pulling it through. Continue embroidering with a running stitch until you have covered the entire pocket.
A note about the stitching…don't worry about getting the spacing perfect. I think the beauty of the Kantha stitching is in the imperfections. It looks beautiful even when the stitches are crooked and uneven because it is obvious that someone (you!) put your time into hand making every stitch!
6. Place the pocket on the bag, toward the bottom center. Pin it in place. Stitch the pocket to the bag by edge stitching along the sides and bottom of the pocket. Don't stitch through both layers of the bag! (Ask me how I know…I stitched the pocket on 3 times!) You can secure the top edges by using a narrow zigzag stitch or by backstitching.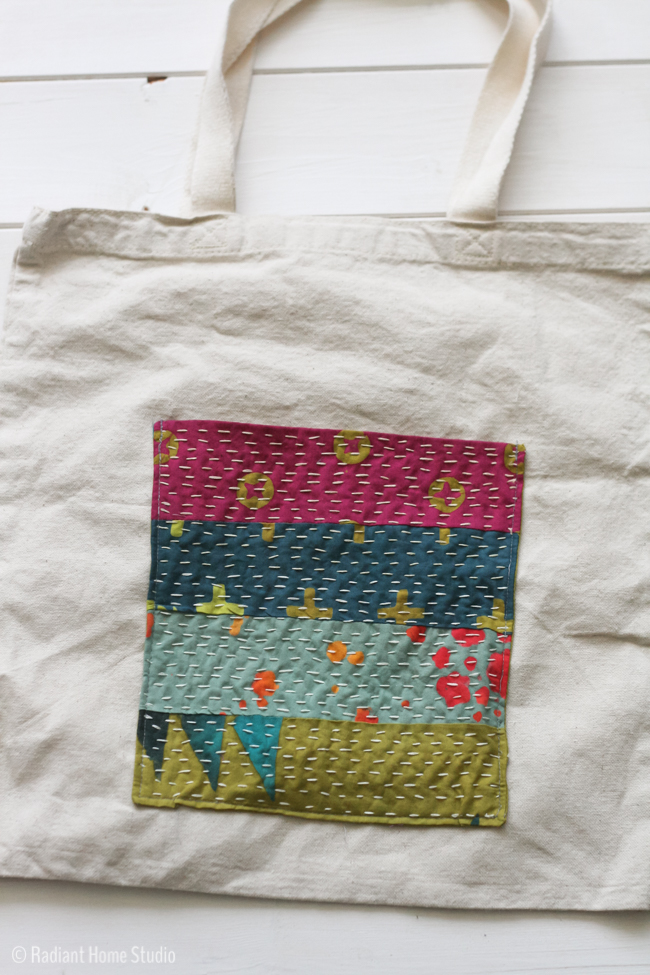 That's it for the pocket! I'll post part 2, the straps and grommets, next week.
For the strap & grommet tutorial, click here for part 2!