Last year I had the opportunity to contribute a pattern to the book On The Go Bags by Lindsay Conner and Janelle MacKay. In order to help with some of the sewing questions from the book, share our projects, and run some sew-alongs, Lindsay and Janelle created a Facebook group for the book. This month, they hosted an Airport Sling sew-along and I decided to join the fun.
I love the interesting zipper pocket the Janelle included on this bag and I wanted to learn her method for sewing it. With only the book illlustrations for help it might be a bit tricky to sew the pocket, but the sew-along photos and tips are so helpful that the process seemed much easier. Many of the ladies in the Facebook group had never tried a bag with so many details, but they still ended up with beautiful bags and learned some new skills in the process. It has been fun to see so many versions of the bag in so many different styles!
I used a woven boho stripe fabric (from Jo-Ann Fabrics) for my bag and added brass hardware. I really love how it turned out. It reminds me of a Kavu bag or something that you would see in REI. The weight of the fabric was a little bit heavier, like home decor fabric, which worked well for this bag. I used some Pellon 808 and some fusible fleece at different places to stabilize parts of the bag. I also used solid gray canvas for the lining.
I made a small mistake when boxing the corners at the bottom of the bag. I double-checked the measurements 3 times (something didn't seem right), but realized that I used the hypotenuse length instead of the height of the triangle (after I had trimmed the excess…) as my measurement. So my bag is a little bit wider and the bottom panels fold under. Not a big deal—in fact, I like it it wider—but I wanted to point that out in case you use my photos for reference.
I know it always makes me feel better to know other people's mistakes, so I thought I would share this one too…I applied the twist lock quickly and ended up putting it on through only one layer like a magnetic snap. Fortunately, the twist lock is easy to remove. All I needed to do was cut through the second layer and screw it back on.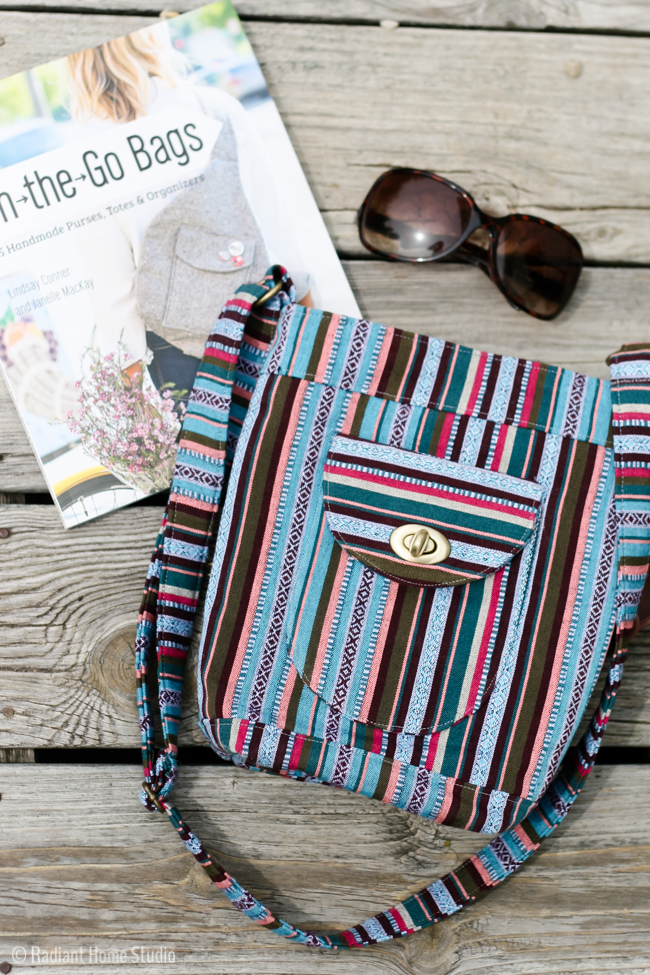 The bag was designed for travel, with the helpful zippered passport pocket, but it's really a very functional everyday bag. You can purchase the book (affiliate link) for the pattern and instructions (and many more!). And if you are quick, you can still sew a bag and enter to win a prize pack through May 30th!
We'd love to invite you to the Facebook group as Lindsay begins a sew-along for the Sporty Strap Pack!