Last week, my daughter and I worked on making these cute felt change purses using the Tutti Fruity Penny Pincher Pattern from Betz White. I made the strawberry and then we worked on the lime together. (And full disclosure, I received the pattern as a gift…)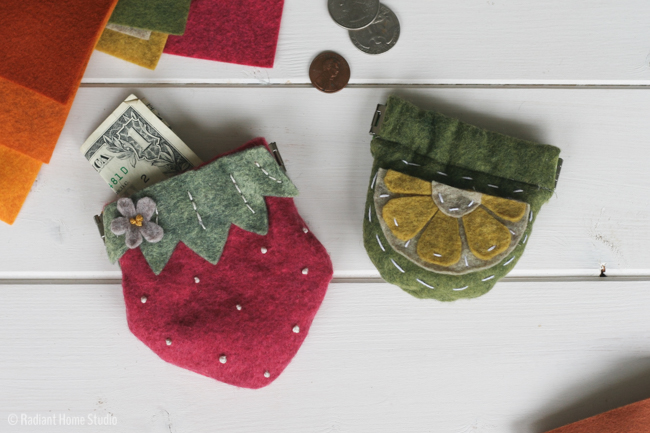 (This post contains affiliate links, which means I make a small commission at no cost to you. Thanks!)
The strawberry went together quickly and easily, but we did have a little more trouble with the lime. I think this is mostly due to the fact that our felt was a little thicker and we used up more of the seam allowance. We trimmed down the half circle section of the lime, and then had to trim the smaller pieces too. Not a big deal, but something to consider if you are working with thicker felt.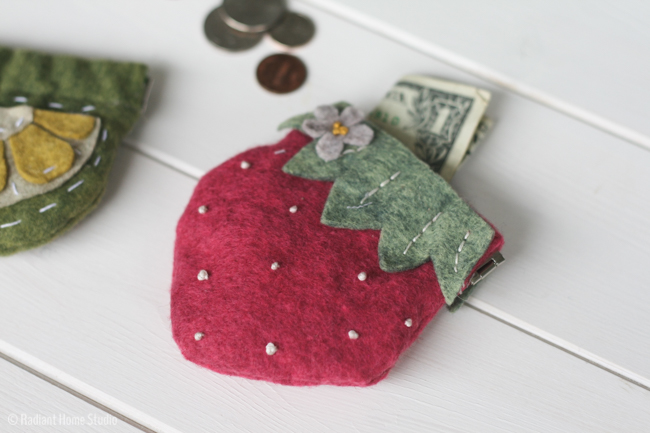 I originally thought this would be a fun project for my daughter to do on her own (she's 9), but it turned out better to work on it together. Sometimes getting precise cuts on felt can be difficult for kids, so I did the cutting. I also did the gluing, so there wouldn't be any stray glue marks on the front of the felt. She did some of the sewing and most of the embroidery. I did the sewing around the top and inserted the flex frame. It was a fun collaborative project and she has been hoping to make some more for her friends.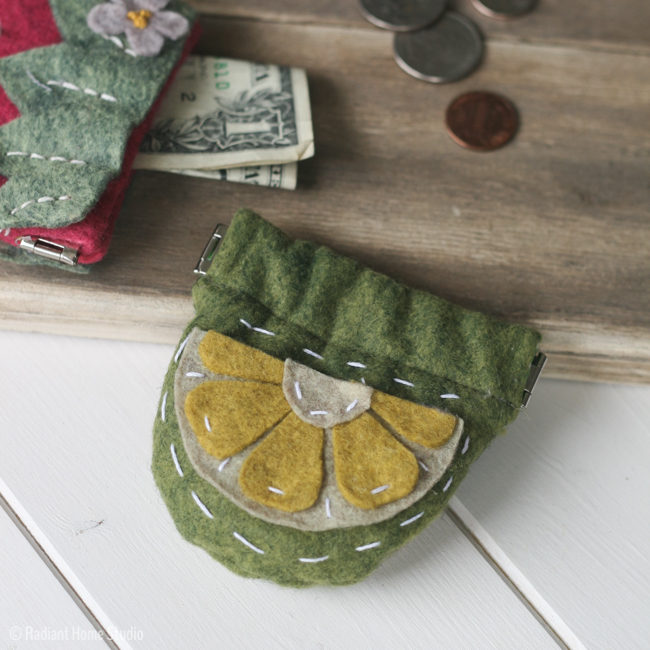 This was my first time working with a flex frame. It's not something you can find easily in craft stores (but Betz has some in her shop and I found some at Amazon), so you probably need to order them for this pattern. It was very easy to install and the kids have had fun trying to figure out how it works.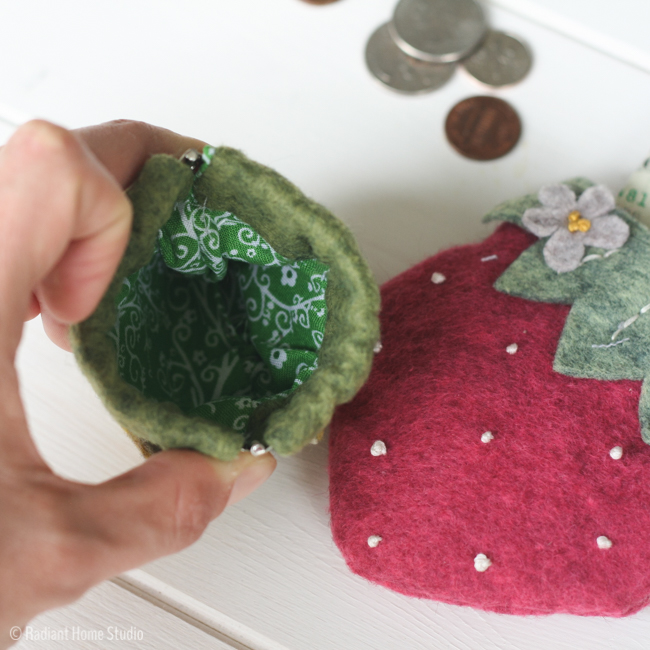 We ordered a bundle of autumn colored felt from Amazon. Cheap craft felt would work for these too, but I loved the heathered texture of this higher quality felt. And I have a lot of pretty autumn colors left over for other projects (maybe more of these leaves?).
The Tutti Fruity Penny Pincher also comes with a pineapple design, which we haven't tried, but there are a lot of cute options with this pattern. You can definitely be creative with the stitching and even change the colors on the lime to make an orange or lemon purse—which my daughter already has planned for her next one. It's always a good sign when she's ready to make more!
And if you like making felt projects with your kids, you might want to check out my post about the felt dolls we made!
SaveSave