I signed up for Kids' Clothes Week, but I haven't worked on sewing any clothes for my kids. Don't we always overestimate how much time we have to get things done?
This morning I received a lovely gift—the new Bimaa Sweater pattern from Sarah at LouBee Clothing. I've had this striped sweatshirt knit (I think from Girl Charlee again…) in my stash for awhile, and I was waiting to find  the perfect pattern for it. I actually pinned this cute J. Crew sweatshirt, hoping to find a pattern that was something like it. The Bimaa Top is almost an exact match, minus the pocket.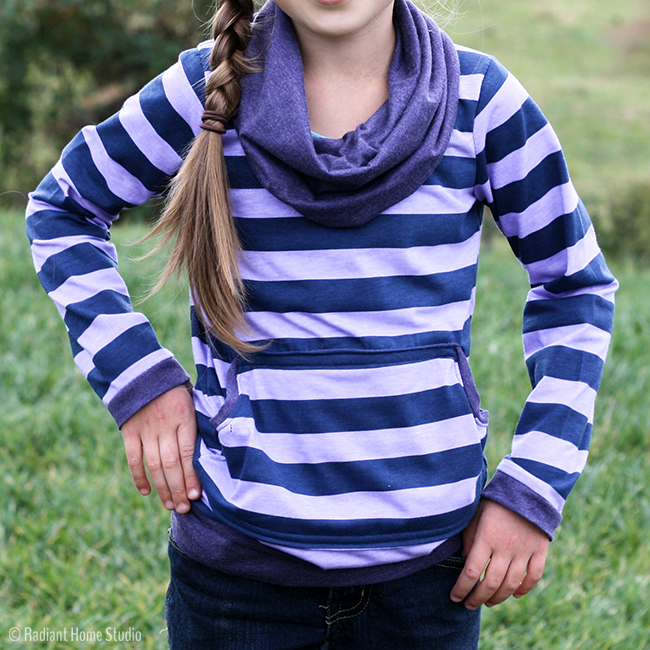 I printed the pattern, glued it together, cut it out and sewed the shirt in about 2 hours. I love that Sarah's patterns are so quick to put together and sew. I made her Hosh Pants in the Spring, which were also fast and easy.
I followed the pattern exactly except for the addition of the kangaroo pocket. For that I cut 2 pocket pieces the width of the front bodice and sewed them right sides together, except for the edges that would be caught in the side seam. I also added a small binding on the curved edges between the pocket and pocket lining. I sewed the top and bottom pocket edges to the front bodice first, and then finished the shirt as directed.
So, that's all I managed for Kid's Clothes Week…
And just a little bonus… I saw that the Bimaa Sweater pattern is only $5 today (Friday 24th).