Pattern Parcel #6 is my favorite parcel so far. I liked so many of the patterns that I've made 3 of them! I shared my Hudson pants a couple of days ago, and I've got 2 more tops to show you.
This is the Bronte Top by Jennifer Lauren from the Pattern Parcel ladies bundle. It's a basic fitted tee with a pretty overlapping shoulder detail.
The Bronte Top pattern is clear and organized. Jennifer also has a nice way of laying out the pattern pieces so that you don't have to tape together a huge grid. There are smaller sections to tape together, which also makes it easier to reprint particular pattern pieces later on. It also means that you don't waste paper printing out the long-sleeved piece if you are making a short-leeved top.
I used a lightweight knit from Girl Charlee. It was too thin to be used for the neckband without being stabilized. Since I didn't have any knit stabilizer on hand, I ended up cutting out 2 of each neckband piece. I cut the extra one (used as the under layer) on the cross grain so that it had less stretch. Then I layered them together and sewed them as one piece. It seemed to work very well, so I will definitely use that technique again if I'm out of knit stabilizer and using a thinner knit fabric.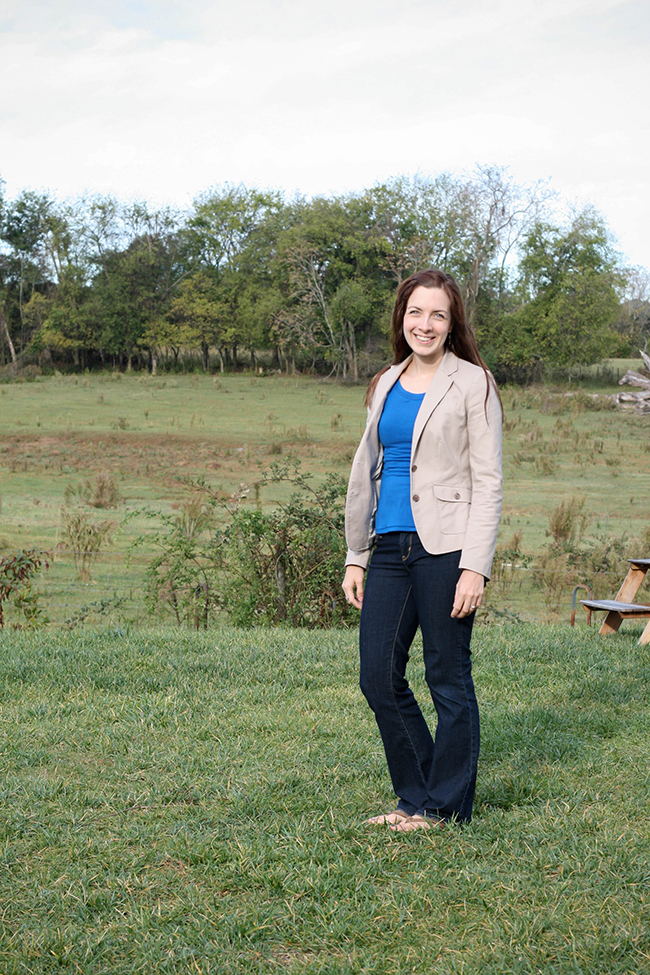 I thought I chose the right size, but the shirt is more fitted than I would like. So much so, that I'm not really comfortable sharing the picture without an extra layer. Originally, I added a few extra inches to the sides, hoping to make a loose flowing top. (I was imagining something like this Anthropologie top…) It was still tight, and I could hardly tell the difference. Then I tried adding a triangle inserts to the side seams, but that was completely unflattering and looked like a maternity top. In the end I just went back and sewed the side seams where they were meant to be. The shirt looks nicer that way, but it's still a bit too fitted for my taste. I'll probably be most comfortable wearing it to bed, or possibly layered under something like a jacket (which sadly, hides the pretty shoulder detail…). If you decide to make this top, just be aware that it is meant to be very fitted and you may want to size up if you prefer a looser fitting top.
I wanted to show you a couple of my favorite Bronte Tops from other Pattern Parcel bloggers. Hopefully you can get a better idea of the versatility and fit of the shirt by seeing some other versions.
Check out the fit and awesome stripe matching on Novita's cute striped Bronte top. And Sally made a beautiful dress from her Bronte top pattern (plus another top with metallic detail if you click through).
If you've been following me long, you probably understand how Pattern Parcel works now. You choose your price, support indie pattern designers, and the rest goes to and educational charity called donors choose. If you choose $32 or more, you receive the bonus pattern (the Odette dress). Pattern Parcel donates all profits after expenses from Parcel sales to the charity as well. Together we've raised over $12,000 for classrooms in need!
The patterns included in this parcel are:
Syrah Skirt by Lauren Dahl (exclusive release!)
Bronte Top by Jennifer Lauren
Julia Cardigan by Mouse House Creations
Hudson Pant by True Bias
Zsalya Dress by Kate and Rose
BONUS PATTERN: Odette Dress by Bluegingerdoll
You can just click over to the Pattern Parcel site for more details. And if you want to see what others are making from these great patterns…
Friday, October 17 Pienkel || Casa Crafty || Sew Like My Mom || YosaMi
Saturday, October 18 Disaster in a Dress || Sew Busy Lizzy || the Brodrick Blog || Oliver's Fancy
Sunday, October 19 Design By Lindsay || Cookin' and Craftin' || Stitched
Monday, October 20 a happy stitch || oonaballoona || Nutta || Oh, She Dabbles
Tuesday, October 21 the quirky peach || Our Familly Four || Kadiddlehopper || La Pantigana
Wednesday, October 22 While she was sleeping || Sew a Straight Line || EmmylouBeeDoo
Thursday, October 23 Sanae Ishida || Groovy Baby and Mama || Dandelion Drift || Create/Enjoy
Friday, October 24 Shawnta Sews || verypurpleperson || Peneloping
Saturday, October 25 Nine Stitches || Sew Exhausted || YoSami || Radiant Home Studio
Sunday, October 26 paunnet || Sew charleston || Amanda Rose || EmmylouBeeDoo
Monday, October 27 Very Shannon || Diary of a Chainstitcher || So, Zo… What do you know?' || Swoodson Says ||Things for Boys
Tuesday, October 28 mama says sew || Make It Perfect || Envueltos de Amor || Julia Bobbin
Wednesday, October 29 EmmylouBeeDoo || Max California || Radiant Home Studio || Made by Meg
Thursday, October 30 la Inglesita || House of Pinheiro || FABulous Home Sewn || Friends Stitched Together
Friday, October 31 sew chibi || Things for Boys || Nearest the pin || Swoodson Says || Robin's Fabric Nest