A couple of years ago, I ventured away from traditional sewing patterns from the craft store and began trying some patterns by independent pattern designers. I found that many of them were far superior to the traditional patterns I had been using. I loved the extra tips and step-by-step photos. I could tell that a considerable amount of thought and effort had gone into producing each one.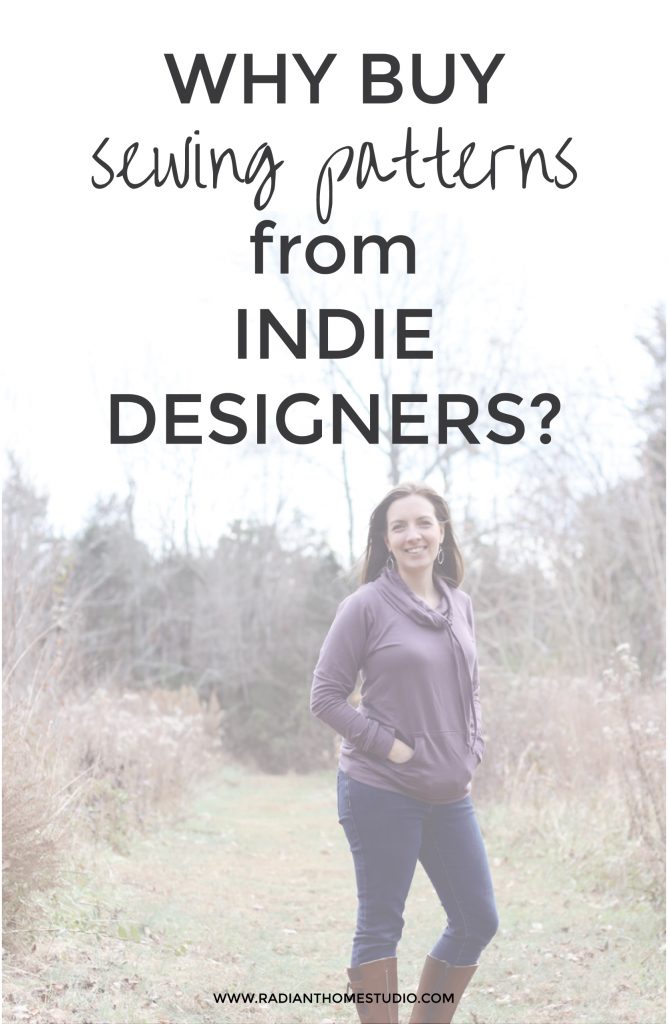 As I began producing my own patterns, I came to appreciate (even more) all of the hours and hours of effort that these designers have poured into their work. Putting together a pattern requires a variety of skills and perseverance.
Of course, sewing is a big part of the process, but then there are pages of mathematical calculations, making several prototypes (including the failures), converting the pattern from paper to digital form, grading and correcting sizing, designing a logo and brand identity, running a website, bookkeeping and marketing, product photography, organizing pattern testers…all before the first sale.
Sewing patterns from independent designers cost more than the sewing patterns you find on sale at the chain fabric stores. I'm frugal. I get it. I used to find the cost hard to justify, but now I see the value in buying from an indie pattern designer. Here are just a few of the reasons:
1. Originality – You can find sewing patterns from independent designers for any taste and style. There are patterns for vintage style clothes, clothes that are practical for moms on-the-go, play clothes for kids, clothes for men, modern and trendy clothes, clothes for pear-shaped women, maternity clothes, clothes designed specifically for curvy women, and bags for any purpose. Patterns no longer have a "one-style-fits-all" feel. People are designing patterns that are just right for you and your specific taste.
2. Quality – Indie designers want to sell patterns they can be proud to put their name on. They usually receive feedback from several patterns testers and make necessary changes before offering patterns for sale. Their patterns are tested with a variety of fabrics and sizes in order to ensure the designs meet their own high standards.
Abby (who designs patterns for stuffed animals) interviewed Sara about her pattern testing process for the bags she designs. You can really get a sense of the care and consideration that goes into each pattern when you understand the details that are part of the design process.
3. Approachability – Independent sewing pattern designers appreciate feedback and questions. Most provide e-mail addresses so that you can ask questions, and they are active on social media. I know the names of the designers whose patterns I buy.
More than once, I have contacted pattern designers and received responses within an hour. Many of them are stay at home moms and I feel comfortable reaching out to them because I can relate to them. In our culture of automated phone services and inaccessible businesses, it is refreshing to communicate with real people again.
4. Sustainability – A large number of indie designers are committed to sustainable practices in their homes and businesses. They are involved in their local communities and support other small businesses. Many are involved in charity work.
When I think of sustainable pattern designers, Betz White comes to mind. She is the author of Sewing Green and incorporates eco-friendly practices into her sewing and crafting projects. One of her recent projects is a line of eco-throw blankets with bright, modern designs.
Here are a few of my favorite tried and tested Indie Pattern Designers:
There are so many other amazing and talented indie sewing pattern designers that I would love to list. These are the ones I consistently go back to though. When you search for patterns, consider trying something new!
While $10-15 may seem like a lot when you are used to buying $2 patterns at the craft store, consider the value you get when you consider the quality, originality, approachability, and sustainability of these indie sewing pattern makers. Worth every penny, in my opinion!