I'm a little bit late to the party with Kids Clothes Week, but I do have one finished Mini Sutton top to share. I had the opportunity to test the Mini Sutton pattern several months ago. My daughter has worn the top regularly and has been asking for more. It's always a good sign when they ask for more handmade clothes!
The Mini Sutton is a basic woven top for girls. It is loose, easy-to-wear, and perfect for the summer heat. For girls that prefer a little more coverage than a tank top, the little kimono sleeve is modest but still cool enough for hot weather. One sleeve has 3 little buttons so that the top can fit over your kid's head, but it's also a fun way to add a pop of color with fun buttons. I've sewn several items from True Bias patterns and they always fit well and have beautiful professional finishes on the insides. This pattern is no exception.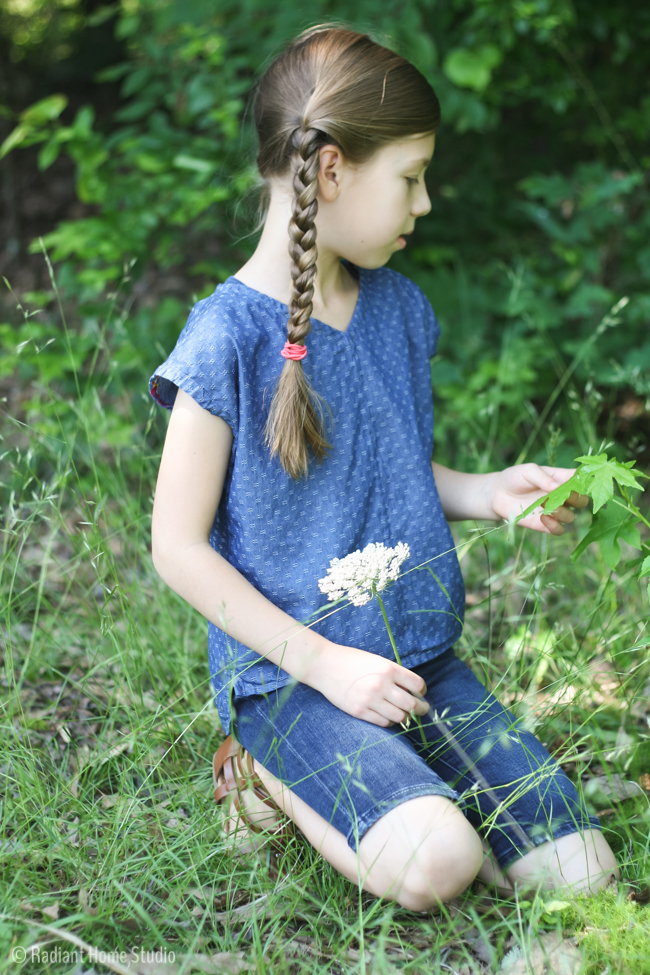 For this top, I used Kaufman Chambray. It's lightweight and perfect for this top. The Mini Sutton has two neckline options; scooped and V-neck. I made the scooped version last time and tried the V-neck this time. This is a size 8 width and size 10 length. The top is easy to sew, for the most part. The bias facing is a little bit time consuming because you sew it to the shirt, then understitch it, and then stitch it to the inside. So you end up sewing each bound edge 3 times. It looks very professional, but it's not as quick as it looks.
I've also struggled to get the bottom hem right around the side seam both times. The pattern directions are illustrated, so it makes it hard to tell which little corners fold where. Kelli has a tutorial for the side seam slit with photos that might be helpful, if you get confused. Even with this extra help, I still managed to mess up the front, so it is trimmed about an inch shorter than the pattern. I think the pattern directions are clear and I understand the concept before I start sewing—but sometimes things just don't come together. Next time, I think I'll just improvise a way that makes sense to me.
It's a cute top and can be worn with jeans or a skirt. I haven't tried the Sutton Blouse in my size yet, but I'm thinking that it could be a  nice addition to my summer wardrobe as well. A loose, flowing woven blouse…maybe when I get through my current pile of projects!