A few weeks ago I splurged on some beautiful emerald green rayon at an upscale fabric shop. I knew I wanted to make a nice summer dress—something easy to wear, but not too plain.
With Spring Top Sew-along and Selfish Sewing Week going on, I knew I wanted to pull out that fabric and make my dress—but then I got the flu! So, I'm a few days later than I hoped, but I finally started feeling better again and got it done!
I combed through patterns online for weeks, but nothing really jumped out at me. I sketched out what I wanted and then looked at the patterns I already own to see if they could be modified. I decided to use the Lisette Market Dress pattern (Simplicity 2211). About 2 years ago I made the blouse version, so I knew what modifications I would to make to get the fit right.
I decided to make the dress sleeveless. I brought the outer shoulder in by about an inch, grading up from the under arm and trimming off the outer shoulder. I also took in the seam under the arm by about 1/2 in. to reduce gaping. I used bias strips to face the armholes and finish the edges.
I also shortened the button placket, rounded the pointed end, and added a ruffle. I made the ruffle with a strip of fabric (20 in. by 2 in.) folded in half lengthwise, and attached it to the placket before stitching it down. I still haven't decided on buttons. Unless I find something that speaks to me, I'll probably just leave it without buttons.
Finally, I cut the skirt a bit wider (just graded out tot the largest size) and added a belt around the waist for definition. If I had it to do over again, I would have cut a separate skirt piece in order to add more fullness in the skirt. Unfortunately, when I bought the fabric I didn't know what pattern I was going to use and didn't buy quite enough to do the full skirt. Still, I love the color and I think that I will find many places to wear this dress.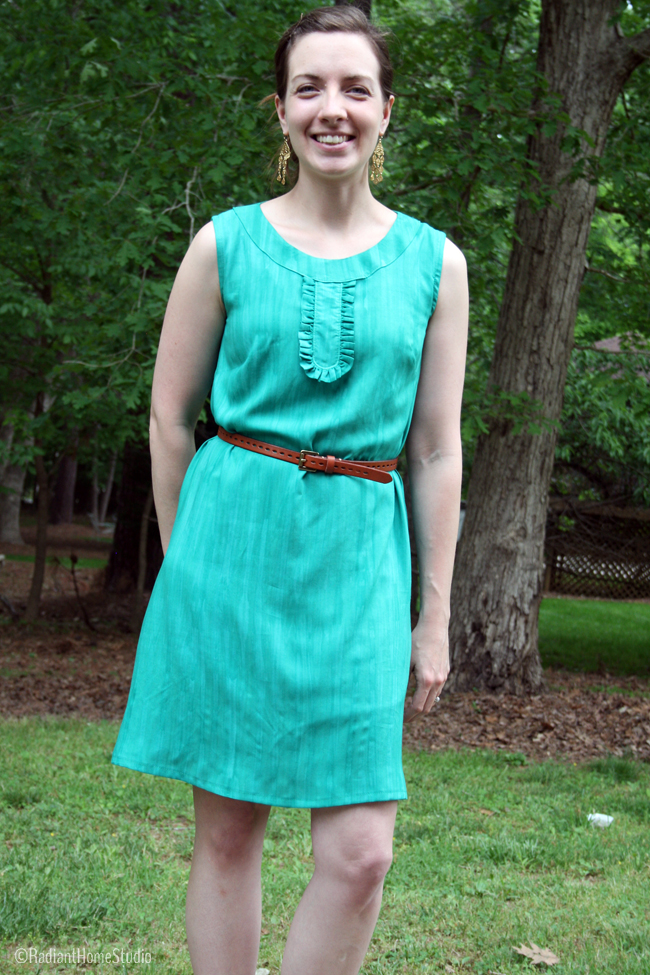 Did you make anything for yourself this week?