Before Christmas, my husband and I spent a date night enjoying some hot drinks and searching for books our kids would love. My (almost) 8 yr. old girl loves to make gifts for her friends and is always asking to raid the fabric scraps and felt bin for materials. I wanted to find her a book that would provide her with gift ideas that were simple, but beautiful. She often makes things from her kids' sewing books, but many of the items aren't very useful. And now that she has developed some basic sewing skills, I sort of cringe at the "kid-friendly" construction techniques that leave raw edges showing.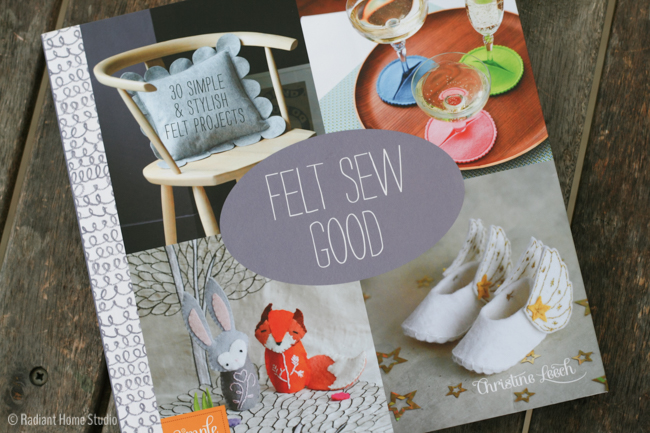 (This post contains affiliate links, which means I make a small commission at no cost to you. Thanks!)
When I found Felt Sew Good on the shelf and flipped through the gorgeous pages, I knew I right away that it was the book I was looking for. It's filled with pretty little felt projects that are simple enough for a little girl, but that will encourage her to learn proper technique and inspire beautiful craftsmanship. (Plus, I might want to make some of the projects myself!)
The book is divided into 3 sections: Gifts, decorations, and things for the home. There are several items that are fun for children including woodland finger puppets and small dolls. The home decorating items are tasteful and modern. The projects look handmade, not homemade – if you know what I mean.
We decided to make the heart-shaped baskets for some friends that we are planning to visit. I made the one with the light gray and deep red colors. My daughter made the other 2 baskets (mostly) on her own. Though the weaving part was illustrated nicely, she still needed a bit of help to get it all straightened out. She said that adding the flowers and stitching were her favorite part of the project, and wished the baskets were already made so she could just decorate them. Luckily for her, there is also an entire page spread with ideas for making pretty little felt flowers. I think she'll be making dozens for her friends once she gets the weaving part figured out!
One of my biggest pet peeves about craft books is when the patterns are not printed at 100%. It's nearly impossible to enlarge patterns correctly on a home printer. And who wants to take their book to the print shop and pay more just to be able to do the projects? I'm happy to say that all of the patterns in Felt Sew Good are actual size and there is no resizing required. You can easily trace the patterns or copy a page and cut out the pattern.
I rarely buy craft books (as much as I love looking through them for inspiration), but this one was too beautiful to pass up and I just had to share it with you!
What are your favorite craft books?
(if you are looking for the book on Amazon, you can find it here: Felt Sew Good book.)