I love the idea of homemade Christmas gifts, and I am always looking for ideas that will be unique and useful (because—let's face it—a lot of homemade gifts are not). These are a few of my most successful handmade stocking stuffers from previous years to inspire some creative handmade gifts this year!
Many of the ideas are small and perfect for stocking stuffers or priority mailers (for those that don't want to spend more money on shipping gifts than the actual cost of the gifts). With some repurposing and craft store sale shopping, many of these gifts can be made inexpensively. Most of them can be assembled in large batches as to save time if you have many people on your Christmas gift list.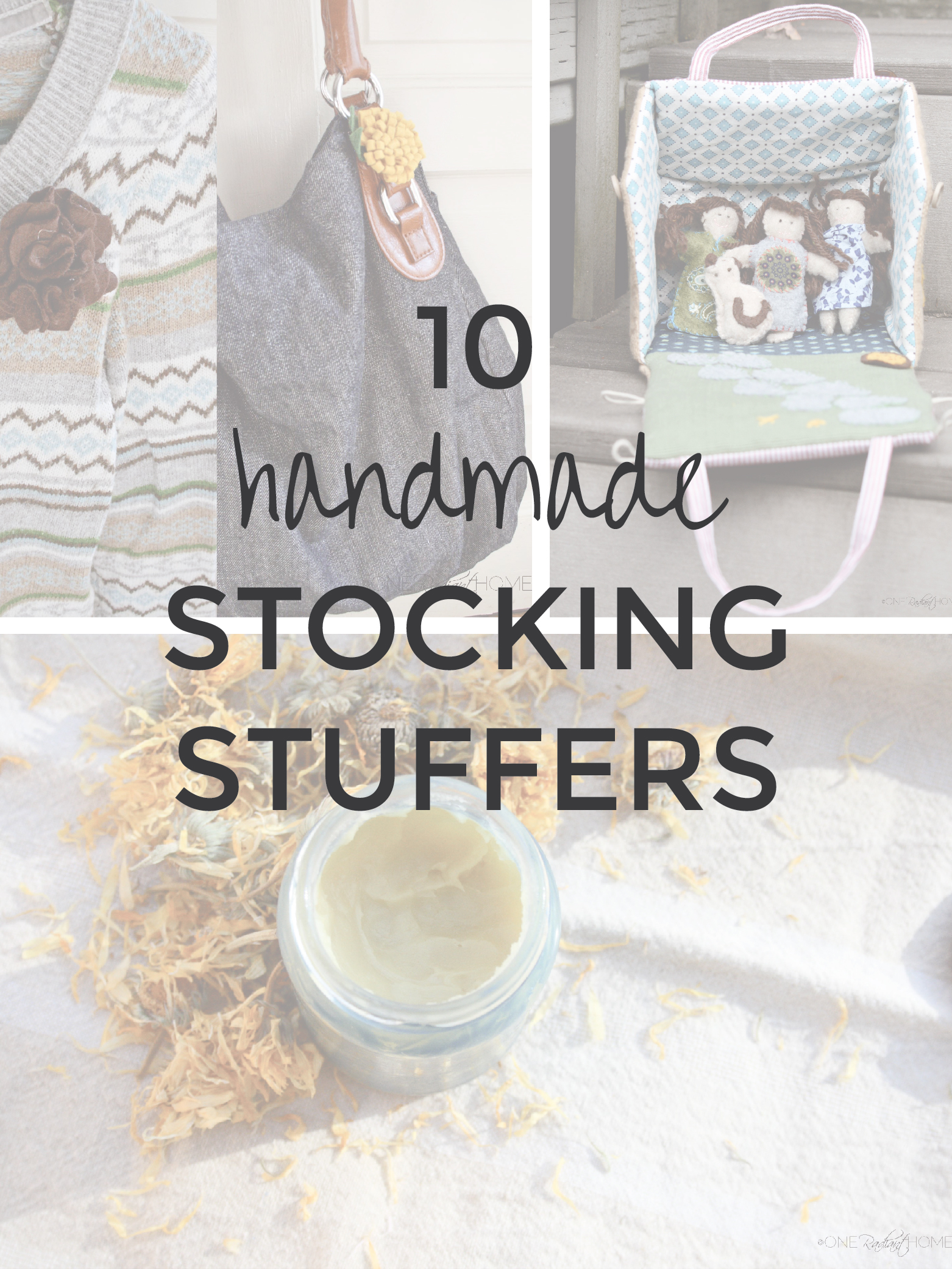 (This post contains affiliate links, which means I make a small commission at no cost to you. Thanks!)
Ribbon Belts
Last year I made several belts in different colors and patterns for my younger siblings and my children. For a simple belt, choose a patterned ribbon and coordinating color of belt webbing. (Here's a good deal on Amazon belt webbing with tons of color choices!)
You can either stitch along each edge of the ribbon or use an iron-on hem tape to attach the ribbon to the webbing. Loop one end of the belt through a pair of D-rings (or another type of buckle) and finish the edges.
Each of these belts cost less than $5 to make. Try variations of this projects with two layers of ribbon, braided leather cords, rope, or lace.
If you'd like to buy some ready-made, this Etsy shop has a really nice selection of kids belts.
Coffee Cup Sleeve
These were fun to make—coffee cup holders to match personalities! I free-hand embroidered the name lettering to give them a custom-made look. The pattern is available from House on Hill Road (there's a text link to a PDF about halfway down the page).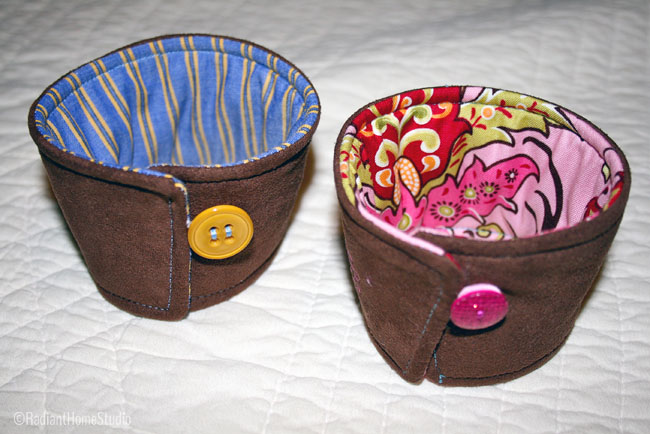 Zippered Pouches
I have made dozens of these zippered pouches using the tutorial from Anna at Noodlehead. They are perfect for storing little items that get lost in a big purse or for holding cosmetics. You could also make it in fun kid-friendly fabrics to contain art supplies or small toys.
Many of the people I have made them for have expressed how useful the little bag has been. It's also great fun to watch people light up when they see that you have chosen a fabric that matches their personality—something they would have picked themselves.
Felt Flowers (hair accessories or pins)
I love this felt flower tutorial from Jess at Craftiness is Not Optional. I have made these on ponytail holders and attached them to alligator clips and pins. With good quality felt in stylish colors, they look nice as accessories for women, as well as little girls. Felt flowers are also the perfect craft project for pre-teen and teen girls (we made some at a Christmas tea party once). No sewing skills necessary—just fabric, scissors, and a glue gun!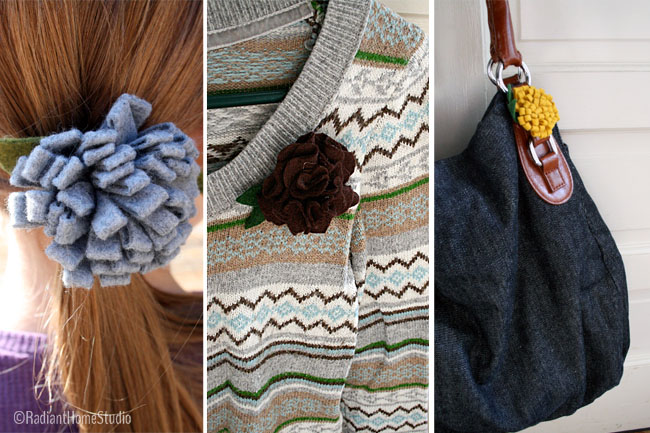 Leather Business Card or iPod Case
My husband looked at several stores for a business card holder and wasn't able to find what he was looking for. After browsing through some handmade options, I decided that I could sew one myself using some of the ideas and designs I had seen.
I bought a piece of scrap leather for about $6 and had enough to make 3-4 small gifts. If you decide to sew on leather, choose a thinner, pliable type of leather with a sharp needle. I also used my triple stitch so that the stitches would show up more boldly.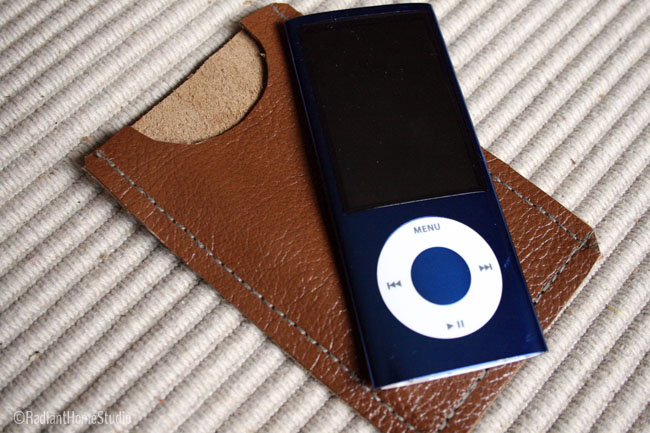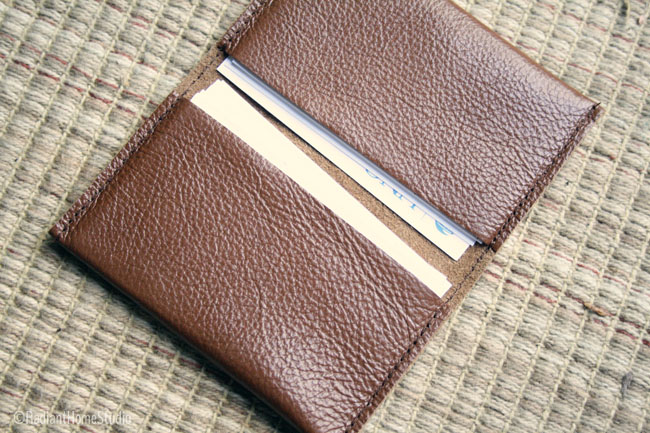 Calendula Salve
This is a wonderful and easy recipe for homemade calendula salve, which can be used to treat minor skin irritations, small cuts and burns, and rashes. You can repurpose old jars or buy some small containers to package it in. I think this would be best made in large batches and packaged in small quantities for many people. Try adding a personal touch with handmade labels.
If you don't want to make your own, try this cute jar of salve from Amazon.
Handmade Notecards
A pack of blank cards, some pretty scrapbook paper, and some simple stitching can make very nice notecards. Use a stencil to cut out some shapes and stitch then right on the card! If you don't have a sewing machine or sewing skills, try a needle and thread to dress up the card with a few hand embroidered stitches.
Here's a good deal on some blank note cards. They come in a few different colors.
Cloth Napkins
Cloth napkins can be made for as little as $.50 each with discount store fabric and you can make them to match anyone's style. Or choose a really nice quality linen for a beautiful and expensive looking cloth napkins.
Decide how large you want them and cut squares that are 2 inches more than your desired size. Fold over 1/2 in. on each edge and press. Then fold over each edge one more time and press. Stitch with a 3/8 seam all the way around. Choose fabric that is mostly cotton or linen for the best absorbency. Poly/cotton blends tend to smear spills rather than absorb them.
Over time I have added enough napkins to our home stash to use these every day, eliminating the waste and cost of paper napkins. So, cloth napkins make a thoughtful and eco-friendly gift for naturally-minded friends.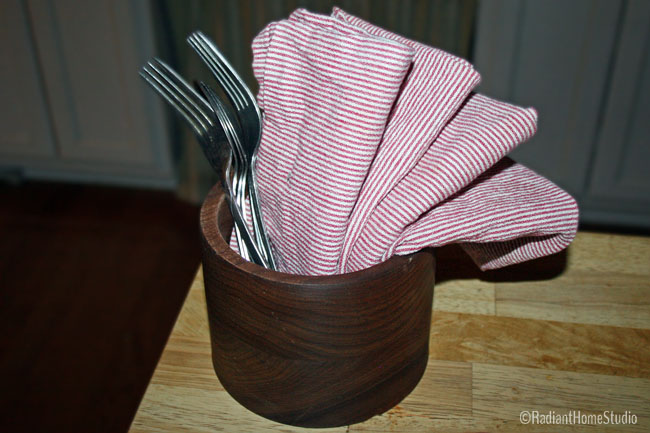 Fabric Baby Book
I have made a few of these soft color-block baby books for friends with fabric scraps that normally would have gone to waste. I randomly stitch pieces together until I have a large enough area to cut out my square for the page. These pages are 8 in. finished, but I think a smaller book would be easier for little hands. This doesn't require advanced sewing skills, but figuring out the page order during construction can be a little tricky. (This sounds like a good idea for an upcoming tutorial!)
If you aren't feeling crafty enough to make one, or you're short on time, here's a similar baby book on Etsy already made for you!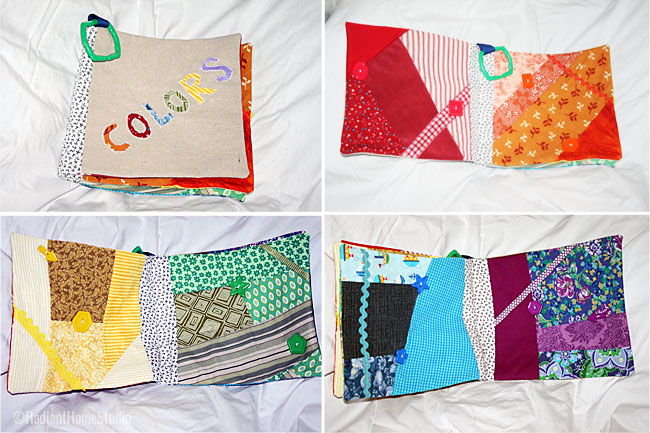 Little Felt Dolls
These little dolls are about 4 in. tall and fit perfectly inside little girls' pockets and purses. We also made a felt cat and felt chicken to go with the doll family. (I posted a pattern and tutorial for these here!) Be creative with the details!
There are other more complicated felt doll tutorials out there, but this is meant to be quick and easy. One doll, start to finish, can be made in less than an hour. My 5-year-old was able to do the stitching around the body of the cat, so I expect this would be a great craft for a pre-teen girl to try for a friend or younger sister.
This high-quality wool felt will make beautiful little dolls that will last for years!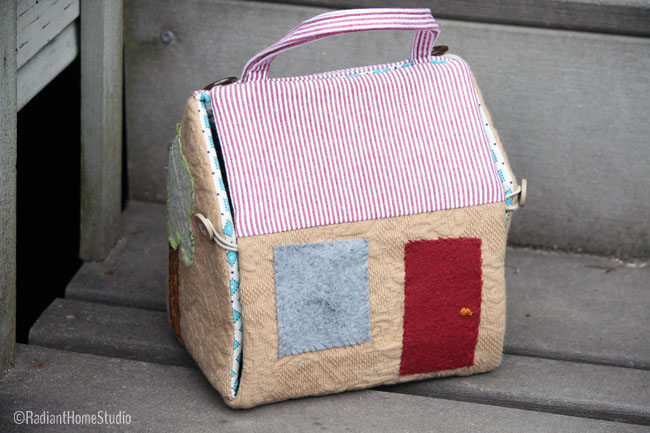 What other handmade gifts are you making?