I'm excited to invite you to a sew-along for my "Mom's Minivan Organizer" pattern from On the Go Bags! With school starting soon, I thought it would be a great time to sew some organizers. You can use this to keep sports equipment from rolling around the car or in a kid's room to store their gear. It's a really versatile storage bin, so there are dozens of ways you can use this around your house.
Do you buy craft books and then set them aside, forgetting to actually sew the patterns? I do…especially with projects that look more challenging. So, let's make this organizer together. I'll walk you through the steps with photos and tips. It's not as hard as it looks!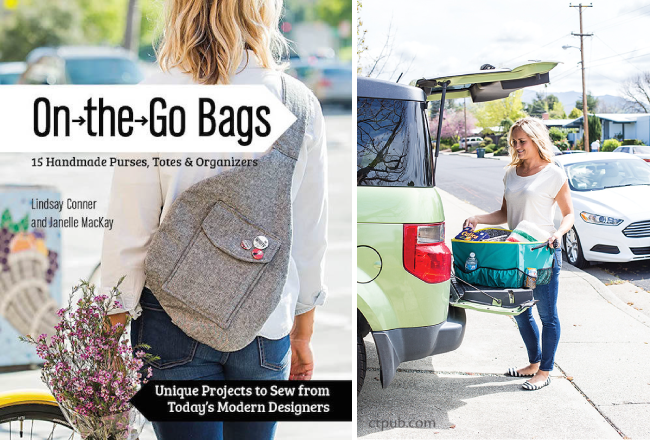 (This post contains affiliate links. Thank you for helping to support my business!)
We'll start Aug. 15th and try to get them finished so you can start the school year off with a more organized minivan (or house). That gives you 2 weeks to order your book and gather your supplies.
You can join the "On the Go Bags" Facebook group for extra support and a place to share your "in process" photos.
We'll have a link-up at the end so that you can share your finished organizer. (Totally optional, but it's always fun to share!) We'll leave the link-up open until the end of September, so that will give you several weeks to finish your organizer and share it with us.
(This cute version was sewn by Lindsay Conner with Art Gallery Canvas designed by SewCaroline.)
Here's the Mom's Minivan Organizer Sew-along Schedule:
Aug. 15 – Cut the pieces & apply the interfacing
Aug. 18 – Sew the pockets & the exterior
Aug. 22 – Make the lining & the divider
Aug. 25 – Sew the binding & add the handles
Sept. 3o – Deadline to enter your organizer in the link-up
You'll need a copy of the book for measurements, supply list, and complete instructions. (You can order it from Amazon or C&T.) The sew-along is meant to be a supplement to the book. I'll include some extra tips for applying the interfacing, how to work with fold-over elastic, an alternative to hook-and-loop tape, and help with binding and grommets.
I hope you'll join me!