Last week, I spent the day sewing with my daughter and 6 of her friends. It was a zipper pouch girls sewing day! The girls we invited all had basic sewing skills (able to thread the machine and sew straight stitches…) and a desire to learn more. My goal was to introduce a couple of new techniques to them so that they could expand their sewing skills beyond straight stitching.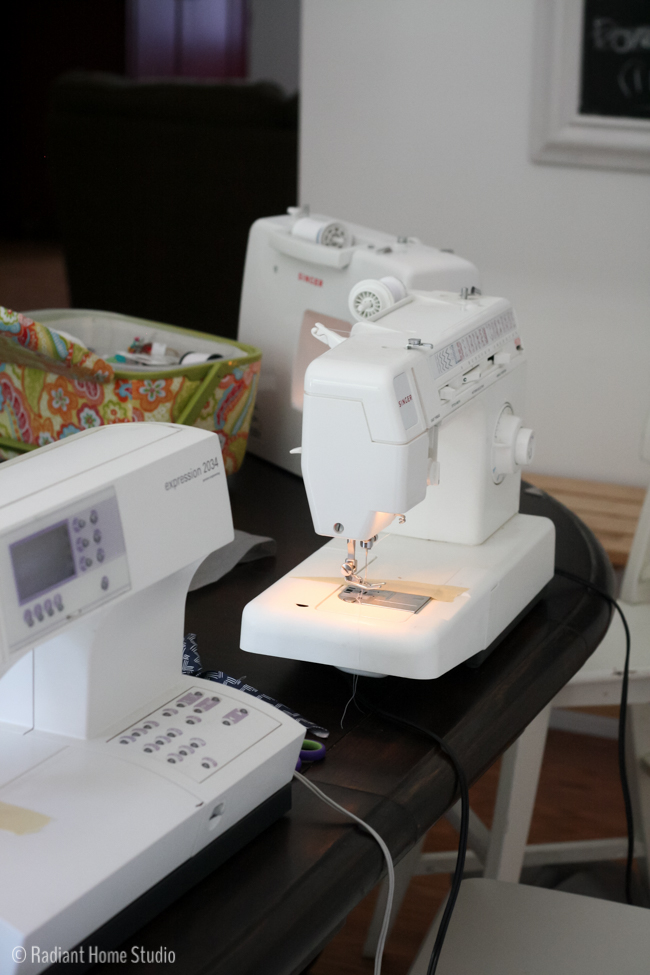 We made pencil pouches from Handmade Style by Anna Graham. I ordered a fat quarter bundle of Happy Home by Sew Caroline. (My sample was made with Cultivate by Bonnie Christine.) This fabric line is so cute and the girls loved it! By ordering a fat quarter bundle, they were able to mix and match fabric designs freely, without worrying that the fabrics wouldn't match. We talked a little bit about choosing fabrics that have some contrast and they all ended up with really nice fabric choices.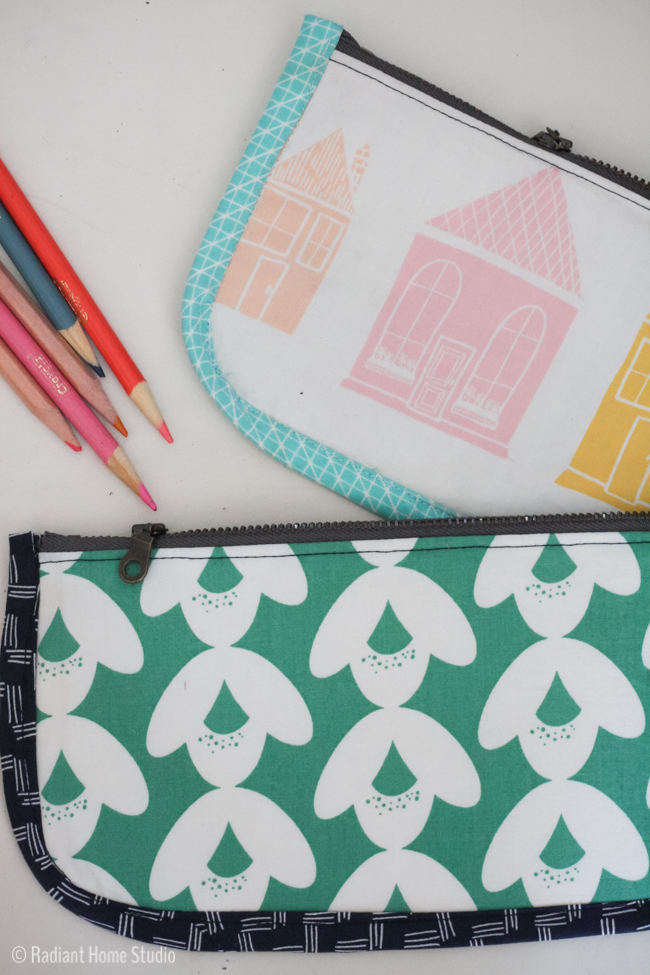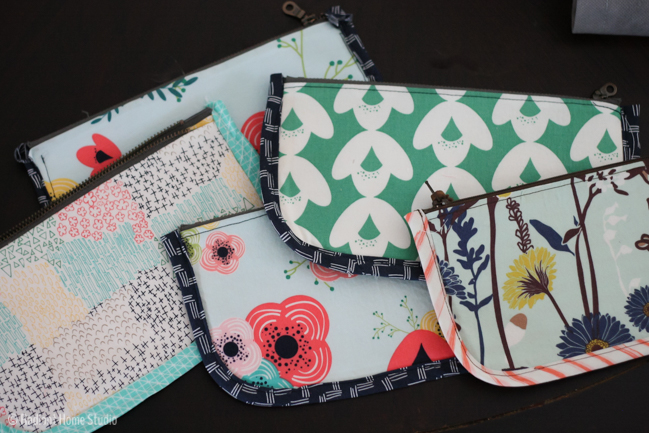 The pouch is simple to construct and allowed them to practice installing zippers. Typically zipper pouches need to be turned inside out to be finished. This pattern is finished with bias binding, so I thought the directions would be less confusing for the girls. The 3 main things I taught them were how to apply interfacing, how to use a zipper foot, and how to use bias binding. I think the older girls left knowing enough to try their new skills on other projects, which was the goal.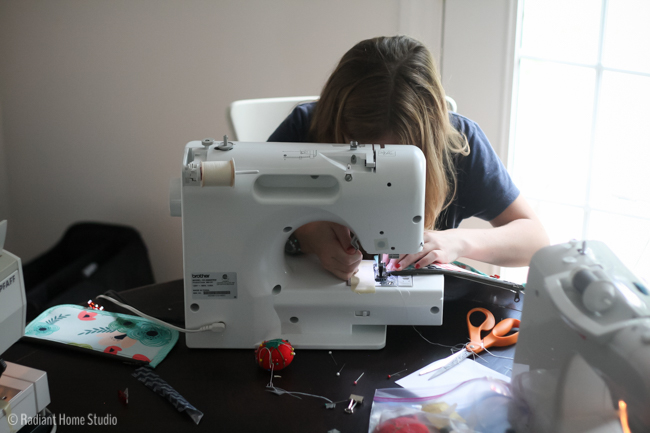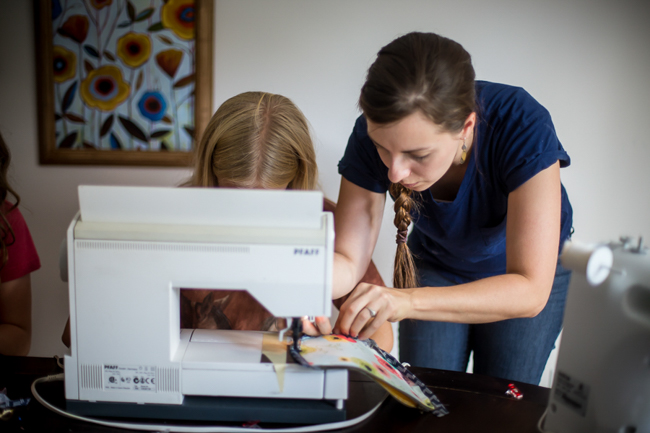 Overall, I think they did a great job, but I learned a few things that will be helpful next time. I prepped the patterns, interfacing, and bias binding strips ahead of time. I definitely needed another sewing adult present to answer questions. I imagined giving directions one step at a time and then sending the girls to their machines to complete the step. The truth is, it was much more disorganized and everyone needed my help at once.
We also ran into a problem because we only had 2 machines with zipper feet and 8 people that needed to use them. I really thought zipper feet were standard attachments that came with everyone's machine, but apparently that is not the case. The lack of zipper feet ended up making the entire project take about 3 hours. (This is something I can sew myself in 20 minutes.)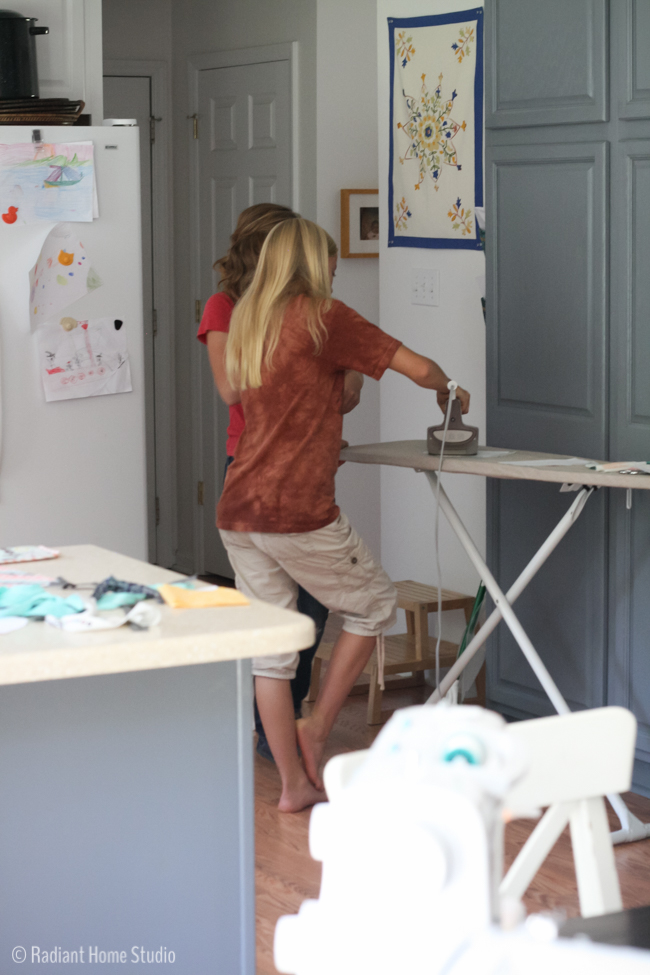 By the 2 hour mark, the younger girls (8-9 yr. olds) had reached the end of their attention span and just wanted to finish. The older girls graciously waited while the younger ones finished and went to play. When the moms arrived, the three 12-13 yr. old girls were still working diligently to finish. Though these girls normally play well together and are all friends, I saw the difference a couple of years can make in their maturity and ability to concentrate. Next time, I may separate the girls by age.
My hope is that they all left feeling like they accomplished something more difficult than what they thought they could do. I've always thought the best way to learn sewing is to try one new skill each project (or until you feel comfortable moving on). Learning to sew is learning by doing. First tries are never perfect, but they give you the confidence to try again and gain new skills with each project. I hope the girls left ready to try something new!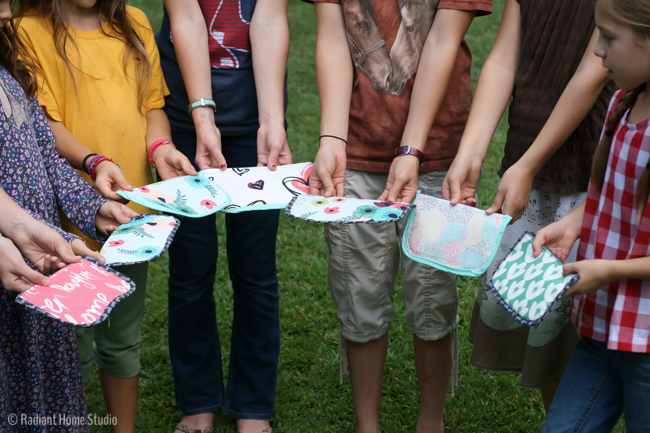 And that was our zipper pouch girls sewing day!
p.s. Thank you to my friend Janet of Janet Phillips Photography for sharing her beautiful photos with us!