Here's a tutorial showing you how to make bias binding from a fat quarter. (After making these pencil pouches with the girls last week, I realized I needed a tutorial they could reference!) Why make your own? Well, store-bought bias binding is typically a poly/cotton blend of fabric. It's a little bit stiff and can melt at high temperatures more quickly than cotton and linen. If you are making something like a pot holder, you'll definitely want to use cotton binding so you don't melt your hard work. (Yes. I learned this from experience…)
Store-bought binding typically comes only in solid colors, but when you make bias binding the design possibilities are endless. You can make your projects uniquely yours by adding extra pops of pattern with floral or striped bias binding. I used this method to make bias binding for the pencil pouches I made with the girls. I also shared this technique when I made the Hot Mitt House Potholder for Betz White's blog.
Starting with a fat quarter, you can make about 5 yds. of bias tape. There are many methods for doing this, but I find this method to be less confusing than some of the others I have tried.
Make Bias Binding from a Fat Quarter:
Materials:
1 fat quarter of quilting cotton
rotary cutter, quilting ruler, and cutting mat
iron and ironing board
bias tape maker (optional, but recommended)
Instructions:
1. Start by folding one corner of the fat quarter of fabric up diagonally and press.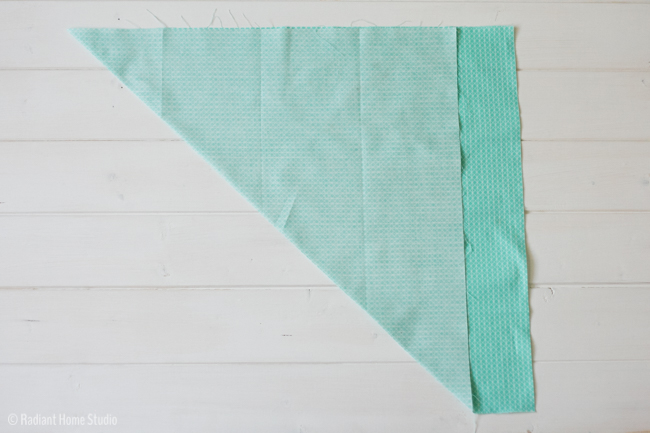 2. Cut along the diagonal crease using a rotary cutter and mat.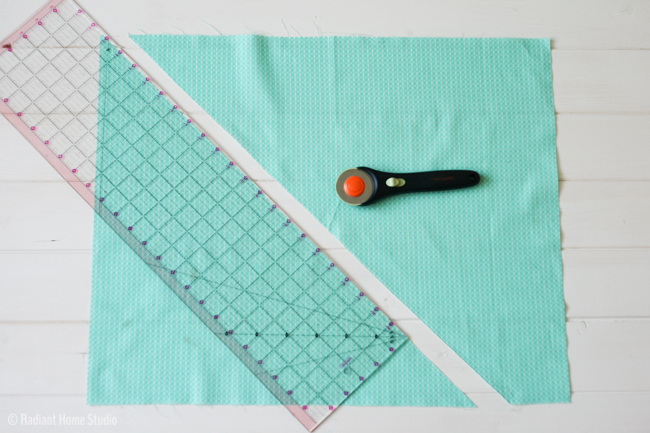 3. Move the left piece over to the other side and match the straight edges. You should have a parallelogram.
4. Align the straight edges right sides together, stitch and press.
5. Using a rotary cutter and mat, cut 2" strips of fabric across the diagonals. The last piece will probably be too small and can be discarded.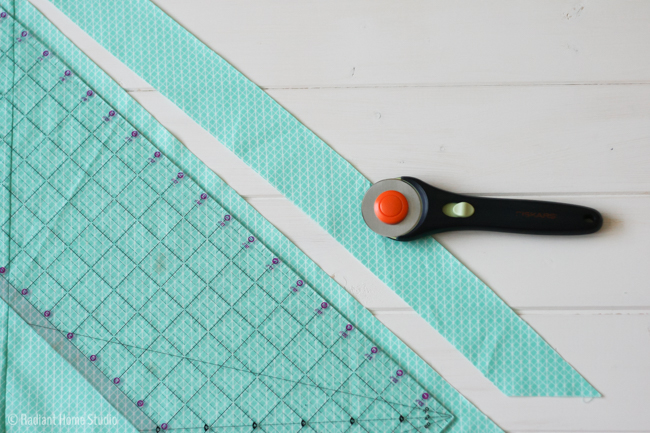 6. Connect the strips using a ¼" seam, matching the ends as shown. See how the corners are offset by ¼"? It's important to align the edges this way to account for the seam allowance and to ensure that you have a nice straight edge when you open it up.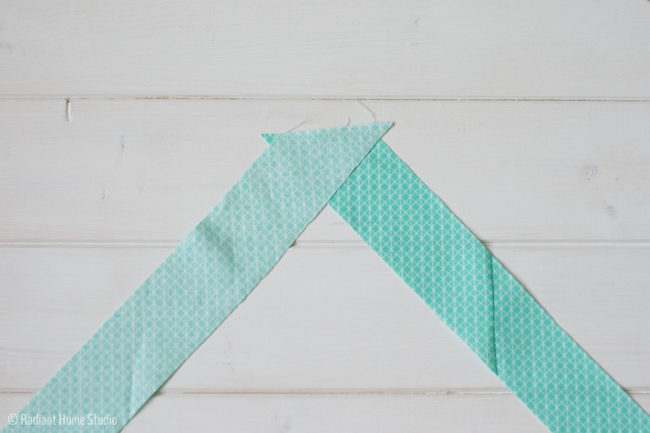 7. After stitching and pressing the strips together, trim the excess corner pieces.
8. Push one end of the fabric through the wide end of the bias tape maker and pull it through to the narrow end. See the small, straight opening in the top of the bias tape maker? You can use a pin or seam ripper in that space to guide the fabric through to the opening. Adjust it until the fabric comes out folded equally on each side.
9. Begin pressing the folds in place with a hot iron as you gently pull back the bias tape maker. Continue pulling and pressing in small sections until you reach the end of the fabric strip.
10. At this point, you have single fold bias tape. To make double fold bias tape, fold the binding in half one more time and press as you go.
When you finish, you'll have about 5 yards of ½" double fold bias binding to use on your projects!
Though it's a few minutes of extra work, making your own bias binding for your sewing projects is worth trying. You'll have new design options and you'll be able to make higher-quality binding than you can find at the craft store.
If you use the "pin it" button on your browser, you'll find a hidden full-length step-by-step image to pin! Try it!