I love kraft paper bags! I bought some last week with plans to decorate them, though I didn't have anything specific in mind. I like white stamped designs on brown kraft paper, but I wanted to add some details that would make my design unique. There's no point in taking the time to write a tutorial for something that has been done over and over.
But, did you know you can sew on paper? Or paper bags, in this case? When I'm teaching my kids to sew, paper is the first thing I have them sew on. It's cheap and doesn't slide around like fabric. Anyway, I mixed a simple white stamp with some free motion stitching on paper to make these pretty handmade gift bags…
Let me show you how to make your own stamped and stitched bags. You can use my berries and branches idea or make your own design.
First, you'll need to carve out pine branch from a soft block of rubber. (This is a Speedball Speedy Carve block – available at most craft stores. You can also use a soft eraser.) I won't go into tons of detail about how to carve stamps. Basically, you use the smallest carving tool to outline your design and then go back with the larger ones to carve out the bigger spaces. If you don't want to carve your own stamp, pre-made rubber stamps with holiday designs will work well too.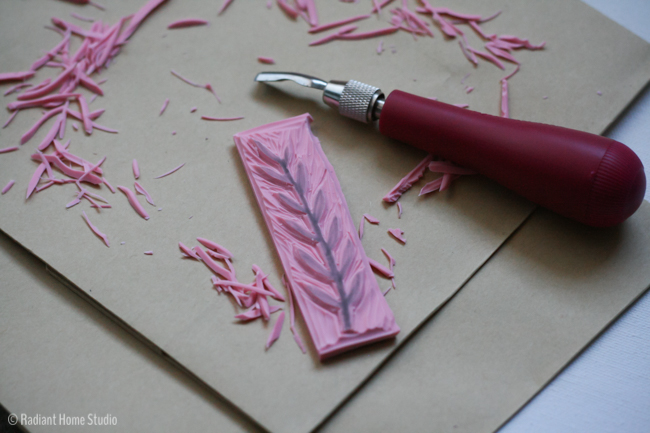 I used the screen printing ink that I already had, but simple acrylic craft paint or a stamp pad will work as well.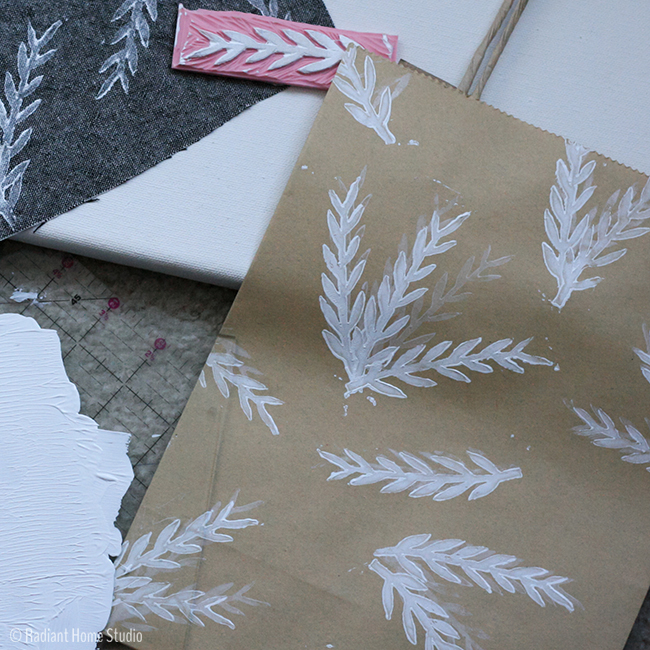 To stitch on the bag, you'll need your free motion quilting foot. Lower your feed dogs so you can move your paper around freely, and lower your presser foot to the quilting setting. (On my machine the lever goes down and toward the back.)
Place your bag under the needle and move it around in a circular motion until you have a nice spot of color. You may want to practice on a paper scrap before you try it on the bag. The great thing about this kind of stitching is that there really aren't any rules. It's like scribbling with the needle, which is a lot of fun.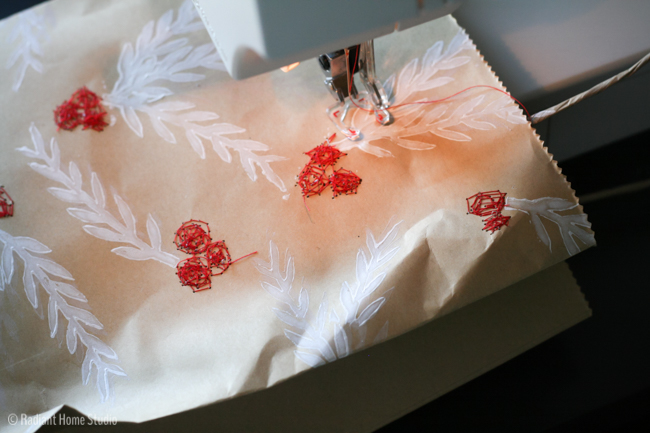 I had a hard time stitching near the bottom of the bag without wrinkling it, so I carefully opened up the bottom of the bag and glued it back together when I was done.
And then I used my practice paper to make pretty gift tags.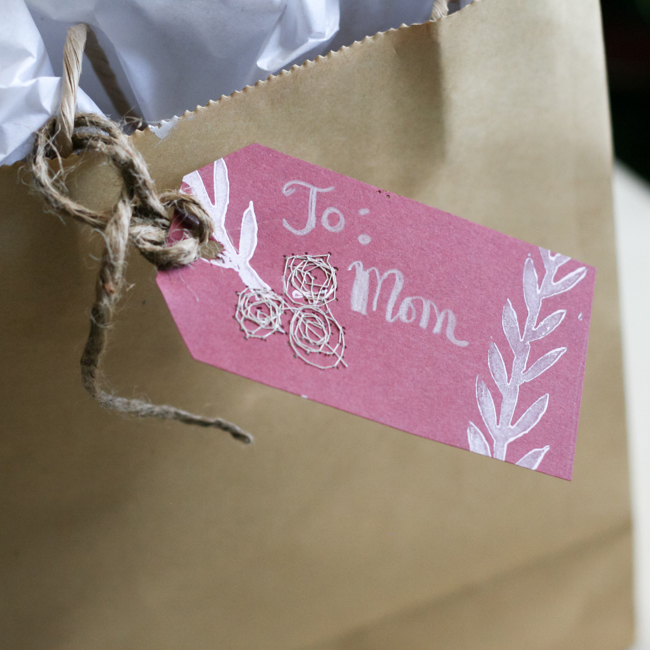 This is a really fun open-ended project. I hope this inspires you to experiment with stamping and stitching on paper to make unique wrapping paper, cards, gift tags, or bags to make unique items for your friends and family!