I think sometimes bag hardware can be a mystery to those that have never used it. Magnetic snaps might look intimidating, but they are very simple to add and only require a couple of small tools that you probably already have around the house.
Let me show you how to add magnetic snaps to your fabric for bag making…
First, gather your supplies. You'll need:
one set of magnetic snaps (4 parts, including a male and female part with prongs and a washer for each)
a washable marking pen
a small craft knife (or tiny scissors)
 needle nose pliers
scraps of interfacing
If you are using a pattern, it most likely instructed you to apply interfacing first. If not, iron a small square of interfacing on the wrong side of the fabric where the snap will be placed.
Place the washer on the wrong side of the fabric (the side with the interfacing) and mark the 2 holes in the sides of the washer. I marked around the outside here to show you where I placed the washer, but it's not necessary to mark the outer circle.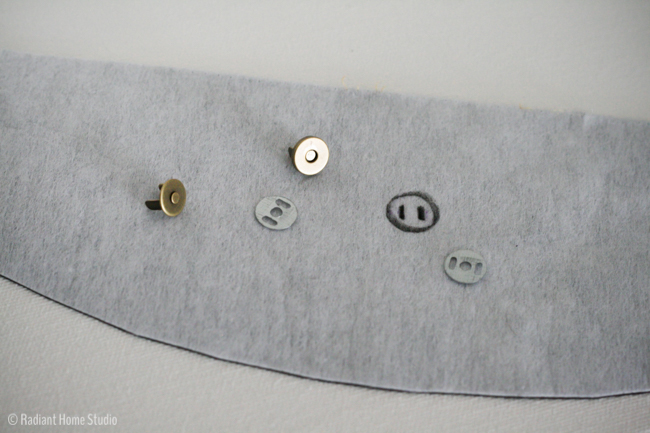 Next, use your craft knife to cut a small slit at each of the marks you made.
From the right side, insert one snap by placing the prongs through the slits you just cut.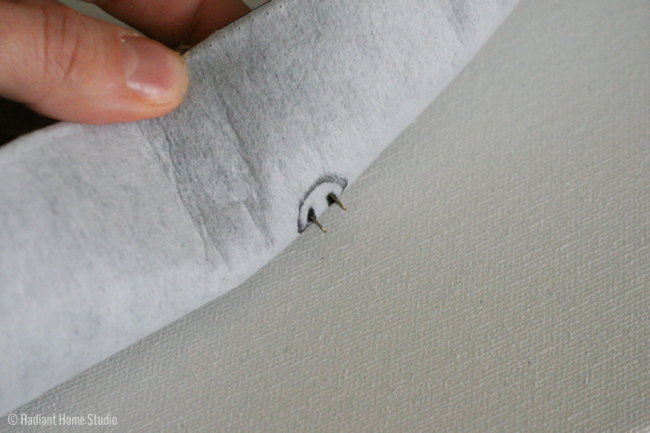 Place the washer over the prongs.
Bend the prongs toward the outside. I can often do this with my fingers, but it helps to have a pair of pliers nearby if you need them.
Iron a small scrap of interfacing over the prongs to keep them from rubbing through your fabric. (Be careful with the hot metal!)
Then it's the same process for the other side of the snap. I took tons of pictures, but it really only takes a couple of minutes to finish adding a set of magnetic snaps to a bag. The result is professional and much easier than a button hole!
This little magnetic snap tutorial is in anticipation of my next pattern release! My instructions assume you already know how to add magnetic snaps to your bags. Don't forget to bookmark this so you can come back to it later when you are sewing!