I made another Oliver + S Hopscotch Dress! I've used this pattern several times, and I always love the result. It's quick and easy to sew, and the girls actually wear the tops and dresses I've made. In fact, some of the tops are worn out.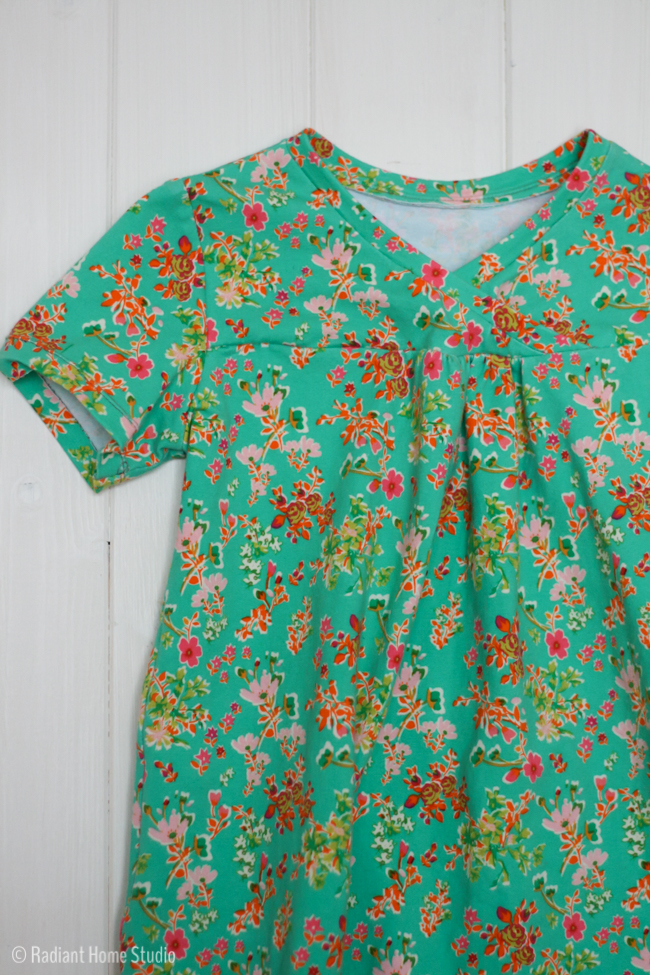 I've been reading great things about the Art Gallery knits for months, but this is the first chance I've had to try some. I have to say that the positive comments I read were not exaggerated. This really is the nicest cotton knit fabric I've bought. The weight is just right for kids clothes, the stretch and recovery are excellent, and it washes nicely without fading or pilling. Not to mention the colors in this Priory Square floral print are gorgeous—perfect for Spring!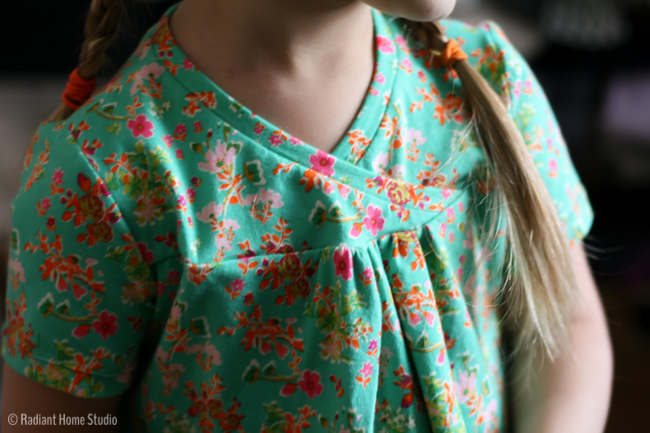 The Hopscotch dress in a size 5 takes less than a yd. of fabric (at least the short-sleeved version does). Even with a quality knit fabric, the cost of making this dress was less than $15 and 2 hours. Similar play dresses at Hanna Andersson are $30-50, so I think it's worth investing in fabric that will wash and wear as well as a ready-made dress.
I didn't make any modifications to this version, but I did use knit interfacing on the neck band for the first time and it really makes a difference. It's an optional addition, but for kids that pull at their necklines I think that the interfacing helps the fabric to keep it's shape. It feels more like a store-bought top with the extra stability that the interfacing provides.
I would have loved to get some more pictures of my girl enjoying her dress, but we currently have snow on the ground and it's too cold to get nice pictures outside without making her freeze! She did wear it to church this weekend (with leggings and a sweater!) and I'm sure she'll be enjoying her dress all summer.
Is the cold weather making you wish for Spring or are you still enjoying time to sit by the fire and drink tea?
Adding this to the Sew & Show link-up at Straight Grain!