Do you follow Bonnie Christine? Bonnie designs gorgeous patterns for fabric and ribbons (among other things!). This new line of ribbons was inspired by her love of nature, sunshine, gardens, flowers, and flying creatures. When I first found Bonnie's blog and fabrics, I was immediately drawn to her happy patterns and fresh colors. Her work reflects her joy in creating beautiful things.
I am excited to be part of this blog tour, sharing creative ideas for using this lovely ribbon! (While this particular ribbon is no longer available, Renaissance Ribbons still stocks lots of beautiful floral ribbons to use for sewing projects.)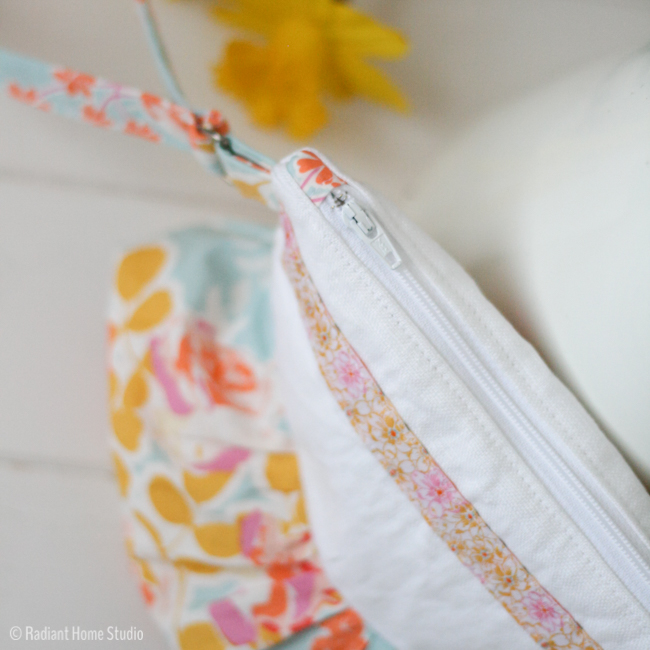 The beautiful florals and joyful colors of these ribbons and fabrics reminded me of a friend's vintage wedding. I thought the fabric and ribbons would make lovely little purses, perfect for handmade bridesmaid gifts. Can't you just imagine a flower girl dressed in blush-colored butterfly fabric with matching ribbons in her hair and on her basket? So cute! It makes me want to help someone plan their wedding…
I used my Fairport Purse & Pouch pattern (which has been discontinued) to make a zippered clutch with Bonnie's Orchard Blossom fabric, white linen, and the Pink & Yellow Sweet Floral ribbon. I made the smaller size and added a wrist strap. Embellishing a zipper pouch with ribbon is a quick and easy upgrade. Before you stitch the sides of the pouch together, just line up the ribbon below the zipper and topstitch along each edge. You could also try adding some ribbon to the wrist strap. Any basic pouch pattern could be used to create a pretty ribbon zipper pouch.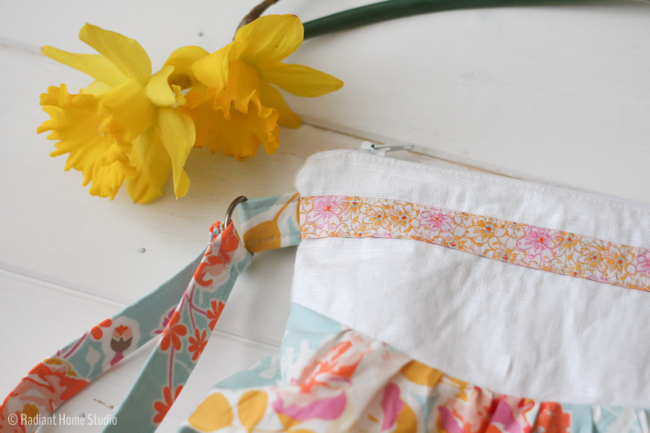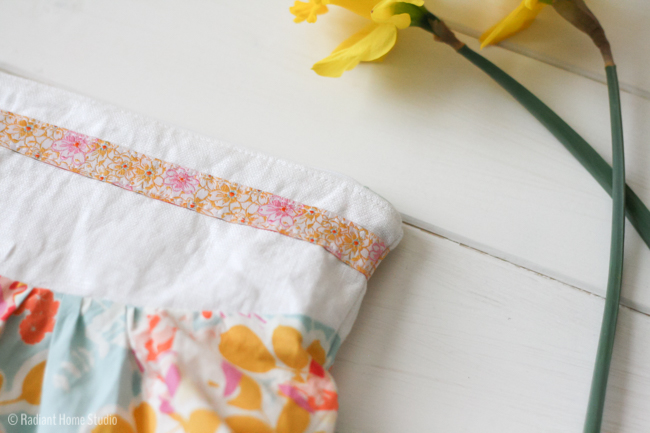 On Friday, Bethany at Bee Always Blooming, shared her pretty dream catcher decoration. The lace mixed with Bonnie's coordinating fabrics and ribbons fit perfectly with the vintage wedding I was imagining. Next up on the blog tour is Amy at Cozy Reverie, so be sure to check back tomorrow to see how she has used Bonnie's ribbons and fabric!
You can see all the Ribbon Blog Tour details and participants on Bonnie's website!