Last year, I bought my first Oliver + S pattern, the Hopscotch Skirt, Top, + Dress pattern. The price seemed a bit high compared to the $1 patterns I was getting on sale at the craft store, but it has been worth every penny!
I've made at least 6 garments from the pattern so far, and the top is so versatile that I see myself using it many more times. I certainly can't think of any mass marketed patterns that I have used this much!
Though the top is very cute, I don't want every shirt in the girls' drawers to be identical, so I like to make little modifications to personalize them. The Hopscotch top has a crossover v-neck. Here I have modified it to have a basic scoop neck.

Make a Scoop Neck Hopscotch Shirt:
I traced the yoke piece one direction, then flipped it over, matched the pattern markings and traced it the other direction.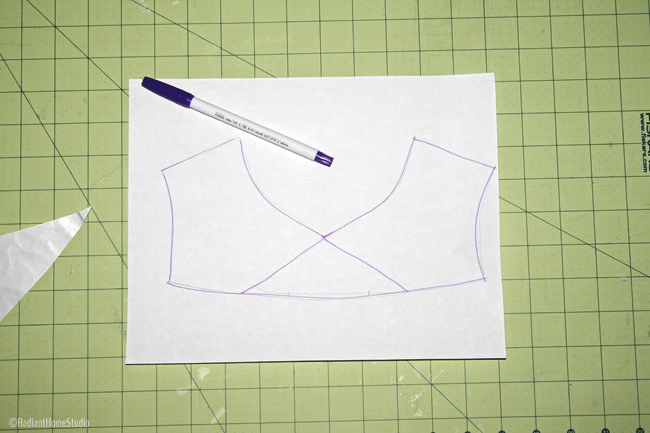 To add a curve in the neckline, I used a bowl (it was the closest thing in the room) to draw a clean, even neckline.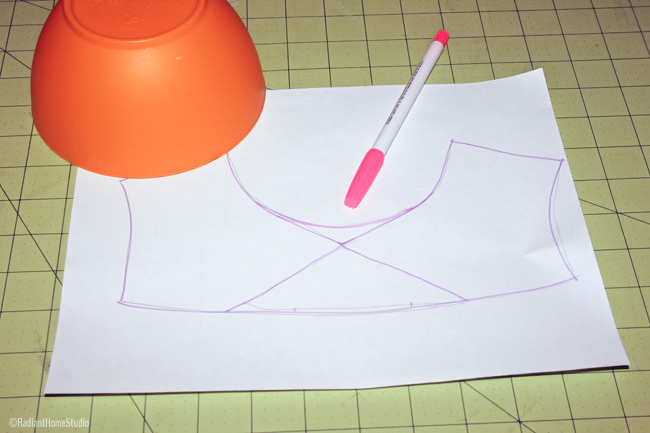 I cut out my pattern piece, and labeled it so that I can use it again later. It looks slightly uneven here. If you want to make sure the piece is symmetrical, just fold it in half and trim the excess bits off.
(And please don't mind fabric ink all over my cutting board…)
I followed the pattern directions, adding the new piece to the gathered shirt front.
The original neckband for the pattern is one piece. I used the neckband piece to cut my pieces the correct width. I measured each piece along the yoke neckline and then I cut them 2 inches shorter than that in length. Just as in the pattern, the neck band piece will need to be stretched slightly as you sew in order to fit properly.
I should also add that I was slightly concerned that the neckband might not fit over her head since it had been shortened a little. I also trimmed the back neckline down about 1/2″ (using the same "bowl method" so that the shoulder width remains the same) and I am happy to report that she had no problems getting it on!
After both neckband pieces are attached, the shoulder seams can be matched and stitched. The rest can be finished according to the pattern directions.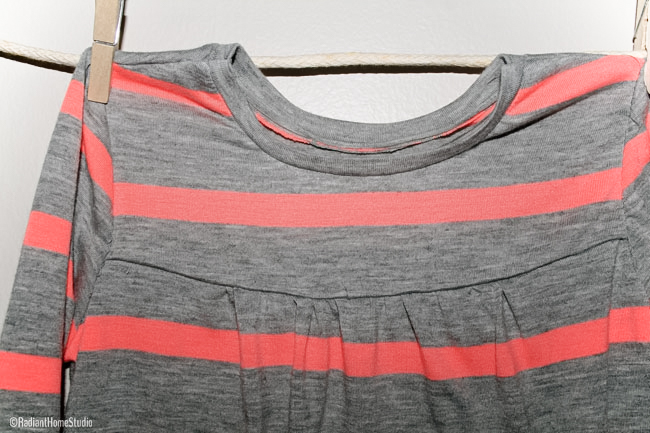 I highly recommend this pattern to try if you want to venture into sewing with stretch fabrics. It is very simple and can be finished nicely without a serger. (I have one and don't even use it for this pattern.) You will need a double stretch needle, which can be easily found at any sewing shop, along with the helpful directions for pressing and stabilizing that are provided in the pattern instructions.
That's it—an easy scoop neck Hopscotch shirt or dress modification!