In my Water Bottle Tote pattern, I suggest using pre-made cotton or nylon webbing as bag straps. But what if you don't have any on hand or you can't find the right color to coordinate with your fabric?
Sewing tote bag straps from fabric is a simple change you can make to add more personality and color to your bag!  Usually the fabric store choices for trim and ribbon is limited, but I'll show you how you can use any quilting cotton or home decorating fabric to make custom tote bag straps.
You can use these directions to replace nylon webbing on any bag pattern — just adjust the measurements to fit your pattern.
First, decide how wide your straps will be. My tote bag straps are 1.5 inches wide, so I used that as a starting point.
Next, multiply that number by 4 — this is how wide you want to cut your fabric. I cut 6 inch wide strips of fabric.
The Water Bottle Tote strap is 90 inches long. I didn't want to use up yards of fabric by trying to cut a 90 inch strip, and another seam can be easily hidden on the bottom of the bag. In order to conserve fabric, I cut 6″ across the width of the fabric and joined the strips together. Most quilting fabric is 44-45 inches wide, so two 6 inch strips cut across the width were just the right length for tote bag straps.
You can join the two strips together by placing them right sides together and stitching across one short end of the fabrics (the seam allowance isn't very important here). Press the seam open and trim the bulk away.
Do you want you straps to be more durable? Choose a fusible interfacing to add strength and stability to your fabric. (This article is a great resource to help you decide which interfacing you need.) Generally, lighter weight fabrics will need a heavier weight interfacing. Thicker home decor fabrics or specialty fabrics like faux leather may not need interfacing at all.
Apply interfacing according to the manufacturer directions. (They are usually included on a sheet of paper with cut interfacing or on the packaging if you buy it pre-cut. So don't throw them away!)
Next, fold your fabric strip in half, wrong sides together, and press along the fold.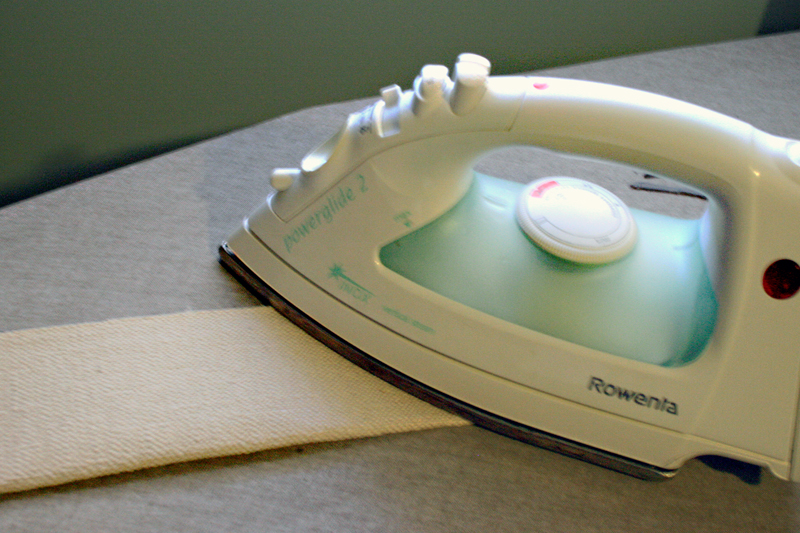 Open the fabric back up, and fold the raw edges in until they meet at the fold. Press again.
You should have 3 equally spaced folds and four equal sections. Fold the raw edges to the center, and then fold the center seam so that all of the raw edges are enclosed.
To finish, stitch along the edges (about 1/8 inch from each edge). Several layers of  fabric plus interfacing will be pretty thick, so choose a needle for heavy-weight fabrics and make sure your stitch length is set to a slightly longer stitch.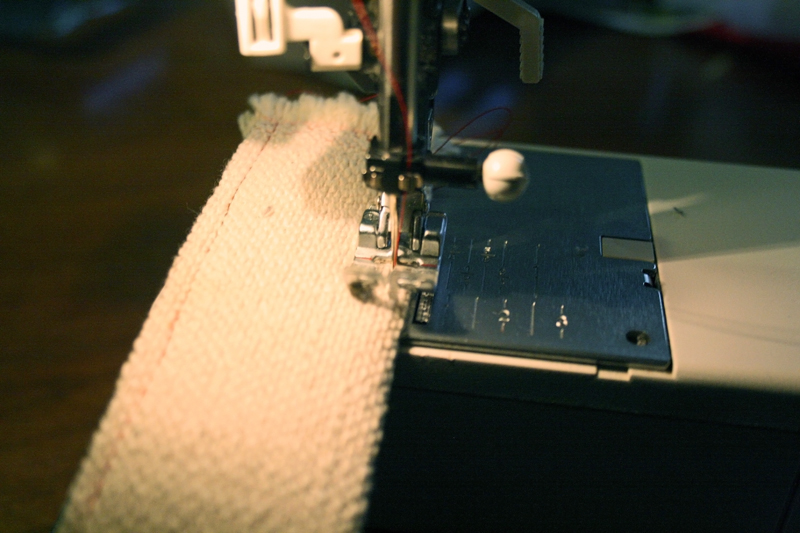 For the Water Bottle Tote, I recommend using using your longest machine stitch to baste the layers together first. You will be using another line of stitching to attach it to the bag, and too many lines of stitching will look messy and unprofessional.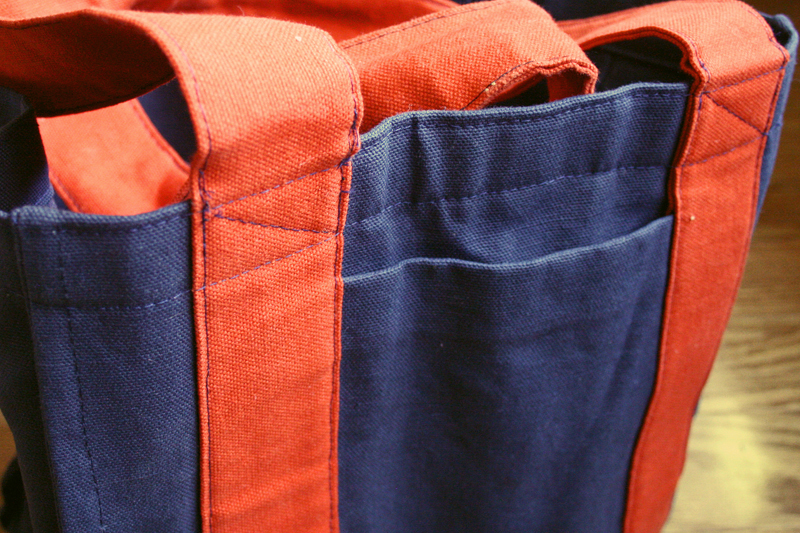 To add this orange strap, I basted the strap together, then attached it to the bag as directed in the pattern. I carefully removed the basting stitches so that only one line of stitching was visible on the straps.
Try making your straps with a patterned or textured fabric to add some style and interest to your bags. I'd love to see your finished tote bags with custom made straps! Add a link to your blog or photo to share what you have made!