Today I'm joining some friends in a shibori indigo blog tour! Last weekend, we spent some time experimenting with indigo dye as a fun family project. The dye makes a gorgeous blue color, and it's made from natural, plant-based materials. I used some of the fabric I dyed to make a shibori indigo zipper pouch to share today. Plus, I have a couple more projects to share later!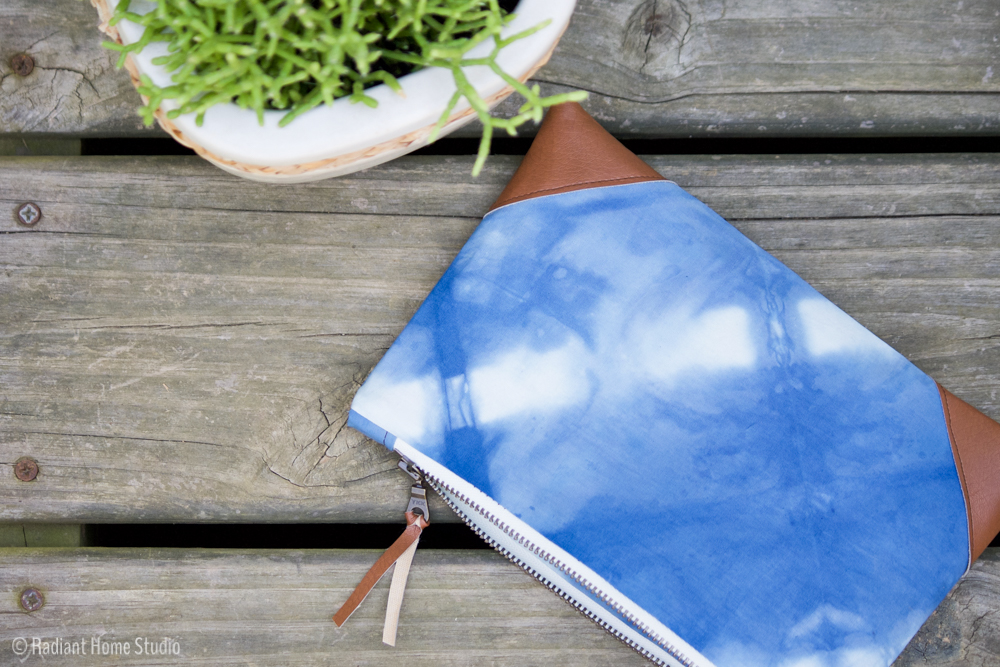 (Some links are affiliate links, which means I earn a small commission at no cost to you. Thanks!)
I've been hoping to try indigo dyeing for several years, but never managed to gather all of the supplies. I thought it would be fun to involve the kids in my indigo dyeing experiment. Normally, my chemistry major husband isn't interested in crafting, but he jumped right in to help measure water and mix the dye. Since I'm too pregnant to be carrying five-gallon buckets of water around, I was thankful for his enthusiastic participation.
We did a little bit of research before our project on the history of indigo dyeing and looked for some information on shibori dyeing techniques. This CreativeLive class on shibori dyeing was the most helpful thing we found. It wasn't very long, but it covered all of the details we needed to know in a clear and interesting way. I definitely recommend it! We also looked up some other shibori designs and folding techniques on Pinterest.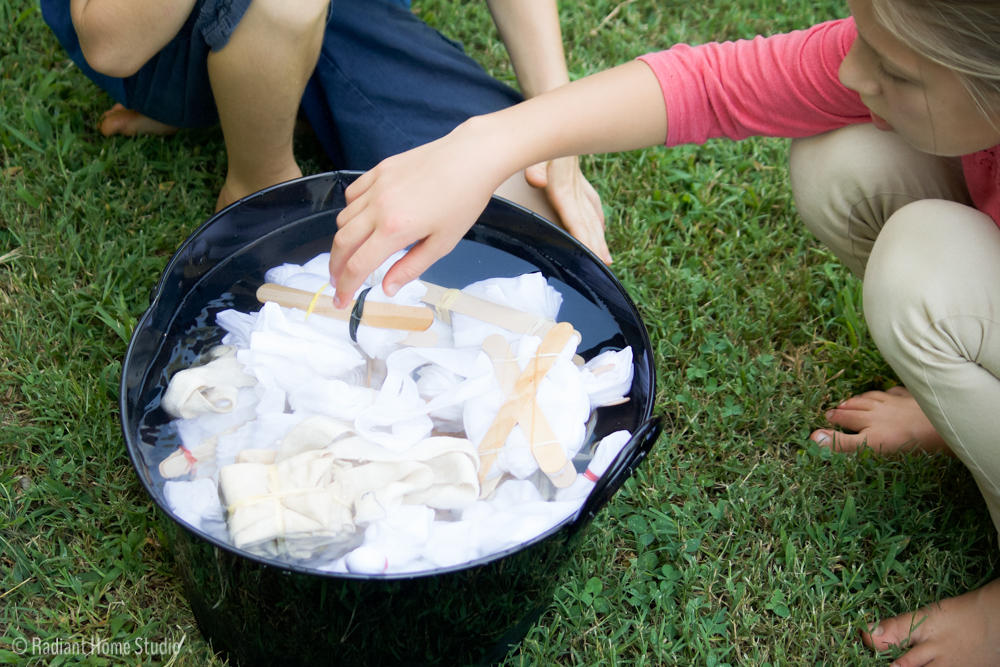 The only thing the shibori class didn't cover was mixing the dye. There are more "authentic" ways of making indigo dye, but we just ordered this quick and easy kit from Amazon. You just measure four gallons of water, dump three packets of powder in, and mix it up. My older kids could have read the directions and made it themselves. It was inexpensive and worked perfectly, so I'll definitely be ordering it again.
The only thing I would do differently…I dipped each piece twice, but after everything dried and lightened up, I wished I had dipped a couple more times. My knit fabric took the dye really well and ended up with some deep navy blue streaks, but none of the other pieces got that dark.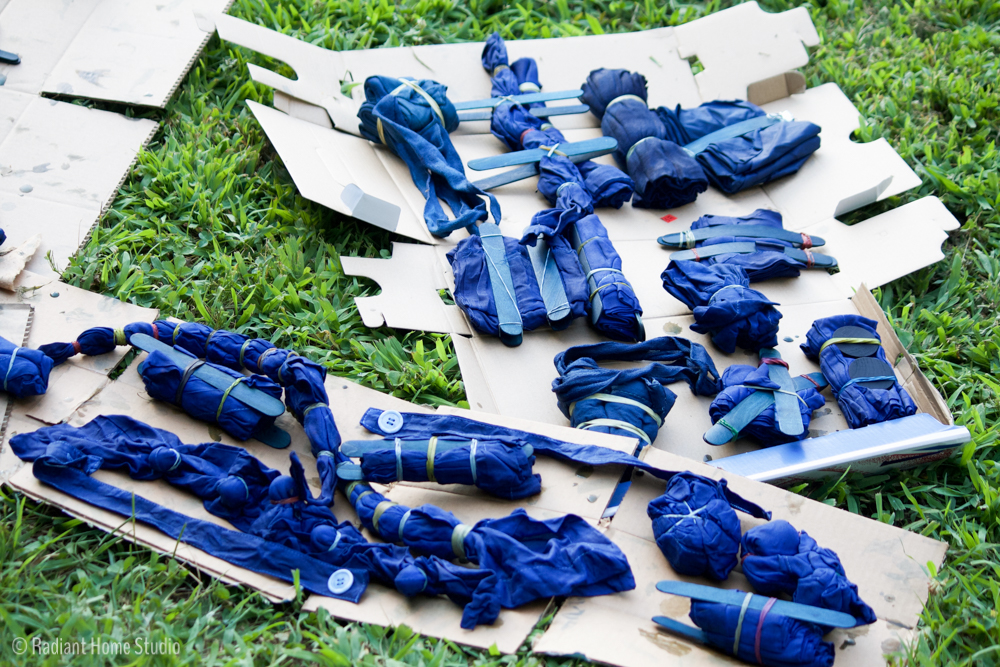 We dyed two packages of cotton napkins (also from Amazon). They were great for experimenting with different folding techniques and patterns. The kids each folded three or four and eagerly waited to see how their designs would turn out. I also folded up a piece of muslin, a scrap of white bamboo knit, and some canvas tote bags. I used the muslin for the zipper pouch.
Zipper pouches are fast and easy. I didn't follow a pattern for this…just cut out some rectangles, added little leather accents, and sewed it up. You can use this zipper pouch tutorial for basic construction techniques. I think a shibori Indigo dyed zipper pouch would make really cute gift or nice craft fair product.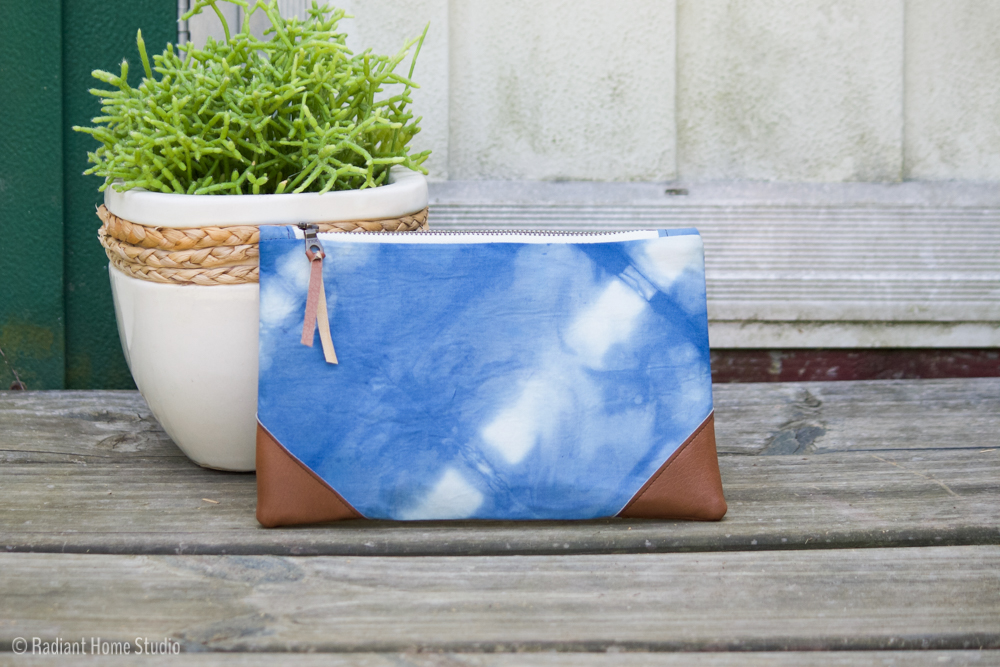 Does indigo dyeing look like too much work?
I created a repeating pattern with one of my dyed fabric pieces and uploaded it to my Spoonflower shop. Get the authentic look of shibori indigo dyed fabric, without the work. 🙂
If you'd like to see what some of my friends made their indigo fabric, follow along here to read their posts:
SaveSave
SaveSave
Monday 7/24
Sarah at Sewing with Sarah – Shibori Top
Stephanie at Swoodson Says – Shibori Kit Review
Tuesday 7/25
Katie at Creative Counselor – Shibori Shift Dress
Sara at Radiant Home Studio – Shibori Zipper Pouch
Wednesday 7/26
Vicky at Vicky Myers Creations – Shibori Scarf
Stephanie at Swoodson Says – Shibori Blanket
Thursday 7/27
Maryanna at Marvelous Auntie M – Shibori Bag
Ula at Lulu & Celeste – Shibori Clutch
Friday 7/28
Laurel at My Heart Will Sew On – Shibori Maxi Skirt
Agy at Agy Textile Artist – Shibori with Mango Leaves
Stephanie at Swoodson Says – Shibori Curtains
SaveSave