A few weeks ago I made a "Paris Skirt" with front hip pockets. I took photos along the way, but most of them were blurred. I had planned to sew up another one this week but was short about another 1/4 yd. of fabric for the pockets. So instead, I made illustrated instructions for adding pockets to (almost) any skirt! It's really very easy once you understand the process.
(Some links may be affiliate links, which means I earn a small commission at no cost to you. Thanks!)
I also made a printable pocket pattern in 3 sizes! There's one for toddlers, one for girls, and one for ladies. Just print out the pages and tape them together, matching the little arrows.
A simple gathered A-line skirt will work best with these pockets. I used the Paris Skirt Tutorial at Nothing Too Fancy. You could also try Gertie's Gathered Skirt. Just look for something with a rectangular front and back piece, that is gathered and attached to a waistband.
If you want to add piping, you can make your own or buy some ready-made. Making your own offers more color and pattern options. If you don't have a piping foot, you can use a zipper foot, or try this neat fusible product that allows you to create piping without any sewing!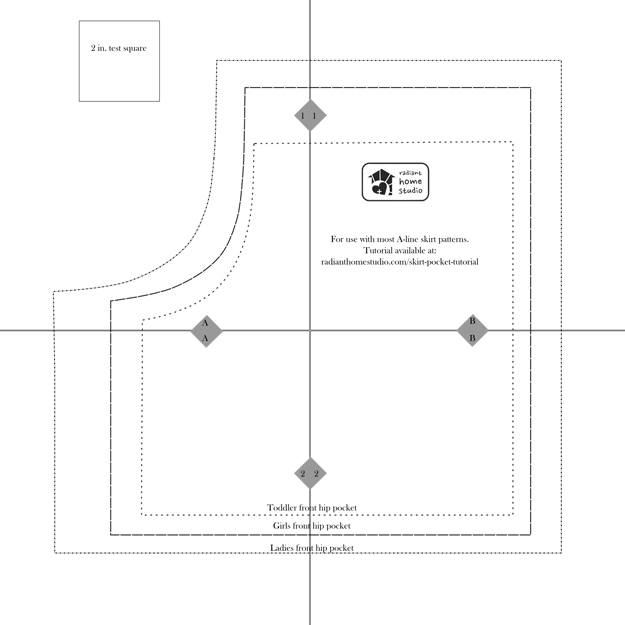 And here's the skirt pocket tutorial:
(you can pin this whole image!)

I have a couple of process pictures, just to help you visualize the construction if you're one of those people that like to see things in 3D. These are near the end of the process.
In this photo, I have already stitched along the pocket curve, turned it right side out, and topstitched. You can see how the pocket piece is folded in half to form the inner part of the pocket and fill in the gap that I cut out in the beginning.
Here I have pinned along the sections that need to be basted together. Basting here helps hold everything in place during the rest of the skirt construction.
After the pocket pieces are added, you can follow the directions to assemble the rest of your skirt. I gathered along the top edge and stitched it to the waistband.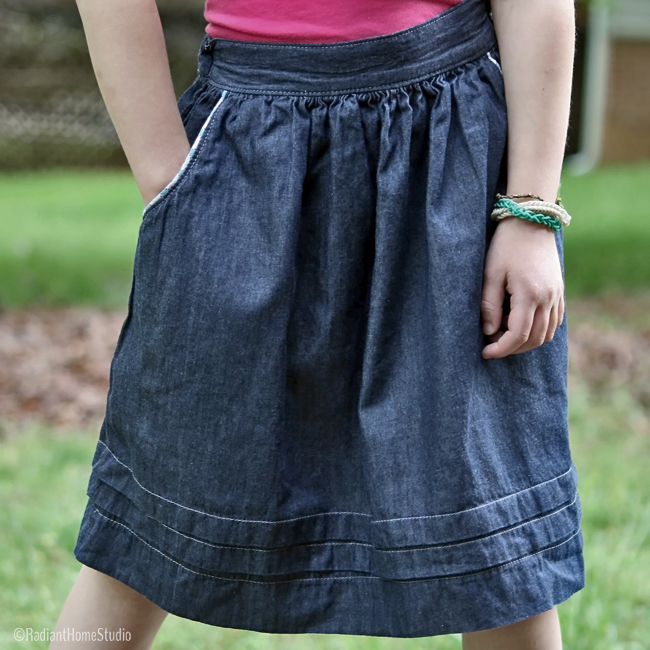 And…the finished skirt!
Please let me know if you use this tutorial! I'd love to see your finished skirt pockets!