I'm really excited to tell you about a new project I have planned for this year. I'm calling it Tote Bag Upgrade.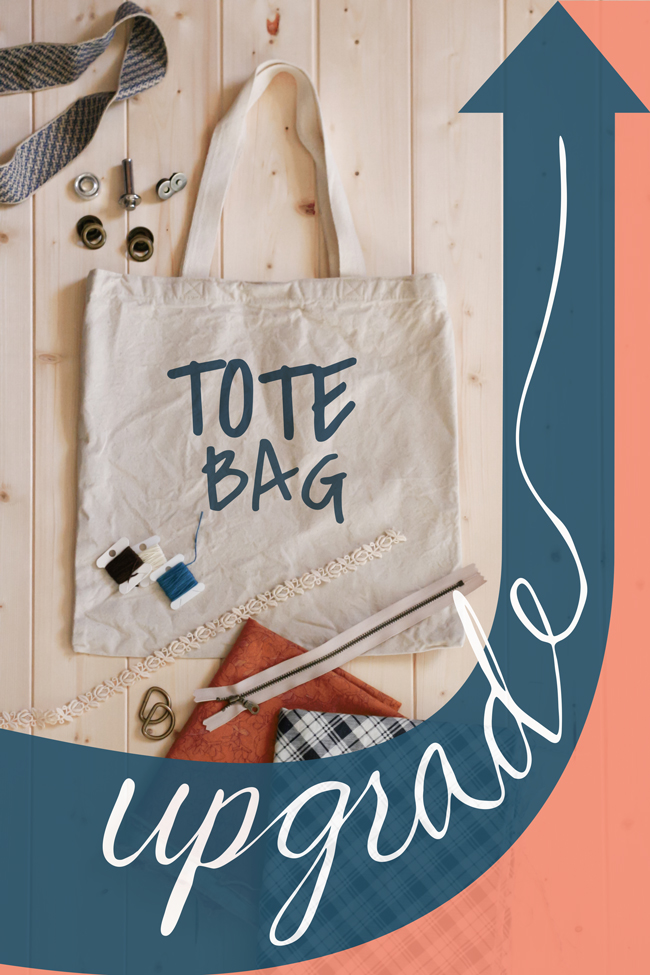 Each month I'll be sharing a new tutorial with an idea (or ideas!) for upgrading a basic canvas tote bag into a modern accessory. My goal is to provide some quick and easy projects, while also teaching some bag making basics.
You can use these tutorials as a way to practice specific bag making techniques before you commit to trying a more challenging bag pattern. Canvas bags are cheap and readily available at craft stores. You may even have a few around the house that could use a modern upgrade. Most of the tutorials won't require more than a half yard of fabric, so you'll be able to use some of your favorite scraps too.
By the end of the year you'll have a variety of tutorials for bag hardware and pockets. We'll try some fun embellishment techniques such as embroidery, printing, and fabric dyeing to add beautiful handmade details to your bags.
I hope to provide you with all of the resources you need to become confident sewing bags through the tote bag upgrades. If you just want to learn one specific technique, try it out on a tote bag and save your designer fabric until you are confident with your new skills.
Need to buy some bags? I bought my bags from Tote Bag Factory. You can buy them in bulk and at around $3 a bag, they are a great price. The canvas is sturdy and the handles are cotton webbing. Almost any chain craft store or Wal-Mart should have have these as well.
I'm planning two posts for next week to get the fun started. First I'm planning to teach you how to add a lining, because I plan to refer back to that technique often. After that I'll show you how to add some style with a cargo pocket!
I can't wait to get started and see what you all make!
If you want to share what you are making use #totebagupgrade on instagram or twitter!