Ever since I made my tessellation quilt top, I've been hoping to try some more paper piecing projects. I found this free paper pieced tulip pattern from Charise Creates. I discovered Charise through her patterns in Stitch magazine and I just love her pretty projects and tutorials. They are sweet and feminine, but still modern. There are a couple of easier patterns available, but I felt up for a challenge and chose the tulip pattern to work on first.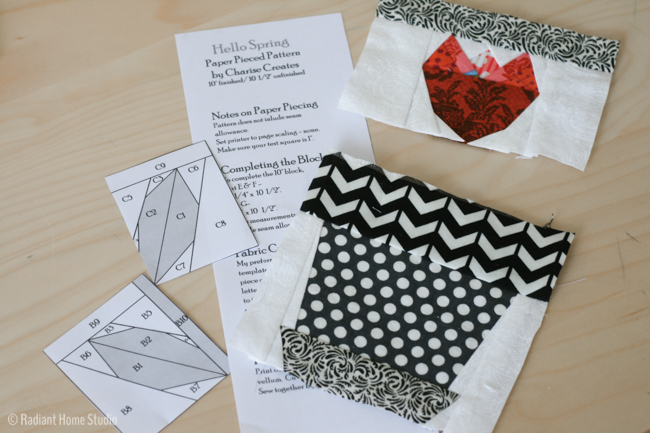 The directions are minimal, but as long as you have a basic knowledge of how to paper piece you should be fine. I probably spent a total of an hour and a half on this block.
I really enjoyed putting this together. I had no purpose in mind and no deadline. I love other forms of art and design, and I think paper piecing really combines my love of fabrics with my love of art and design. You start sewing pieces together and this beautiful picture begins to emerge. It's a fun process!
The colored scraps of fabric are leftover from my tessellation quilt. They are mostly Anna Maria Horner, with a couple of Cotton & Steel basics mixed in. The black, white, and gray fabrics were leftovers from my scrap bin.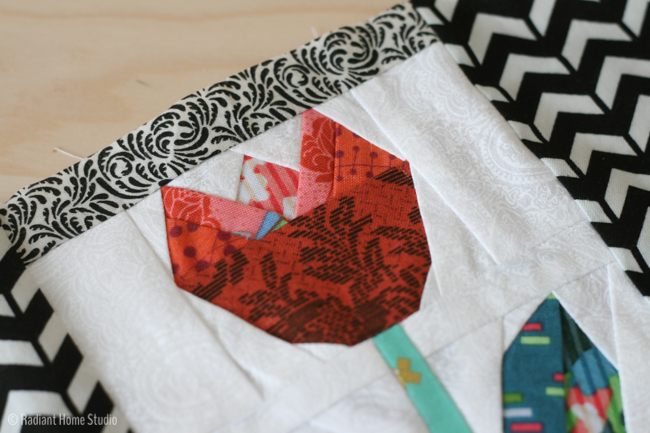 I'm still not sure how I'm going to use the finished block. It could be made into a pillow or a bag. (Charise has directions for a cute bag that she made with hers.) But I haven't decided yet. I'll probably set it aside to be made into a gift for someone, when the right opportunity comes up.
Have you done any paper piecing? What are your favorite patterns?