I found Jennifer of Jennuine Design through a creative bloggers group that I joined a few months ago. We were partnered for a blog critique and decided to swap patterns as well to provide feedback on the checkout process. I'm not sure what I was expecting from her pattern, but I was impressed with the professional layout and instructions. Jennifer has worked really hard to make this pattern excellent!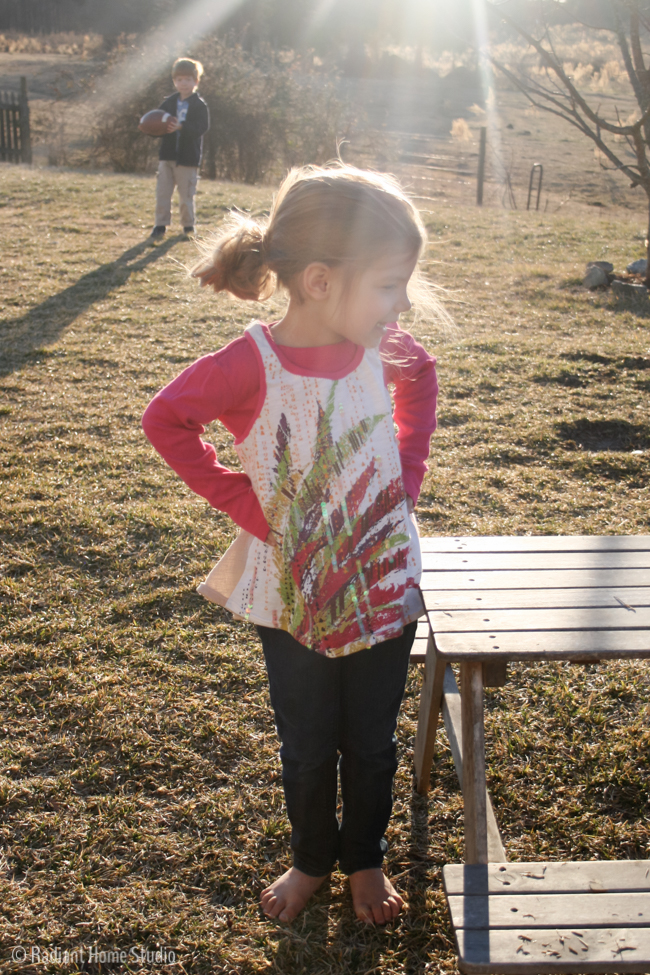 The LOL Swing Top is a loose fitting sleeveless top for little girls. It has a racerback and loose, flowing, twirly back. I think it makes a perfect play shirt for little girls that love pretty clothes and dresses. I like the separate back yoke piece, which allows you to mix and match fabrics. I definitely plan to make a few more versions of this top. It was pretty quick to sew. And as you can see, it makes a good layering piece too.
The Kids Clothes Week theme is "upcycled". For this top I used a large ladies t-shirt for the front and some natural-colored, thrifted gauze from my stash.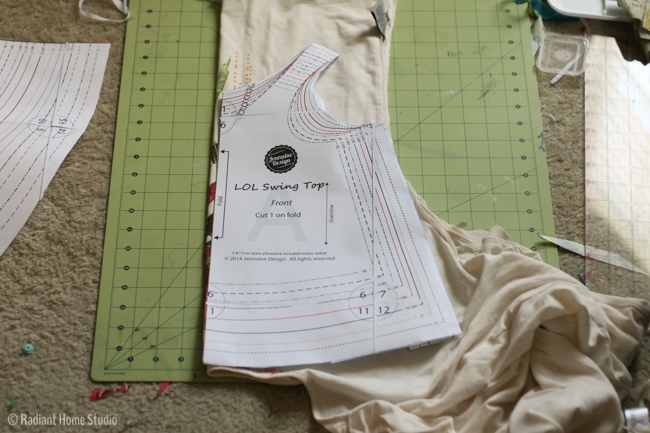 The shirt is a little bit loud for my taste and not something I would have normally picked out. But my sparkle-loving girly girl loves it! I placed the pattern on it upside down. There was more width at the top of the shirt and the pattern fit best that way.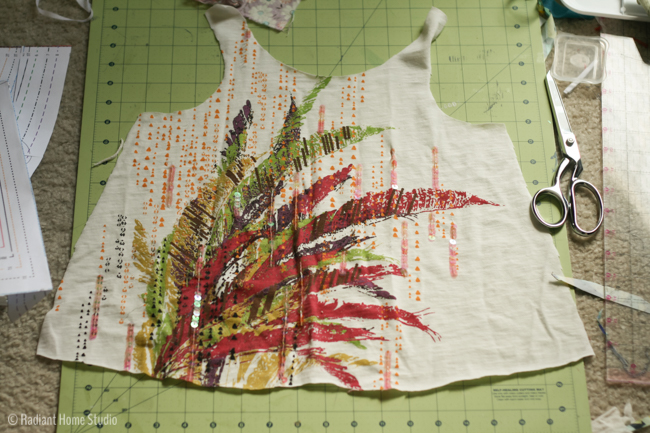 The pattern has a really large range of sizing from newborn all the way to size 12. There are 2 separate sets of directions, one for knits and one for woven fabrics. The woven version includes a shoulder button. There are professional illustrations to accompany the directions, as well as several photos of finished versions for your inspiration.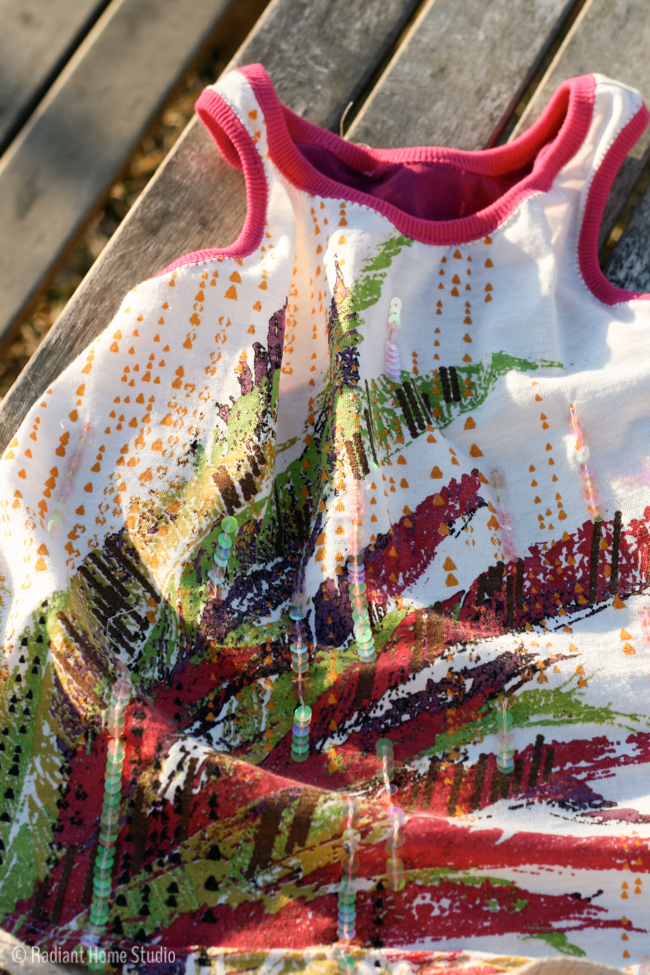 I made a size 4T. I added about an inch of extra curve on the back piece to give it a bit of a high low style hem. That was the only change I made to the pattern pieces.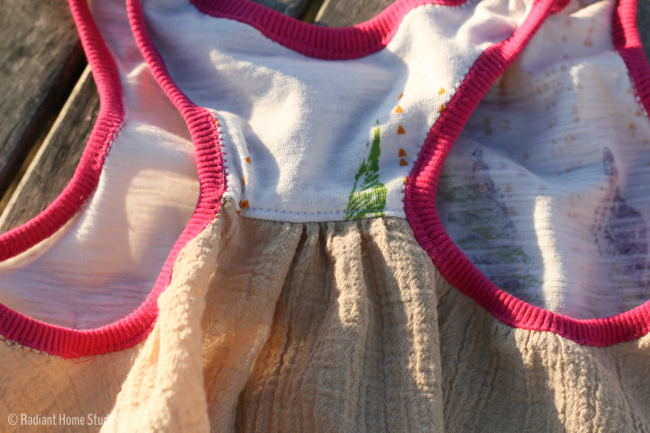 On this top I added the binding like bias tape. I think when I make it again I will add the binding with my serger and topstitch the seam allowances down. It's more of a "shortcut" method, but with 6 kids to clothe…fast usually wins.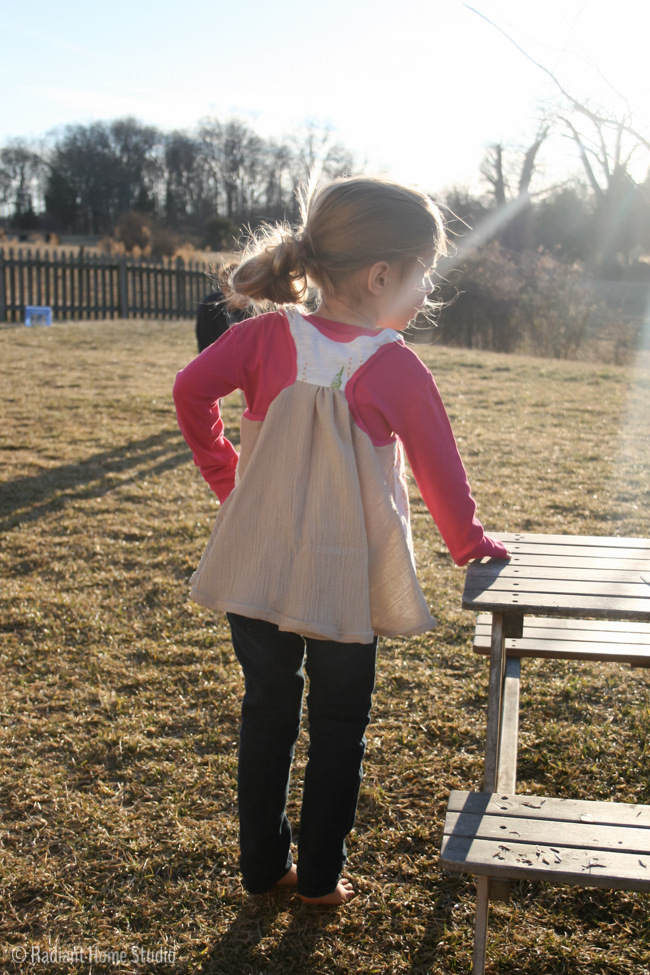 Overall, I highly recommend this pattern! There are so many smaller indie pattern designers out there putting out really great patterns…and some that are not. Sometimes it is hard to know if something is good or not. Jennifer has invested the time and energy into this pattern to make it professional and worth your investment. This pattern is suitable for a confident beginner, and experienced sewists will appreciate a quick and easy wardrobe builder.