A little break from the sewing…sometimes I knit! I love having something to take along on car rides or to work on in the evening when we are sitting around catching up on our day. I just finished knitting this hat using a free pattern from the Cascade yarn site (Alpaca Lana D'Oro Leaf Hat W290).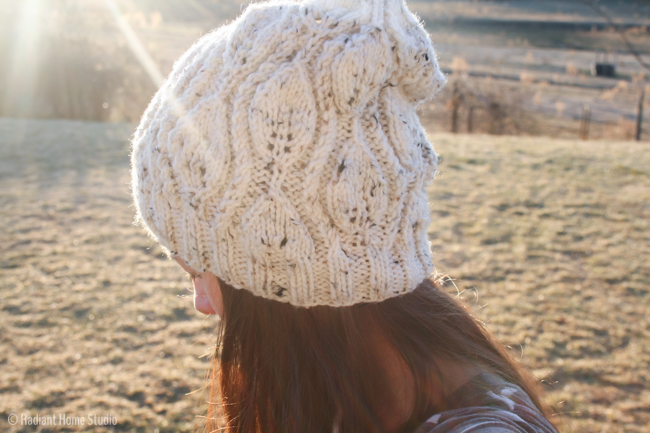 I've been sewing for years, but only recently took up knitting. About 3 years ago, I made a about 4 wool diaper covers from a very simple pattern. Other than that, I have never tried to follow a knitting pattern because all of the shorthand seemed overwhelming to learn. I stuck with scarves and baby blankets with simple knits and purls.
I decided to go for it and challenge myself with a hard pattern. I should have read the ravelry reviews, because this pattern has some issues (at least for an inexperienced knitter). But thanks to some helpful ravelry members, I was able to complete this hat with revised directions that someone posted.
The yarn I used is just some inexpensive acrylic from the craft store. I didn't want to waste nice wool yarn on a practice project. Now that I've successfully finished a project, I'm more confident about using nice wool and I'm excited to start a new project.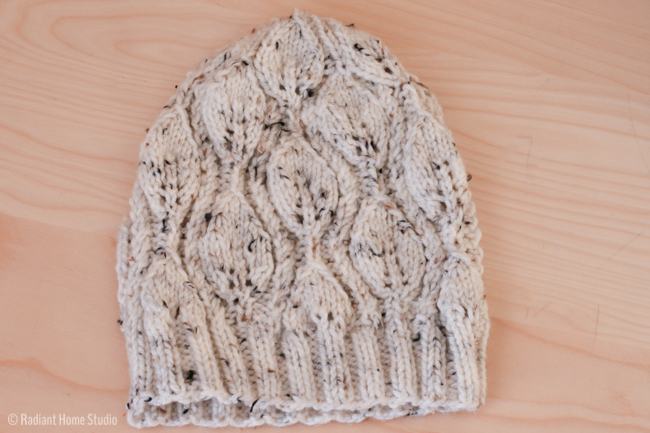 I restarted about 6 times. I can't even remember why. I may have even been doing it right, but it took me that long to see how the pattern would come together. Once I got the rhythm of the pattern, it went much better. I used youtube to learn a few new stitches, and I was doing really well until I got to the decrease rows. Then the pattern switched from listing every stitch per row to some very vague directions about continuing the pattern but decreasing every so often.
I brought the pattern on a trip with me to see if my more experienced knitting friend could help, but she was also stumped. When we finally read through the ravelry reviews, we found some clarified directions for the decrease rows. Once I found those, I finished this up in a couple of days. It's not perfect, though I doubt anyone will see the mistakes. I really enjoyed the challenge of the pattern, even if it was confusing at points.
And I am no longer afraid of knitting patterns! So, next up…a sweater for myself! It's been on my list of things to try this year. I even mentioned it in this interview on Kollabora…so now I have to do it, right?  I'm thinking something with bulky yarn so it doesn't take forever. Any suggestions?