A few weeks ago, I was chatting with a few different sewing bloggers (ladies that I interact with on a regular basis), and realized that none of them knew I had 6 children! I always thought I had made that clear, but it made me wonder how many of my readers were missing that important detail about me. I think it's important for you to know this before I tell you…
I'm expecting baby #7! All of our other children were spaced less than 2 years apart. This time we have a 4 1/2 year gap between our youngest and the baby. It certainly makes life easier to have a 10 & 12-year old that can make meals and watch littles on the days when I have been exhausted. Everyone can get themselves dressed and to the bathroom. During other pregnancies, I've had 2-3 in diapers and young children in constant need of attention.
Based on previous experience, I knew I would lose my sewing motivation during the first trimester. So, what did I do? I pitched a guest post and two magazine articles so that I would have to sew on a deadline. Smart right? It seemed like a good idea until my nausea kicked in. I have spent several days in bed due to severe nausea that hasn't let up for 10 weeks. That's not uncommon for me, but I had forgotten how much it affects me after a four-year break.
Despite the morning sickness, I have managed to get my 3 projects done and even sewed a pair of woven Hudson Pants. (So, maybe my plan worked after all?) I've been planning to make some woven Hudson Pants for a while. They seemed the perfect transition pants for early pregnancy and postpartum.
I used the instructions from True Bias, making a larger size and adding some length to the bottom of the pants. My fabric is 4 0z. denim from Jo-Ann Fabrics. For my stretch Hudsons, I have been making a size 6. Kelly suggests sizing up 2-3 sizes for woven fabrics. I went up 3 (to a 12) to accommodate some of the extra pregnancy weight.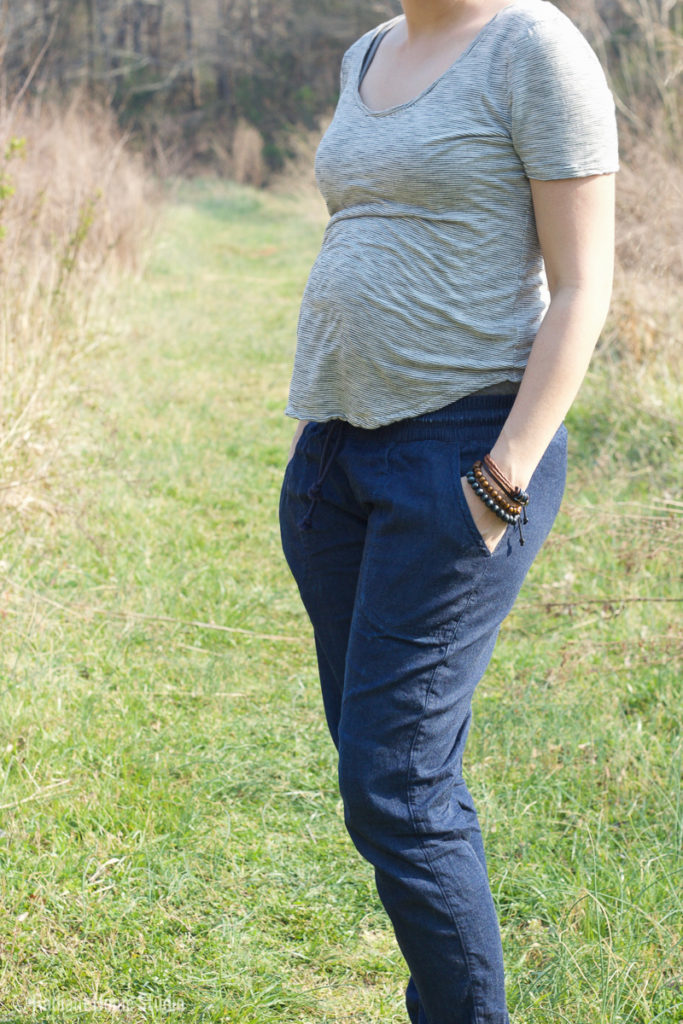 Though they fit, I think going up to a 14 would have been better. These are a tad tight in the rear and calves. I can see the seams pulling around the calves especially. I'd like to be able to pull them up and down over my calf, but the fit is too tight for that. Maybe using a stretch twill would help as well. I might also raise the back waist a couple of inches, leaving the front a little lower, like typical maternity pants. I plan to try again. I have been wearing these quite a bit and can definitely see myself wearing some in other colors.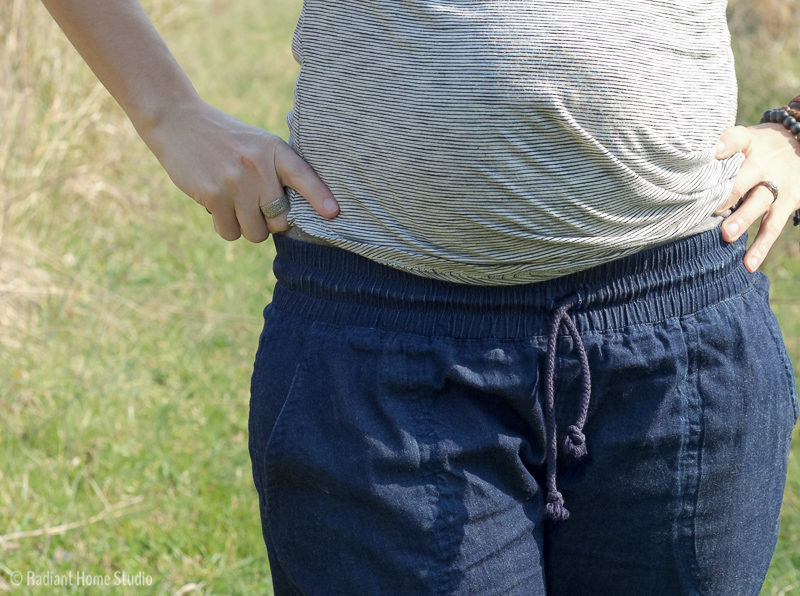 Other than sizing up and adding 4″ to the bottom, I didn't make any other major alterations. I think I did a little bit more topstitching in some places (side seams and faux fly). I used the denim for the waistband, which works well, but I really like Anna's idea for a knit waistband on linen pants. I might do that next time. Maternity pants should be as comfortable as possible!
Finally, I thought I'd share a little glimpse of what goes on during a photo shoot with 6 kiddos…following this picture, I taught my little guy how to use the remote. He proceeded to take about 12 (really cute) pictures of himself pointing the remote at the camera, plus some with me and each of the other kids individually. 🙂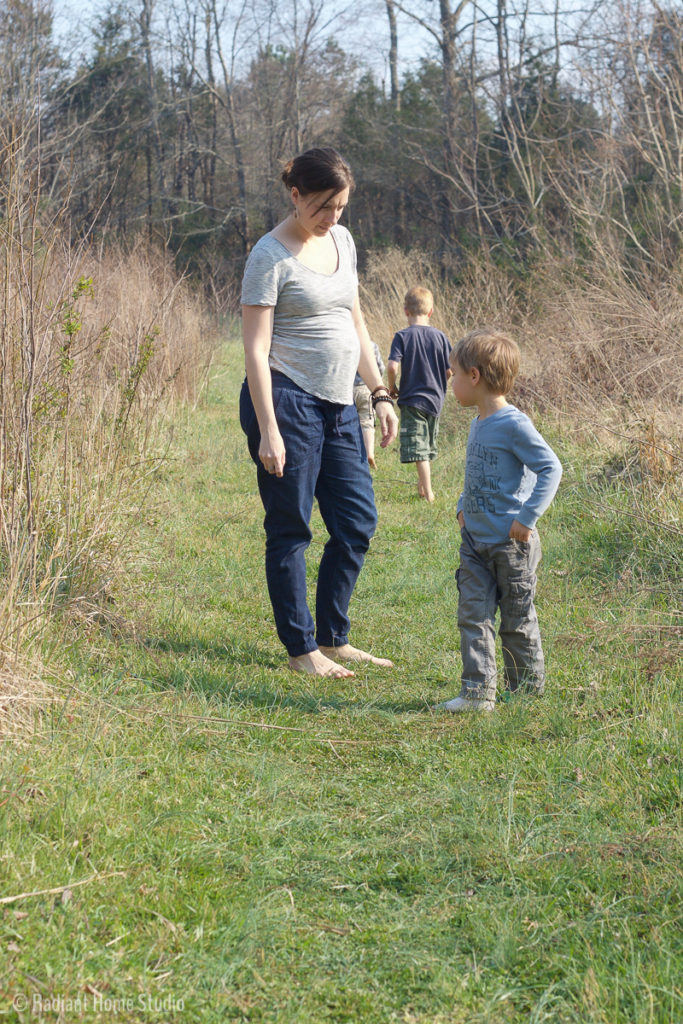 SaveSave