Are you looking for some flowing blouse patterns to sew? A beautiful, flowing blouse makes a great addition to your wardrobe! Most blouses can be worn casually with jeans or dressed up with a skirt and heels for more formal occasions. Since I'm usually home during the day with the kids, I tend to grab jeans and t-shirts. I've been adding some flowing blouses to layer over my tanks for a more "grown-up" look that still feels as comfortable as my old standby t-shirts.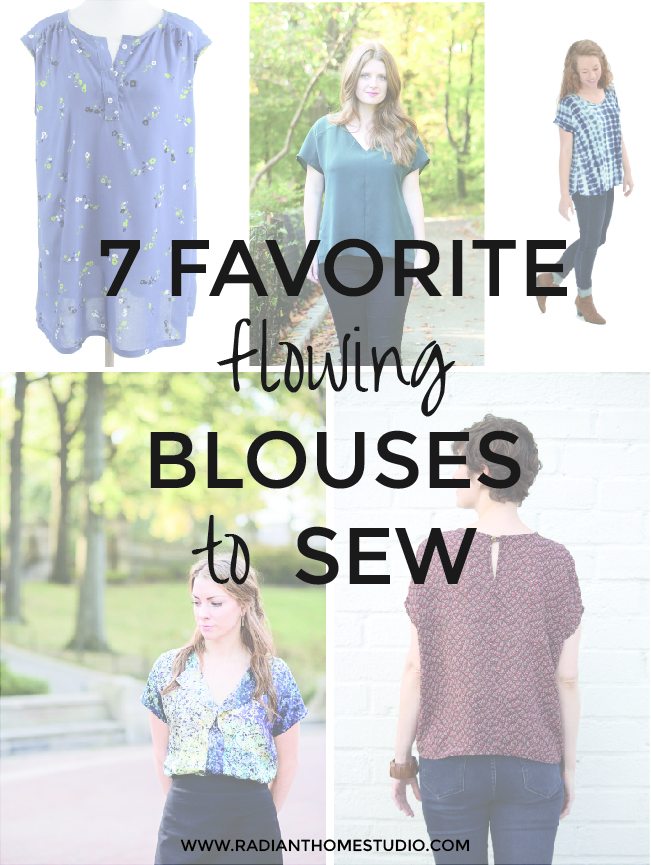 With so many indie designers, it can be hard to choose a good pattern. I've tried patterns by many of these designers, and the others come highly recommended! Each of these patterns has helpful tips and clear instructions. They have also been tested extensively by the designers to ensure that the tops fit well.
One of the best things about a loose-fitting blouse is that it doesn't require detailed fitting and alterations. For the average woman, most of these should fit well without any alterations at all. (Of course, there are always exceptions. If you always need to make bust adjustments, you'll know what to do with these anyway!) Plus, a loose fit is flattering on most body shapes, and it's especially great for disguising mommy tummies.
Here are 7 Flowing Blouse Patterns to Sew:
Sutton Blouse – by True Bias: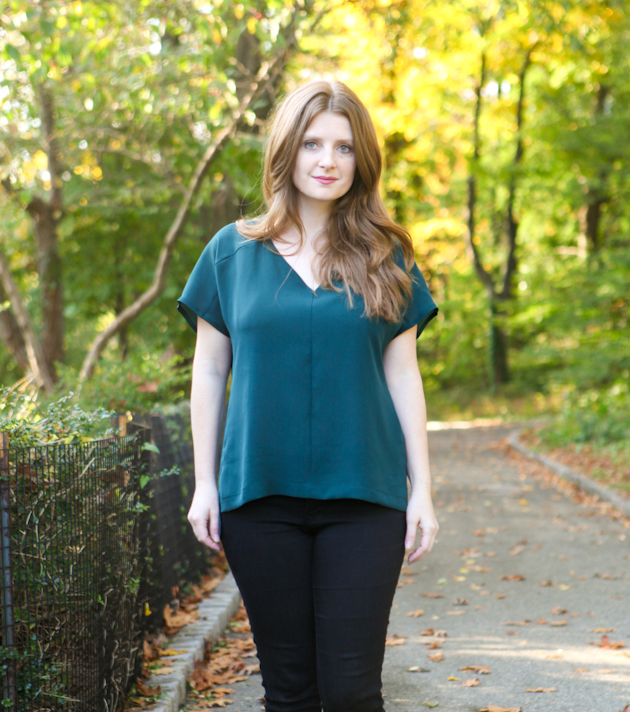 The Sutton Blouse is a really classic v-neck blouse. It has a pretty back pleat, and the back hangs longer than the front. Both of these features help to make the fit flattering on a variety of body shapes. I've seen many different versions of this top and it looks nice on everyone.
I think this blouse can be paired with jeans or a skirt, making it casual or more formal. The fabric you choose will really set the tone for the level of formality. You can make a solid-colored blouse for a classic look, or use the yoke to mix in a contrasting fabric for a more bold look. Or even try making the yoke with lace, like Teresa did. There are a lot of really fun possibilities with this one!
If you like the fit of this top, I'd also recommend checking out the Roscoe Blouse by True Bias.
Weekend Getaway Blouse – by Liesl & Co.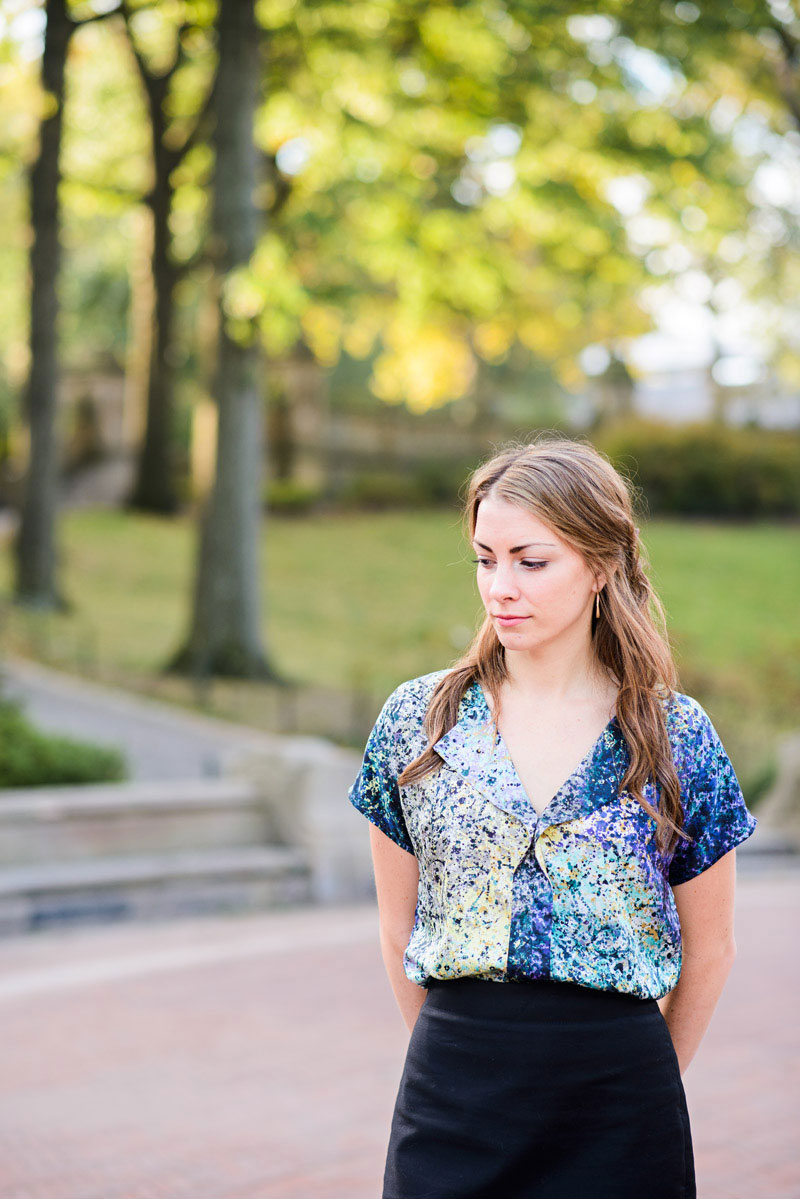 The Weekend Getaway pattern includes both a blouse and a dress. It has a unique v-neck folded collar that transitions into a faux placket. While it looks complicated, the sewing and construction are fairly simple and straightforward. There aren't a lot of extra pieces and there are no sleeves to set in because it has a kimono style sleeve. The loose silhouette is comfortable and flattering.
You can customize this pattern in many ways. I shared my own understated cream-colored version, which works with almost any wardrobe. By changing the facing color, you can make a bold statement with contrasting fabric down the center. It looks nice with a scarf or layered under a blazer. The blouse can be tucked in or left out. It works well as a business style blouse or in a more casual fabric, like this chambray version that Kristin made. I love the variety of ways this pattern can be used!
Lou Box Top – by SewDIY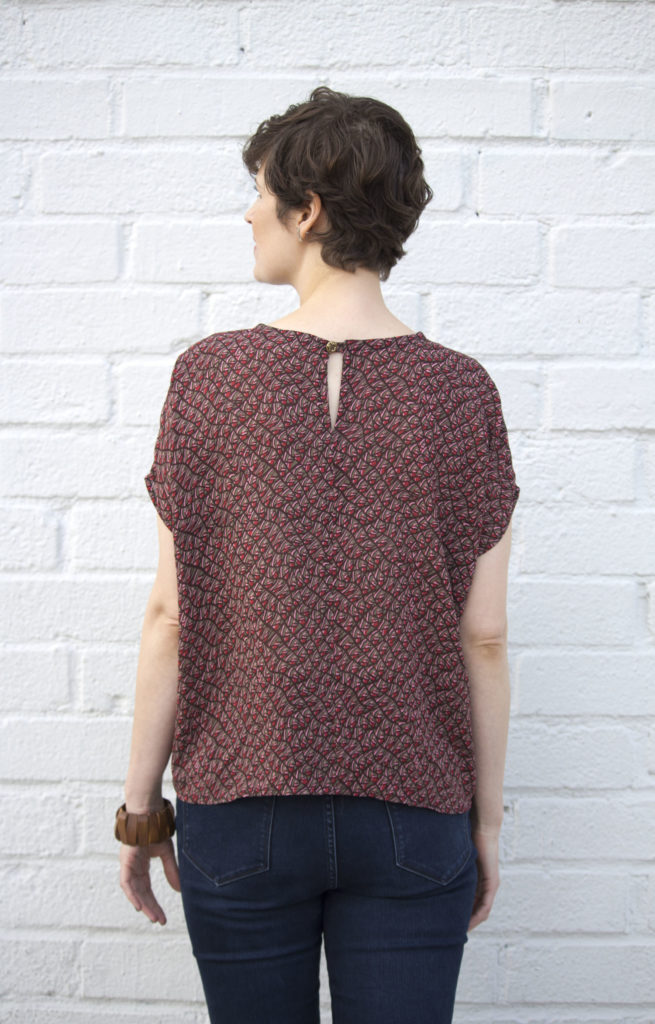 A Lou Box Top in every color would be ideal! Sometimes we dismiss patterns that seem too simple, but there's something to be said for a pattern that you can make quickly in many colors. I tend to prefer solids or understated prints, but the simple lines of the Lou Box Top makes it a great choice for busy fabric designs too. Erin's bold striped version is a great example (plus, she lengthened it into a dress!)
The pattern has a variety of hemlines to choose from, as well as the option to add a front pocket. The loose fit and simple details also make this a great choice for a beginner!
Voilá Blouse – by Cali Faye Collection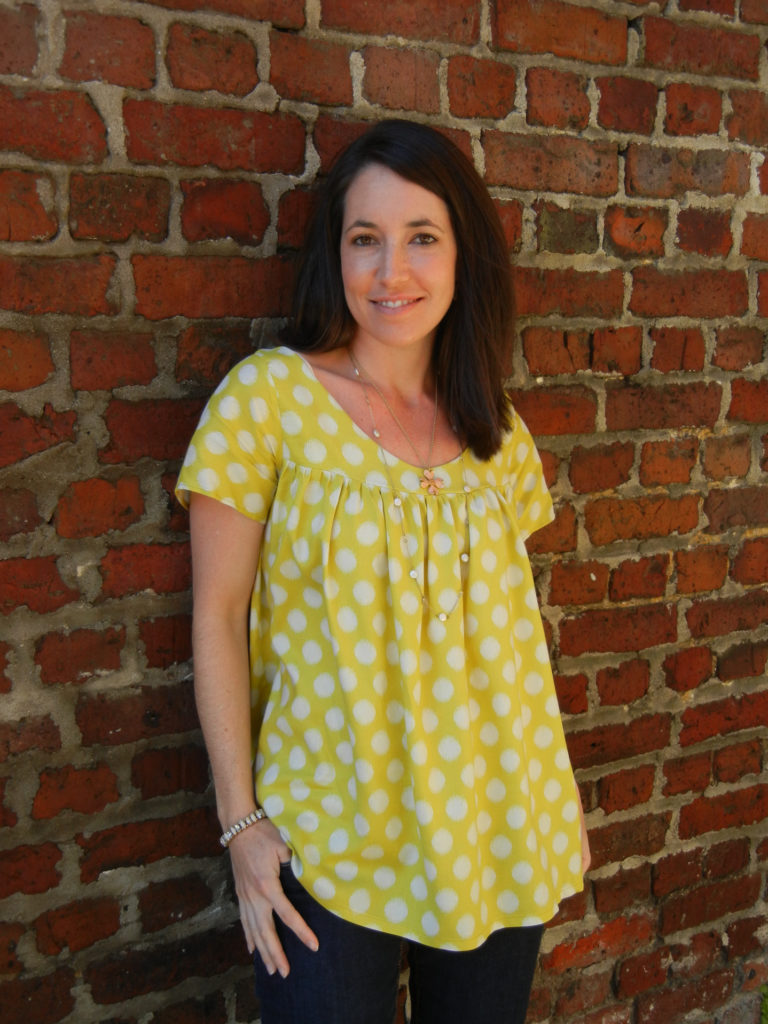 The sewing patterns in the Cali Faye Collection all have a really beautiful simplicity to them. The Voilá Blouse has a scoop neck and fitted yoke, with a full and flowing body. The fullness makes it ideal as a transitional top for pregnant women & new moms.
I especially love this yellow dot version by Abbey from Sew Charleston. The rayon she chose has the perfect drape to make this top look it's best. (Unfortunately, she's no longer blogging!)
Cali Faye also has a similar long-sleeved top with a button detail called the Valley Blouse. It looks amazing in this boho style fabric that Andrea used.
Mercer Tunic – by Whitney Deal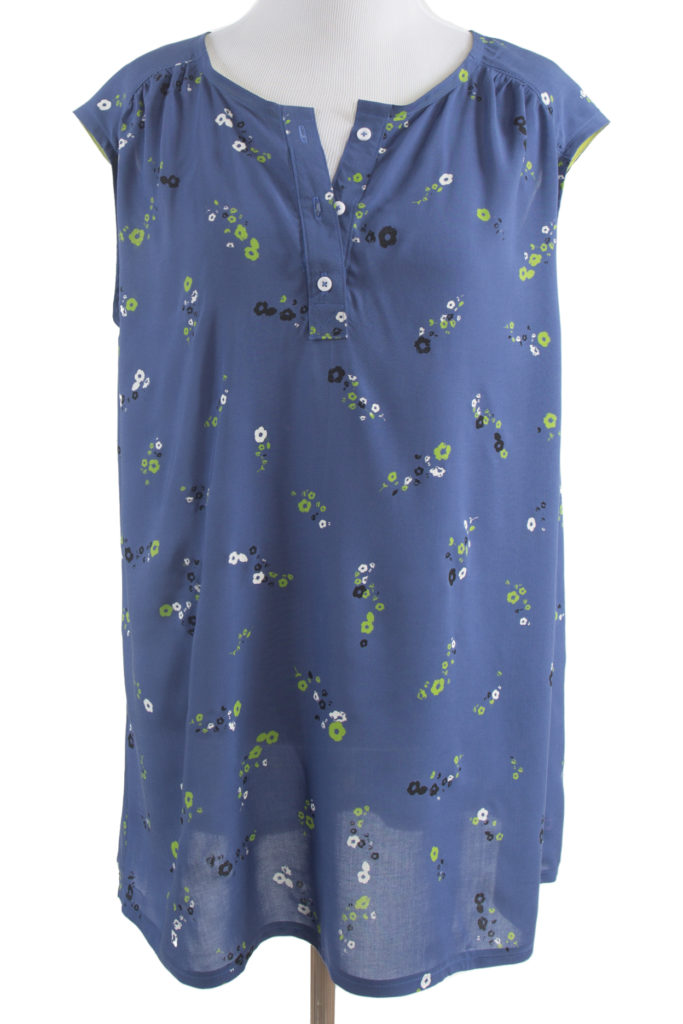 The Mercer Tunic is a sleeveless and slightly over-sized blouse. The longer tunic length is great to wear with leggings, but you could easily shorten the hem if you prefer. The feminine gathers at the shoulders set this blouse apart from the others. This soft blue version is by Allie Olson, where you can also find several related tutorials for things like bias tape and sewing curves.
This top is a great choice for warmer weather. With the wide coverage on the shoulders and higher neckline, it's still work-appropriate without a jacket. And for casual wear, it's a step-up from the everyday mom uniform. Carolyn made several in different colors, which helps to imagine how it could look in a variety of fabrics.
Santa Fe Top – by Hey June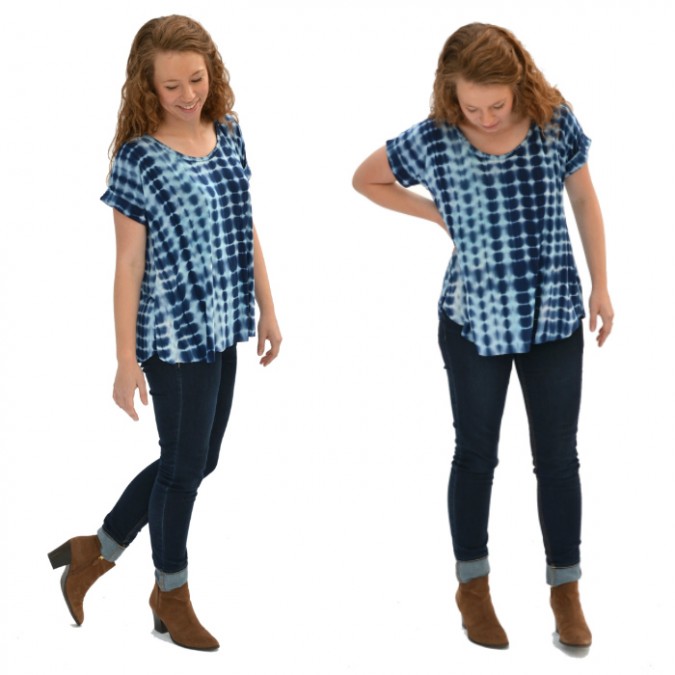 The Santa Fe Top is the only knit blouse I've included in this list. It can be made sleeveless or short-sleeved. The scoop neck and loose fit make it great for layering. With the comfort a t-shirt, the shape really elevates it to a stylish blouse. It can be worn with jeans for a slightly more sophisticated "mom" look or it can be dressed up nicely with a skirt or cardigan.
You definitely need to find the right fabric to make this work. The pattern has great recommendations, so make sure you pay attention to those. If you can shop in person and feel the fabrics to find something with a beautiful drape, you'll be all set. If you do most of your fabric shopping online, like I do, I recommend this bamboo knit! I've used it before. It comes in many colors and it's affordable, high-quality, and washes well.
Everyday Elegance Top – by Patterns for Pirates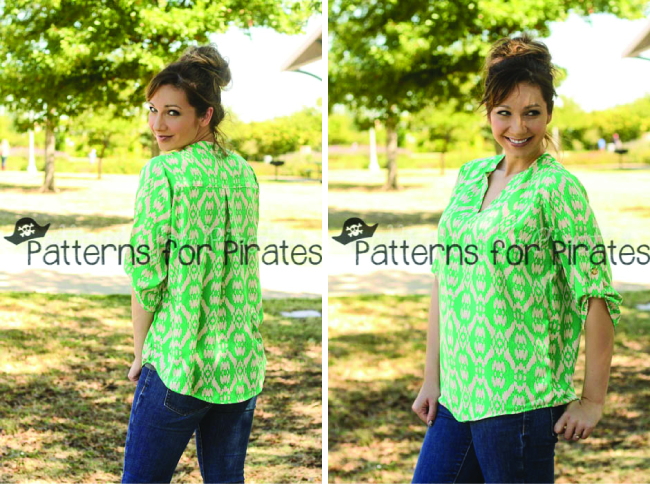 The Everyday Elegance Top is a new-to-me pattern. I discovered it this week while reading a review by another blogger. Though I'm not familiar with the patterns, this company has a large following and I saw a number of beautiful Everyday Elegance Tops online, with positive reviews. The sleeve detail is my favorite part of this design.
This pattern is drafted for a traditional curvy hourglass shape, but the loose fit should work on most body types. It also has a big size range, including plus sizes! In addition, this designer uses photo illustrations in the instructions, while the rest I've recommended use line drawings. I know this is a positive feature for some, and not for others, so I thought I'd mention it.
Those are my recommendations for feminine, flowing blouse patterns to sew for summer! Happy sewing!