One of the things I learned in May (during "Me Made May" when I wore mostly handmade clothes), is that I need to make more basics. In particular, I'm lacking casual tops to wear with jeans. I thought a cream-colored blouse would be a nice layering piece, as well as something that could be worn most of the year. I made a silk Weekend Getaway Blouse using some fabric I picked up at a craft salvage store and the pattern from Liesl & Co. which I already owned.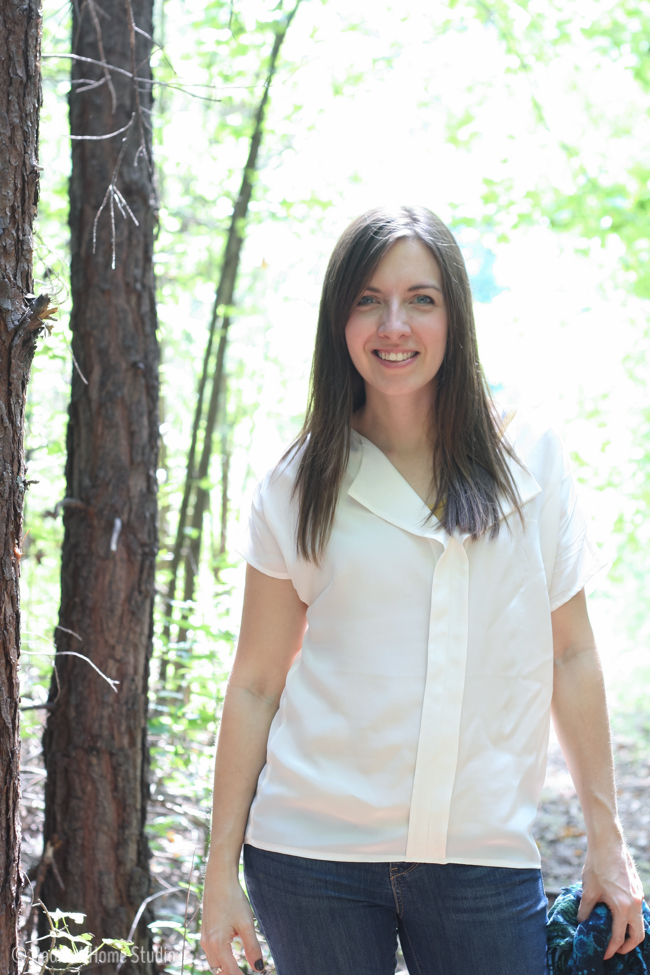 I have not used silk before, so I was concerned that it might be tricky. I've been saving it for over a year. It turned out to be less trouble than I expected—certainly much easier than working with fake polyester silk fabrics. I used silk crepe de chine. It has a slight texture to it, and presses well on lower heat. The edges fray, so finishing the edges with a zig-zag, serger, or french seams is important. My serger doesn't handle delicate fabrics well so I used a combination of zig-zag stitches and french seams to keep the inside neat and clean.
The pattern instructions are clear and easy (as always, with Liesl's patterns). There aren't very many pieces to cut out with the short-sleeved blouse version, since the sleeves are included on the main front and back pieces. The front detail adds a nice feature to the front of the blouse, but it is very easy to construct. I decided to keep the facing pieces the same color, but you can also choose a contrasting color to make the front a more prominent feature. The back has a pretty pleat.
The Weekend Getaway pattern includes instructions for both a blouse and a dress. It has directions for making french seams on the sides of the blouse, as well as many other helpful tips for a professional finish. I do wish there had been a similar tip for french seams at the shoulder seam construction step. I made french seams there as well, but it was a little bit tricky trying to figure out how to attach the front facing in a way that hid the seam. In the end, it looks great, but it would be beyond a beginner level to do this without directions.
I made a size 6. (My measurements are 34, 29, 38 for reference.) The shoulders and bust fit just the way I was hoping. The bottom hem just fits around my hips, but I'd love a little bit more ease there. I think in the future, I would cut it the same size and make small slits at the bottom of the side seam. And if I made the dress version, I would definitely size up in the skirt.
Overall, I like this pattern a lot! The loose silhouette is comfortable and flattering. It looks nice with a scarf or layered under a blazer. I could see making again in a more casual fabric, like this chambray version that Kristin made. I'm also hoping to try the Sutton Blouse by True Bias and the Lou Box Top by SewDIY to compare the fit and add a variety of wearable casual tops to my wardrobe.
Have you made the Weekend Getaway Blouse, Lou Box Top, Sutton Blouse or similar top? 
If you are interested in more tops like this check out 7 Flowing Blouse Patterns to Sew!