Recently I finished sewing a Zsayla blouse. It had a large yoke, perfect for embroidery. I looked at several beautiful embroidery patterns, but I really wanted something simple and clean. I had a seen a few Sashiko projects and decided to try this method of embroidery for my blouse.

(Some links may be affiliate links, which means I earn a small commission at no cost to you. Thanks!)
While I was working on learning the techniques for myself, I gathered a list of the best Sashiko embroidery tutorials and lessons, including some video instruction. I also listed several Sashiko projects for inspiration, a few free patterns, and some ideas for making your own patterns.
Tutorials: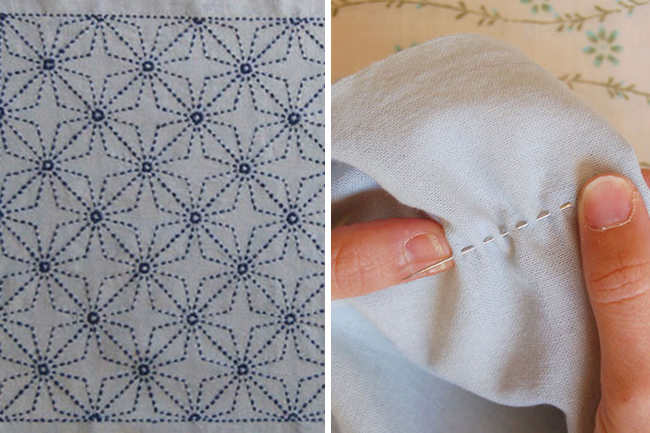 The Purl Bee has a detailed Sashiko tutorial showing the right types of thread and needles up close. They also sell preprinted starter kits.
This Sashiko method shows you how to trace your pattern onto interfacing. This is the method I used for my Zsayla blouse. (This is no longer available, but simply layer lightweight interfacing over your pattern and trace with a washable pen.)
A three-part Sashiko lesson with great photos. She covers pattern transfer, stitch length and corners, and order of stitching.
This Sashiko lesson is filled with helpful tips, design ideas, and instructions for transferring designs with tailor's chalk.
Make your own Sashiko designs with graph paper or dot matrix paper, then learn how to transfer it to your fabric with this Sashiko tutorial video.
My tips for adding Sashiko embroidery to a Zsayla top, using lightweight interfacing to transfer the design (below).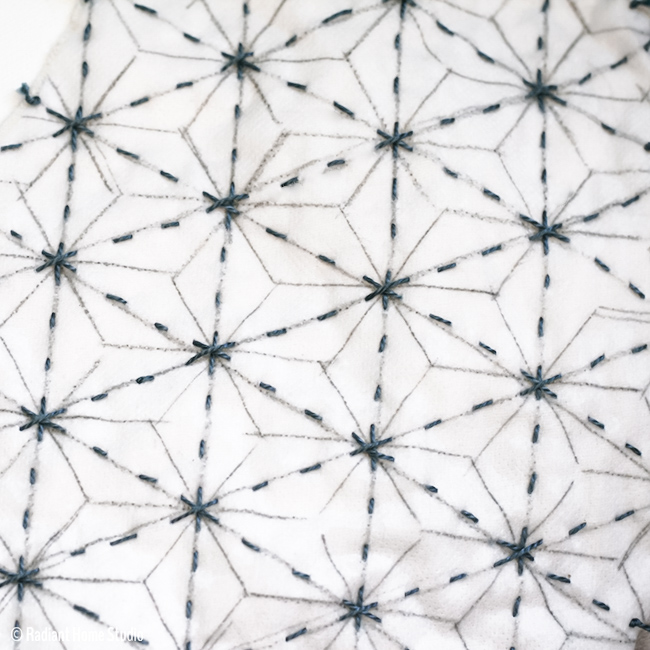 This video gives a quick demonstration on how to stitch a Sashiko design with your sewing machine. If you just like the geometric designs and want to add embellishment more quickly, this might be a good method for you.
Melissa's tips for adding Sashiko embroidery to a knit blouse using interfacing to transfer the design.
Project Ideas:
This patchwork denim clutch with Sashiko stitching is gorgeous and fun! It looks like a great way to use up denim scraps.
I love these simple linen reversible Sashiko Placemats on the Purl Bee blog. They would make a beautiful modern, handmade addition to your table.
And a Colorful Sashiko Pillow, also at the Purl Bee, shows you how to add a bright and fun twist to the traditional Sashiko stitching.
There are a few Sashiko cloud pattern ideas in this blog post, including placemats and embellishment on a chambray dress.
There is a Sashiko Flickr group filled with beautiful projects to inspire you! This makes me want to add Sashiko stitching to everything…
Speaking of adding it to everything—how about this Sashiko embroidered lampshade made by Mollie at Wild Olive?
Check out this Sashiko Pinterest board that is filled with more inspiration and links. Or just search for Sashiko boards on Pinterest— there are dozens!
I can't leave out a this beautiful tote with Sashiko bag handles!
Look at the variety of patterns in this Sashiko sampler quilt!
Free Sashiko Patterns:
Update: Download a free clamshell Sashiko design that I created for an Oliver + S Hide-and-Seek Dress
Here are 8 free Sashiko designs — you have to click through the slideshow, right click, and save the image.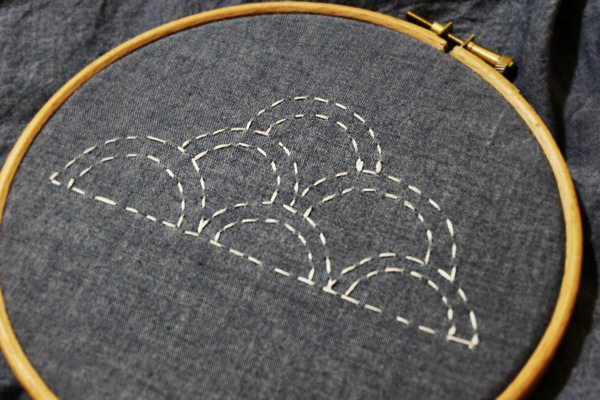 There is a simple Sashiko cloud pattern on Craftsy.
Or you can use graph paper to make your own patterns. There are several simple geometric ideas that you can easily draw and use for any project.
Recommended Tools & Resources:
Simple Sashiko: 8 Sashiko Sewing Projects for the Modern Home is a beautiful, minimal, modern book of Sashiko projects.
The Ultimate Sashiko Sourcebook has extremely high ratings and great reviews. It looks like the go-to guide for Sashiko.
Sashiko needles & Sashiko thread (I used both of these items for my projects.)
A Sashiko sampler kit would make a great gift!
Feel free to link up any other helpful tutorials or inspiring projects in the comments. Happy Stitching!