This is my last project from Pattern Parcel #6… The Zsayla Top! It was the first thing I decided to make when I received the patterns. I love the loose, flowing shape. It reminds of something from Anthropologie. Their blouses often have beautiful embroidered details that make them look handmade (which is probably why I like their style). Though I couldn't find anything similar for sale there now, the Zsayla blouse really works with that boho-chic look. And the large yoke is the perfect spot to add some embroidery detail.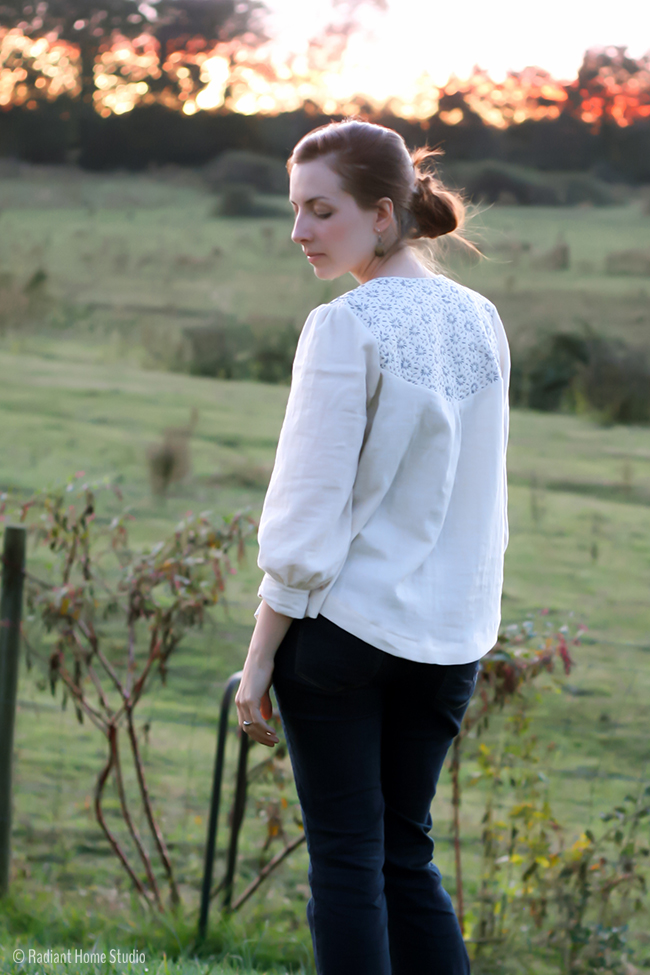 (This post contains affiliate links, which means I earn a small commission at no cost to you. Thanks!)
I started looking around to see if anyone else had embroidered their Zsayla tops and found that the pattern designer (Kate & Rose) also sells beautiful Hungarian style embroidery patterns. They are gorgeous, but I was afraid I didn't have the time to do something that complicated. I decided to try a simple Sashiko (Japanese embroidery) pattern instead. (Though the Kate & Rose embroidery patterns are now on my list and I'll be looking for a way to use one of them soon!)
First, let me tell you about the pattern. Kate & Rose patterns were new to me. I found the printing and assembly fairly straightforward. There is a nice chart detailing which pages should be printed for each part, so you can avoid printing those extra pages for a dress when you just want to make a top. It also includes several cutting layouts to help you find the most efficient way to use your fabric. The directions and illustrations are clear and helpful.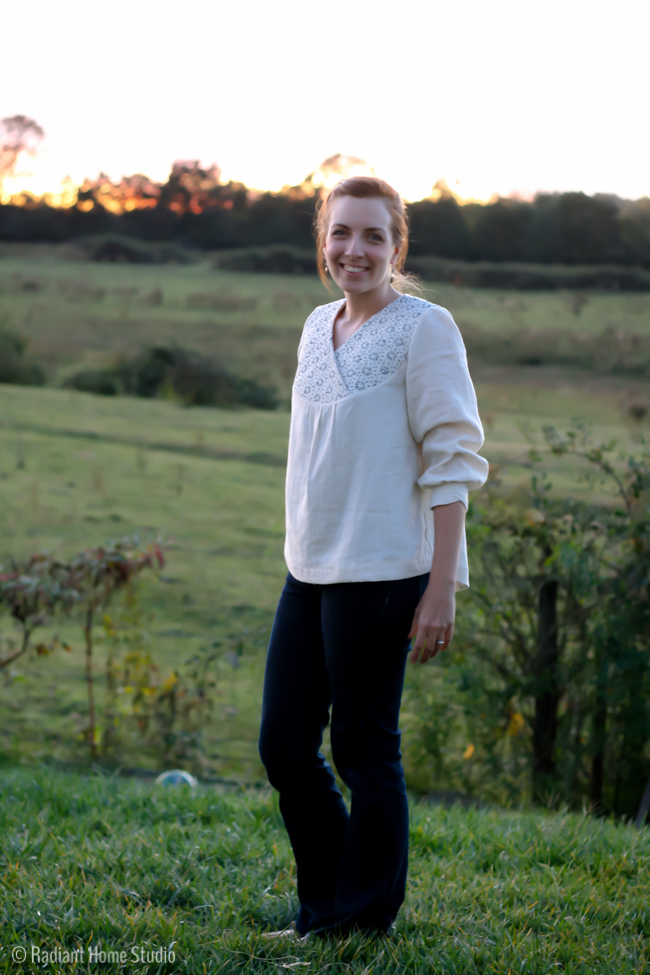 They also include some nice finishing techniques such as understitching the neckline and cuffs. The instructions also include 2 methods for attaching the yoke–the "clean and fancy method" and the "quick and dirty method". I tried to use the "clean and fancy method," but the bulk from the interfacing and embroidery floss was making it difficult. I ended up using the quick method (sewing all the layers at once and serging the edges), but only a seamstress would ever notice the difference. And look at the pretty cuff detail!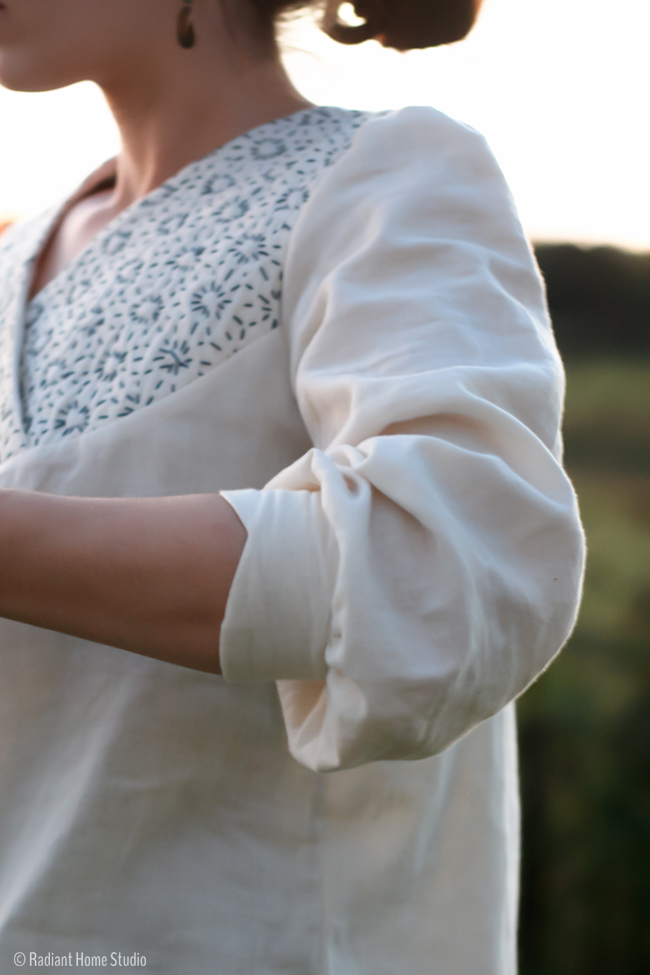 This is my first project using double gauze (from Imagine Gnats). I was unimpressed when it arrived in the mail, but after a nice hot wash, my opinion totally changed. It has a lot of the same qualities as lightweight linen, which is what I was hoping for when I ordered it. It's loose and flowing, and wrinkles in a soft, natural way. It is perfect for a loose fitting blouse and makes a nice base for embroidery projects. I love it!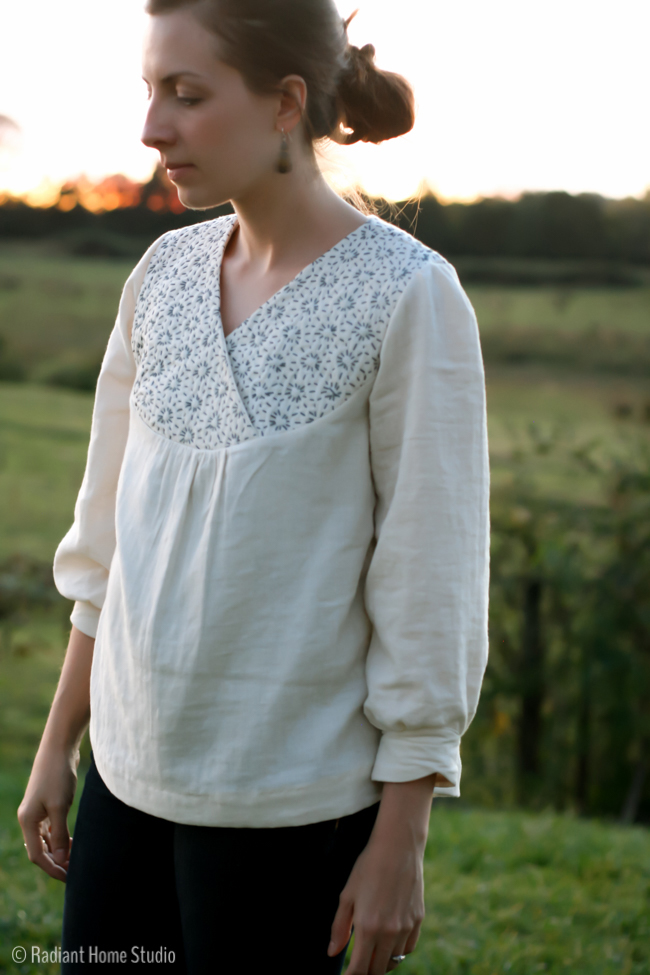 It took some trial and error to figure out the best method for transferring the embroidery pattern to the fabric. I tried water soluble marker, but it disappeared too soon. I tried stitching without stabilizer, but the stitches weren't as straight as they needed to be. In the end, I traced the pattern on to lightweight interfacing with a pencil (time consuming…be sure to take stretch breaks!). I also did one of them twice because I realized that the design was going different directions along the grain. I recommend tracing around the pattern piece on the interfacing, marking the grain, then tracing the design. Then you can make sure the design is going the same direction on each piece of the yoke.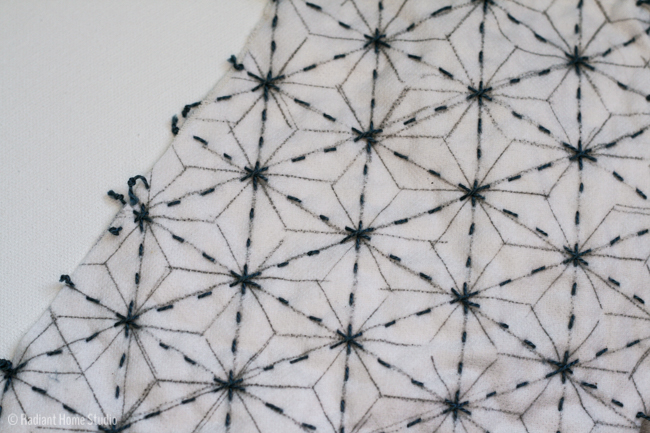 Though there is specific embroidery thread for Sashiko, I didn't find any locally and used a steel blue pearl cotton embroidery floss. I learned a lot more about Sashiko stitching as well, but I've written another post for later this week with 20 of my favorite Sashiko embroidery tutorials, projects, and patterns.
Finally, just a quick reminder…Friday is the last day to get this pattern bundle! (This sale is over, but follow Perfect Pattern Parcel for more.)
With Pattern Parcel – you choose your price, support indie pattern designers, and the rest goes to an educational charity called Donors Choose. If you choose to pay $32 or more, you receive the bonus pattern (the Odette dress). Pattern Parcel donates all profits after expenses from Parcel sales to the charity as well. Together we've raised over $12,000 for classrooms in need!
The patterns included in this parcel are:
Syrah Skirt by Lauren Dahl (exclusive release!)
Bronte Top by Jennifer Lauren
Julia Cardigan by Mouse House Creations
Hudson Pant by True Bias
Zsalya Dress by Kate & Rose
BONUS PATTERN: Odette Dress by Bluegingerdoll
You can just click over to the Pattern Parcel site for more details. And if you want to see what others are making from these great patterns…
Friday, October 17 Pienkel || Casa Crafty || Sew Like My Mom || YosaMi
Saturday, October 18 Disaster in a Dress || Sew Busy Lizzy || the Brodrick Blog || Oliver's Fancy
Sunday, October 19 Design By Lindsay || Cookin' and Craftin' || Stitched
Monday, October 20 a happy stitch || oonaballoona || Nutta || Oh, She Dabbles
Tuesday, October 21 the quirky peach || Our Familly Four || Kadiddlehopper || La Pantigana
Wednesday, October 22 While she was sleeping || Sew a Straight Line || EmmylouBeeDoo
Thursday, October 23 Sanae Ishida || Groovy Baby and Mama || Dandelion Drift || Create/Enjoy
Friday, October 24 Shawnta Sews || verypurpleperson || Peneloping
Saturday, October 25 Nine Stitches || Sew Exhausted || YoSami || Radiant Home Studio
Sunday, October 26 paunnet || Sew charleston || Amanda Rose || EmmylouBeeDoo
Monday, October 27 Very Shannon || Diary of a Chainstitcher || So, Zo… What do you know?' || Swoodson Says ||Things for Boys
Tuesday, October 28 mama says sew || Make It Perfect || Envueltos de Amor || Julia Bobbin
Wednesday, October 29 EmmylouBeeDoo || Max California || Radiant Home Studio || Made by Meg
Thursday, October 30 la Inglesita || House of Pinheiro || FABulous Home Sewn || Friends Stitched Together
Friday, October 31 sew chibi || Things for Boys || Nearest the pin || Swoodson Says || Robin's Fabric Nest
SaveSave