With a new baby in the house, I'm back to trying all of the new baby patterns and fabrics. I can't believe how many new things there are in 5 years! It was the same with maternity patterns…the sewing industry just keeps expanding and new independent designers and shops are popping up every day.
Those of you that have been following for a while know that I enjoy designing fabric for some of my sewing projects. Spoonflower allows designers to upload custom fabric designs and then prints the design on fabric. There are over a dozen different types of fabric now, plus wallpaper and gift wrap.
Recently, Spoonflower added Organic Sweet Pea Gauze to their fabric offerings. This is the same type of gauze (or muslin) your boutique baby blankets are made from. I ordered some printed with my Botanical Leaf Shadows design.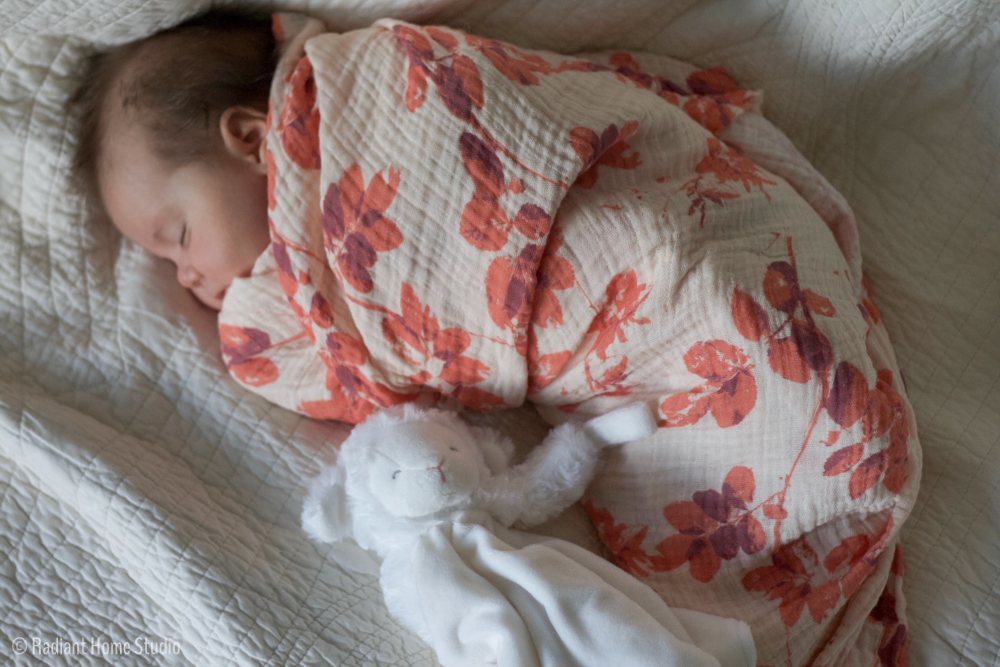 (Some of the links in this post are affiliate links, which means I earn a small commission at no cost to you. Thanks!)
I didn't get a chance to make blankets before our baby was born, so I bought a few swaddle blankets from Margaux & May. They are high-quality, beautiful blankets. I really did not expect the Spoonflower gauze to live up to that quality.
When I first opened my fabric, I was disappointed. My boutique blankets are double gauze (meaning there are two thin layers tacked together) and the Sweet Pea Gauze seemed flat and stiff. I knew I needed to wash it before I made a final judgment though. Washing made all the difference! The gauze wrinkled up and I could see the soft layers of the double gauze. It's very similar, if not identical, to the boutique blankets.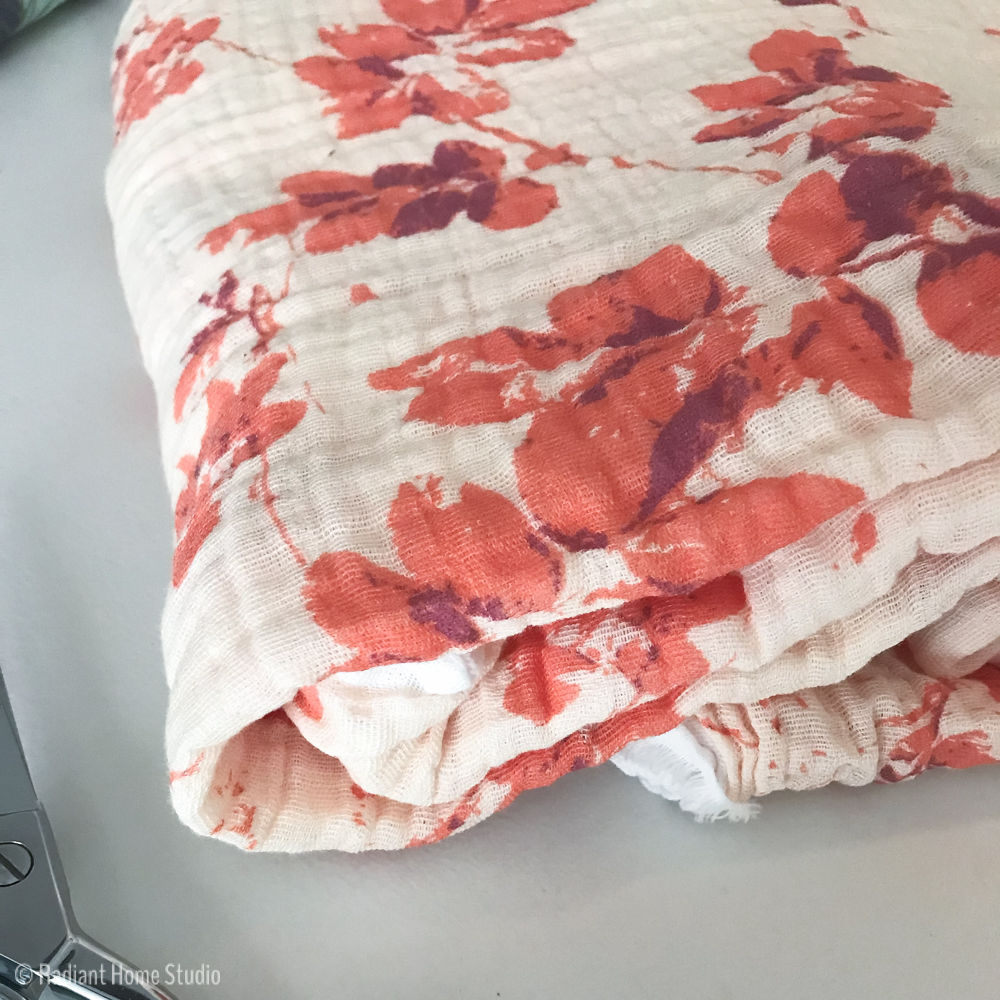 Spoonflower does recommend keeping a white background for the softest results. My light pink background is slightly stiffer than the white blankets I have, but it's still very soft and useable.
I used 1 1/2 yds. of fabric for one blanket. Since Spoonflower only sells in 1 yd. increments, it's best to buy 3 yds. at a time. To cut the fabric, just fold a corner over to the opposite selvage to mark out your square. The fabric has a small grid running through it, with lines about 3/4″ apart. I used these lines as a cutting guide to make sure my fabric was square and on grain. This works well even after you wash the fabric and have a bunch of wrinkles to work around.
I used the grid squares to measure my hem around the edges as well. Just make a 3/4″ double fold toward the wrong side on each edge and stitch around. It took less than 15 minutes! If you are looking for an easy custom baby gift, this is a great option.
My only complaint is the cost. It ends up being about $30 to make one blanket. My boutique blankets were about $30 for 2 blankets. Since the quality is similar, I would only use the Spoonflower fabric again for custom/personalized projects. With so many beautiful designs in the shop, ready-made and for less money, I can't justify making many swaddle blankets as gifts. But as I said above, for something personalized, this is a lovely fabric and I'd use it again.
P.S. Spoonflower is running a 2-for-1 fat quarter sale until Nov. 9th! All of my fat quarter tea towel designs have been recently updated and make beautiful handmade gifts!
SaveSave