It's Kids Clothes Week! This is one of my favorite online sewing community events. It's such a great motivator to see handmade kids clothes popping up on my Instagram feed and on all my favorite sewing blogs. The theme for this season is "upcycled", which I love! In the past, I've used a lot of thrifted garments for fabric anyway, so this is perfect. I made this cute upcycled lace skirt from a dress!
Last week I went thrift store shopping looking for a few things that could be easily modified to make cute clothes for the kids. I found this lace dress and decided that it would make a great skirt for one of the girls.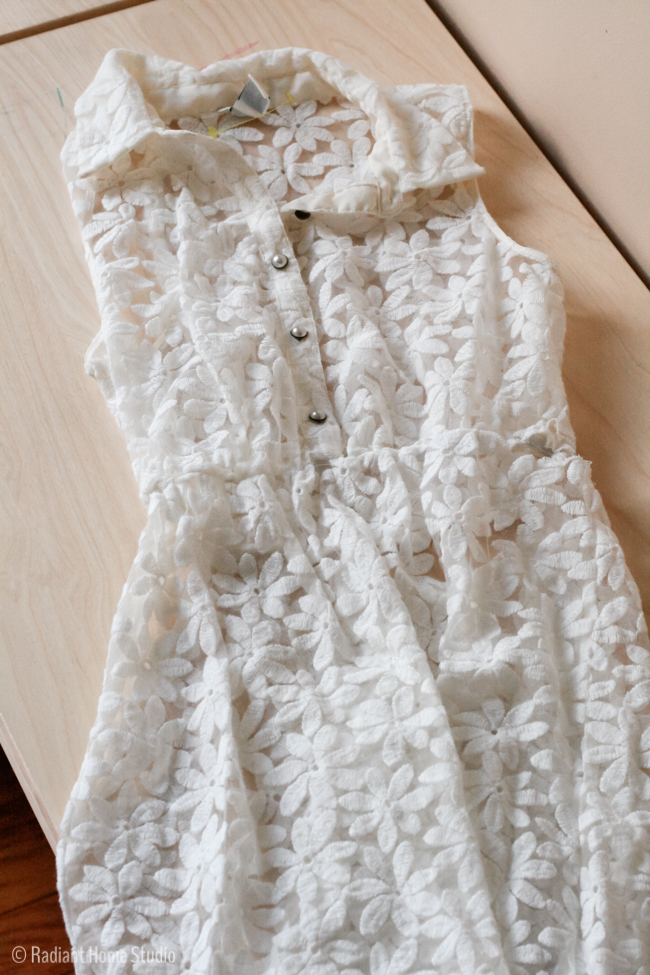 My 4-year-old is really into "pretty" things. Since she normally mixes crazy prints when she gets dressed, I've given her a rule that she has to wear "1 pretty and 1 plain". But this skirt allows her to break the rules a little. It's a plain color, so it will match most of her clothes including the ones with prints. But she considers it a "pretty" since it is lace. Win, win!
To make the dress into a skirt, I cut off the top and evened out the skirt section. I had planned to roll down the top toward the inside to make a casing for the elastic, but I ended up making a jersey knit waistband instead. It was difficult to press the 2 layers of slippery fabric into the right place, and I realized that lace on the inside of the skirt would be uncomfortable for a little girl.
My jersey was thin, so I doubled it over. I cut a rectangle of fabric about 6″ by the circumference of the skirt waist, folded it in half, and sewed the raw edges to the right side of the skirt waist. I folded and stitched it toward the inside of the skirt and formed a tube for the elastic. I used 1″ elastic, and then sewed another line through the center of the waistband using the technique that Kelli recommends in her Mini Hudson Pants pattern.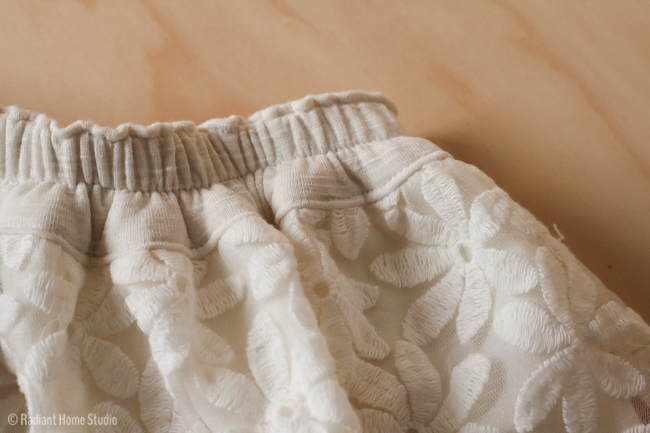 The great thing about using thrifted clothes is that you can often eliminate steps and make things very quickly. No need for side seams and the hem was already finished. This upcycled lace skirt took less than an hour and I have one very happy girl! When she tried it on she said, "Oh! I can dance in it!"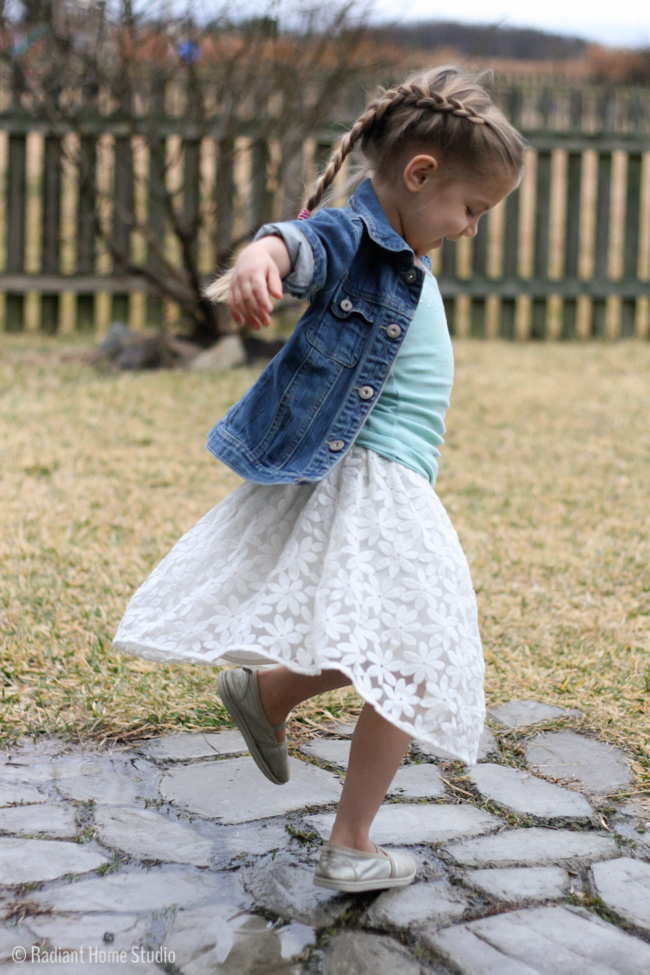 I've got some more upcycling ideas in these posts:
• Tweed Schoolboy Vest made from a thrifted ladies skirt
• Knight Hoodie made from thrifted sweatshirts
What are you making for Kids Clothes Week?